A Mobile World With An Identity Core: Okta Launches New Mobility Features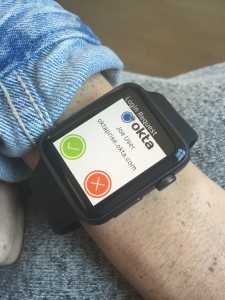 At Andreessen Horowitz's recent annual investor meeting, Benedict Evans delivered a presentation titled "mobile is eating the world." In it, he pointed out that mobile isn't just "mobile" anymore – we use mobile devices everywhere, not just while we're on the move. At Okta, we've always been very mindful about simplifying and securing the end-to-end enterprise workflows that IT admins and end-users experience, and these workflows are increasingly executed on mobile devices. This is why we launched our Okta Mobility Management (OMM) service last November. By integrating identity with mobility management, we've been able to simplify the user experience while improving security in the mobile-cloud world filled with various mobile security threats.
Since the launch of OMM in November, our team has been regularly releasing new mobile capabilities that are easy to administer and intuitive for end users to consume. Today, we're excited to announce the launch of a new set of updates to OMM and Okta Verify, our MFA solution.
The first update is Okta Verify with Push, which simplifies the end user authentication experience by sending an actionable Push Notification to any device – iPhone, iPad, Apple Watch, Android or Windows Phone – so users can easily authenticate by pressing "Approve." There's no need to hunt for a 6-digit code to be manually entered – now you can just touch "Approve" and you're in. And if users enable Okta Verify with Push on the Apple Watch, the authentication process is even simpler – they don't even have to pull out their phones! Take a look at how it works:
Another exciting update is a feature we call "device-aware access management," which enables enterprises to securely adopt cloud applications by defining access policy based on both the user's identity and the device's security profile. Now that enterprise data can be accessed from any device with a browser, it's no longer enough to grant access based on user identity alone – incorporating the device's security context is also critical.
Using both the user's identity and the device's security profile to inform cloud access decisions is not something that legacy Enterprise Mobility Management (EMM) solutions are designed for. Legacy EMM architectures are built on the premise that devices are first routed through on-prem gateways, which serve as the control point to enterprise data. This model doesn't work in a cloud-driven world where devices communicate directly with cloud services, leaving out the traditional enterprise gateway in the process. Okta's foundation as an identity provider gives us a strategic advantage in securing this new mobile-cloud architecture because we are naturally embedded into the cloud services workflow. Cloud apps already come to Okta for authentication, at which point we can use the device's security profile (assessed via OMM) as another input into the access decision.
In addition to Okta Verify with Push and device-aware access management, we're also announcing new OMM security features, including VPN and WiFi profile provisioning, and jailbreak/root detection, all of which give IT the ability to easily provision and deprovision access at will and ensure enterprise data is secure.
Carlisle Construction Materials is already taking advantage of these updates. Carlisle invested in Okta's identity service in August 2014 and then expanded to OMM in January to ensure its field workers could easily and securely access their apps and devices from any location. Jeff Janovich, a software analyst at Carlisle, talked about Okta's value and the importance of mobility in our press release:
"The importance of mobility for Carlisle increases every day – our employees rarely come into the office and they also use mobile devices as their primary computing platform, so access to content, applications and services on mobile is critical to our business. Okta is entirely cloud-based and integrated so it was truly a no-brainer for Carlisle to choose Okta for an identity and mobility management platform. Not only does Okta give our IT department a single-pane view of all of our employee activity including web, email and mobile device management, but our employees love the simplicity of Okta Verify with Push. We believe that Okta has the vision and capability to innovate for the future of the connected workforce."
We fully intend on proving Jeff right and giving our customers a secure, seamless workflow across cloud and mobile, ultimately becoming the identity and mobility platform for the connected enterprise.