The Power of Better Connections: Acxiom Turns to Okta for Identity Management (and 900% ROI)

Acxiom (NASDAQ: ACXM) connects audiences to the things they truly care about. Whether working with a major US airline to offer a personal touch to its most valued frequent fliers or with one of the largest retail store in the US to personalize customer experiences across all touchpoints, Acxiom knows the power of better connections. The company's technology platform weaves an intricate web of customer data, business intelligence and deep analysis that empowers 7,000+ global brands across many industries to engage in meaningful ways with the audiences that matter most to their organizations.
In powering these connections, the company's 5,000+ associates use a wide variety of applications, including Workday, ADP, Salesforce, Tidemark and most recently Office365, to get the job done. That's why Acxiom turned to Okta for its cloud identity and access management needs. While Acxiom associates are busy working with customers on their marketing initiatives, Okta takes away the pain of connecting employees with the applications and devices they need to get the job done – and creates a delightful user experience for associates worldwide. Since deploying Okta, Acxiom now saves more than $60,000 per year in IT-related costs, improves end-user productivity to the tune of $1 million per year and strengthens its security, valued at more than $40,000 per year.
We sat down with Pablo Valarezo, IAM program manager, to discuss why Acxiom selected Okta and how implementation has simplified daily operations for associates worldwide – and resulted in ROI of more than 900 percent.
When did the need for Okta arise?
Acxiom powers more than a trillion transactions – each week – that enable better marketing results for thousands of global customers around the globe. We want to be able to give our associates access to all of the tools they need to get their job done and serve our partners to the best of their ability. We saw that our associates were bringing in their own applications to help with daily tasks, so we needed a solution that could secure these applications in an agile and versatile way.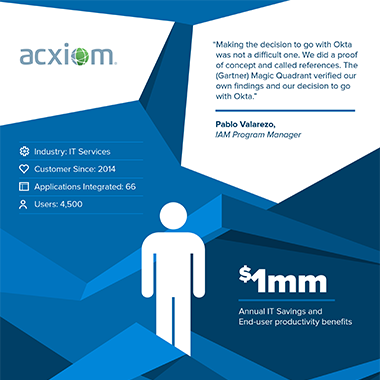 Why was Okta the perfect solution for Acxiom?
The decision to work with Okta was not a difficult one for us. We were looking for a solution that would allow us to secure applications, streamline credentials across multiple directories and improve the onboarding and termination process. After extensive research, a thorough proof of concept and multiple reference checks, it became clear that Okta was by far the best fit for us.
Which Okta features are your favorite?
I love that Okta offers the ability to delegate the administration of applications. We have business partners throughout the company who are able to manage access to their own applications without having to involve IT. They can provision and deprovision as needed and that means everything is done quickly and efficiently.
Another feature that has made life easier for both administration and end users is Okta's ability to streamline identity into one platform. Prior to working with Okta, many of our employees had duplicate credentials across multiple directories. Now identity is consistent and accessible from one platform, which allows us to better track applications. And with identity management, we've been able to make the onboarding and termination process easier than ever.
How has Okta improved daily operations?
Our associates use Okta every day and they love it. Most of our associates log into our Human Capital Management system for employee information -- which is now managed by Okta -- each day to find other associates in the company. It's part of their daily routine, and because of Okta, it's a seamless process. That's huge. Okta also provides associates with easy access to a myriad of other applications they may need to get their job done. And now they don't have to worry about passwords, usernames or URLs. And now that we've adopted O365, our associates are able to access and share their documents effortlessly at a whole new level.
Okta is a solution that both end users and administrators can walk up to and start using immediately. That's how easy it is. And you can tell that elegance is built not only into the product, but the service and the solution itself. Our administrators see fewer password reset requests, onboard and terminate new employees with ease and can add new applications quickly and pain free.
To hear the rest of Pablo's interview, check out the video on our customer testimonial page.