Intern Thought Clouds: Nishanth Kadiyala's Lunch and Learn Selfie with Okta Co-Founders

San Francisco summers aren't typically hot, but our interns this year are on fire! This summer, 30 students brought their skills and talents to the team — they have positively impacted numerous Okta departments, learned a few things and had some fun along the way. To showcase our interns' awesome work and experiences, we've invited technical product marketing intern Nishanth Kadiyala to share his insights from the summer and kick off a new Okta intern series.
This summer has been great. It began with internship offers from four different companies. Although each of them was amazing in its own way, I chose Okta! When I first accessed Okta, I instantly saw how simple, yet powerful it is (Gartner agrees with me!). Okta is the silver bullet to the ever growing identity management problem that every company will eventually face. I couldn't pass up such a great opportunity to work in the cloud space as a technical marketing intern with the market leader.
Being A Team Player Okta is one of the best decisions I ever made. As part of our technical marketing team this summer, I evaluated third-party solutions for sales enablement, improved internal resources and beta-tested critical product features, working closely with end customers, product management, product marketing, sales engineering and sales training and enablement departments. These projects gave me unique insight into the product, the process and most importantly, the organization. Over the past 12 weeks, I have interacted with more than 30 people across various roles and found Okta to be one of the most humble, smartest and most dedicated teams out there. Everyone here is motivated to bring customer success and market leadership – goals that call for constant innovation and quick execution. That's the kind of workplace I have always wanted.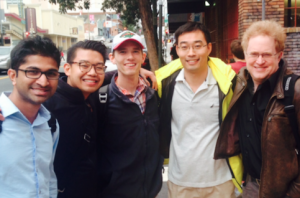 This positive company culture carries over into the weekly all-hands meetings that I participated in and is hosted by Todd. During these meetings, he takes the time to introduce new hires, share new product features and celebrate new deals. I was delighted to see even top executives take the time to get to know and connect with every employee. It shows the culture of a company trickles down from top to bottom and this is the kind of culture I would like to be a part of in the long run – a culture that teaches you to be humble even when you are winning it all.
Want To Be An Intern? Do It! Apart from work, Okta organizes happy hours, sightseeing tours, hackathons, soccer games and Lunch & Learns to make sure interns have a memorable experience. I am a big fan of the Lunch & Learn series, where we got a chance to interact with company executives. My favorite was the one with co-founders Todd McKinnon and Frederic Kerrest, who shared their journey of transforming Okta from a small company into a market leader. I cherished the opportunity to connect with them, and in the end we even took a group photo!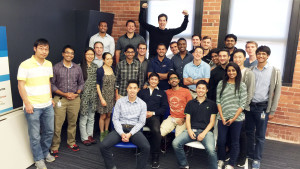 If I had to summarize my overall experience at Okta in three words, I would choose: self-governing, cross-functional and dynamic. After my first year at UNC Kenan-Flagler Business School for my MBA, I was looking for ways to contribute my skills that I have attained over the last year. Okta not only gave me a chance to make the best use of my degree, but also let me explore my other passions and strengths. I would highly recommend Okta for any student who is passionate about technology, willing to learn and ready to go the extra mile to make a difference.