Where in the World is Okta? Identity & Mobility Forums Encourage Global Discussion
Today's enterprises are experiencing a massive mobile migration. Global smartphone penetration is expected to reach 70 percent by 2020 and there will be almost 10 billion connected devices with the increasing adoption of smartwatches, IoT, VR and AI. This array of new technology is changing how people work. So we traveled around the world — to Dallas, Washington, D.C., and London — to share our vision for the future of work and hear from IT executives, developers, and industry leaders on how they're approaching identity and security in a cloud-first, mobile-first workforce.
Learning from Our Customers
In Dallas, Chris Dodds of 77 Energy shared the lessons he's learned while deploying identity in the cloud and how Okta provisioning helped his company securely manage access to more than 100 necessary enterprise applications without ever sacrificing employees' user experience. In D.C., Brown-Forman CIO Tim Nall joined our COO and co-founder Frederic Kerrest onstage for a fireside chat (right before the Kentucky Derby!) talking about his own journey from operations to IT and how his career shift gave him a unique view on security — leading him to adopt Okta company-wide. Considering the Derby is Brown-Forman's biggest event of the year, as the wine and spirits manufacturer behind Jack Daniels, Woodford Reserve, and Herradura, this was an impressive feat.
And speaking of impressive feats, our D.C. event also included Ramin Behesti, Head of Enterprise at News Corp, talking about the company's move from Azure Directory to Okta. Employees were so happy with the switch, Ramin received a high-fives in the hallway — definitely a trend among Okta customers!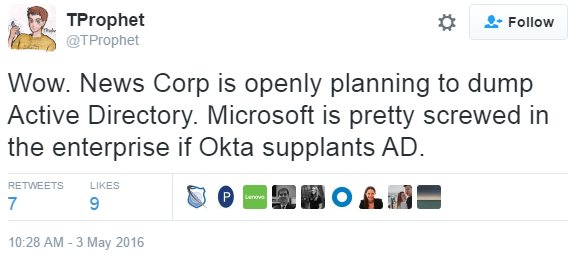 Okta Examines Tech Trends and Impact on the Future of IT
Okta executives led presentations with some strong perspectives on what's in store for the future of IT. Our co-founders Todd McKinnon and Frederic Kerrest keynoted the events with a commentary on the massive opportunity every company has, in every industry, to become a technology-led business. This is a monumental shift in how organizations operate. They shared the ways in which companies can take advantage of this opportunity to beat out their competition: focus more on integration, personalization, and security.
Arturo Hinojosa, Okta Senior Product Marketing Manager, brought a lot of laughs from the audience in London with his response to a question about Blackberry. And he hosted an engaging conversation with Eurostar's Head of IT Infrastructure and Operations, Andy Simmonds, who talked about the importance of mobility in growing a company.
The London crowd loved Karl McGuinness, Okta Senior Director of Identity, with his dry sense of humor and thoughtful representation of where we are in the roadmap for identity and mobility in the enterprise.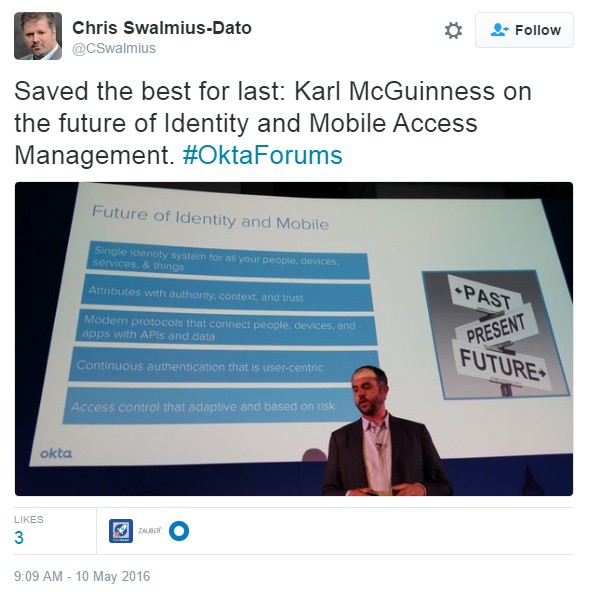 If you missed our Identity & Mobility Forums, don't despair! You can still view the presentations and we'll talk more about bringing the future of technology into the enterprise at Oktane16. Register to be a part of the conversation, connect with 2,000+ IT leaders, and learn how to enable a secure workforce.
Early Bird registration for Oktane16 ends May 31st, so get your tickets now! And keep an eye on the #Oktane16 hashtag on Twitter for more announcements as we count down to Las Vegas!