What We've Learned in Our First Year of Okta for Good
Okta has always focused on connecting people and technology. We launched Okta for Good last year to expand on this idea – with a mission to strengthen the connections between people, technology and community.
We've been busy over the last year building a small but powerful team, getting our first programs up and running, stretching our giving muscles as a company, and engaging in important conversations with our nonprofit customers, partners and employees. What we're learning – and the decisions we are making now – are laying the foundation for everything to come. One year in, we're excited to take the lessons we've learned to push forward into this next phase.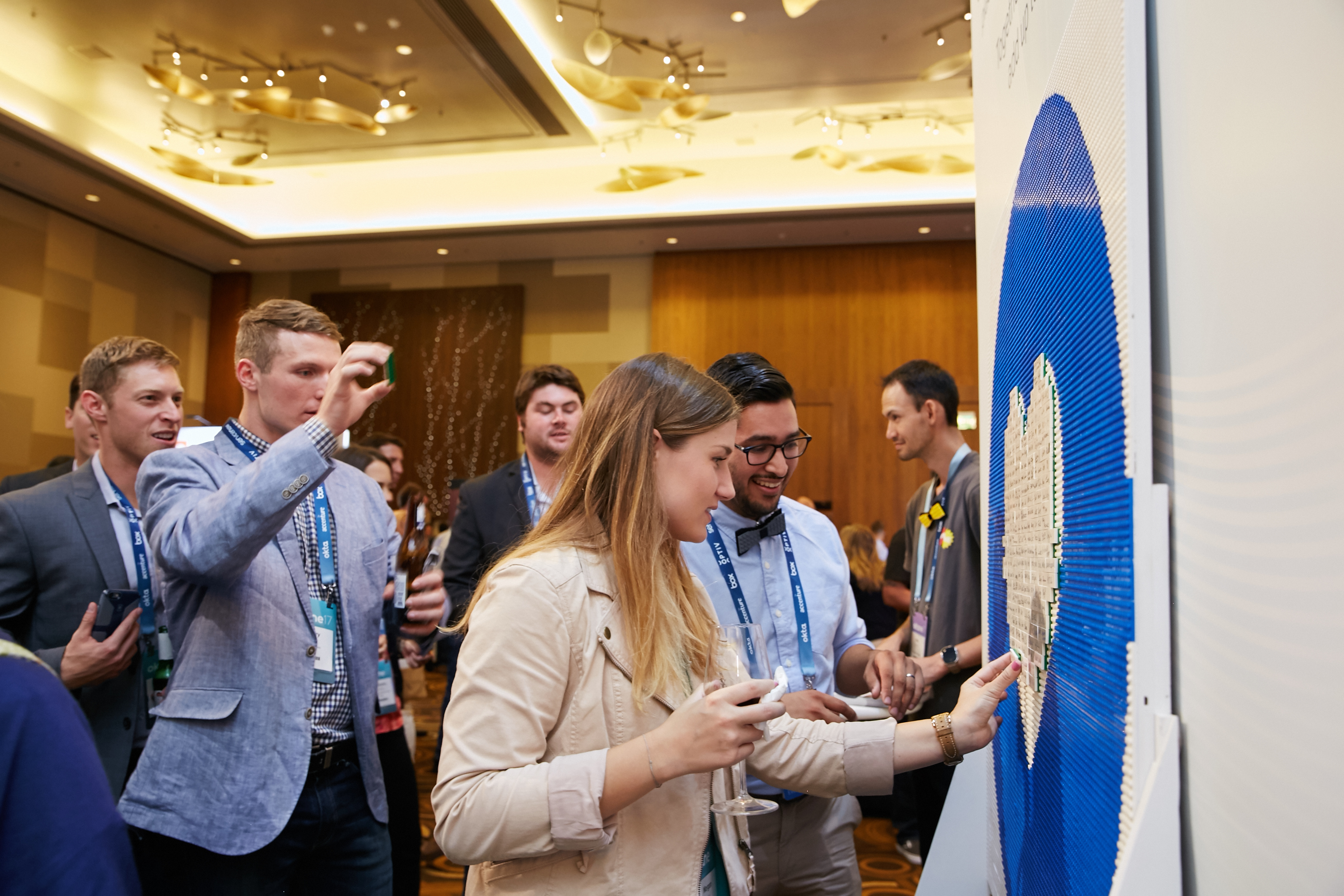 Measuring the Right Impact is Critical We launched Okta for Good with an initial focus on our product donation and employee volunteer programs. To date, we've directed $600,000 of donated technology to 130 organizations reaching more than 365,000 users. Our employees have invested 800 hours of volunteer time in communities around the world. And focused efforts like our Global Tech Week enabled our teams to inspire hundreds of students to explore careers in tech. We're proud of these numbers. We think they represent an earnest start for a company like us early in our social impact efforts.
At the same time, we've also learned that measuring the right impact is going to be critical. To do that, we'll continue to actively engage with our community partners to understand what impact means for them. As Okta for Good grows, we want to evolve beyond counting simple outputs like software licenses and volunteer hours to really focus on the outcomes that matter most for our communities.
The Best Kind of Giving Offers An Opportunity to Learn The biggest recent milestone in our social impact work was launching the Okta for Good Fund and announcing our first grant recipient, NetHope, at Oktane17. This first grant means a lot to us. That's why we sought an organization that aligned with our mission and could help us be better at serving the nonprofit sector – an organization we could not only give to, but learn from.
Much like our partnership with Tipping Point Community through SF Gives (which, over the last four years, has informed our approach to tackling local issues around poverty), NetHope is a terrific partner to launch our work to support digital transformation for the nonprofit sector. We'll do this as a Founding Partner of NetHope's new Center for the Digital Nonprofit. As a prelude to this work, we recently sat down with NetHope's CEO Lauren Woodman and two of NetHope's members (and Okta customers!), Michael Duggan and Erik Arnold, the CIOs of Oxfam International and PATH, to learn more about the current challenges faced by global nonprofits – and how smart partnership with the private sector can help them achieve their missions.
We recognize that learning how to best power change with technology is a process, and we'll continue to work closely with our nonprofit customers to learn more about how they use technology to have a greater impact on their communities. We'll be sharing more details on the next step for our work with the Center at the NetHope Summit later this fall.
Activating Our Entire Ecosystem for Good Our aim in working with NetHope is to power impact at a global level; at the same time, we're also continuously looking for ways to engage our team and ecosystem of customers and partners to support the communities we work in – both geographically and in the technology industry.
Just as our Oktane17 conference was kicking off in Las Vegas, another one of our communities was suffering – our teammates and customers in the Houston area. Thanks to our network of nonprofit customers, we were able to quickly activate our community and Oktane attendees to support relief efforts in Texas following Hurricane Harvey (and, later, Hurricane Irma). To date, we have raised more than $34,000 from employees, customers and the company to support Team Rubicon, an organization that mobilizes veterans to respond to natural disasters. And, as an Okta customer, Team Rubicon is leveraging Okta's technology on the front lines of the response.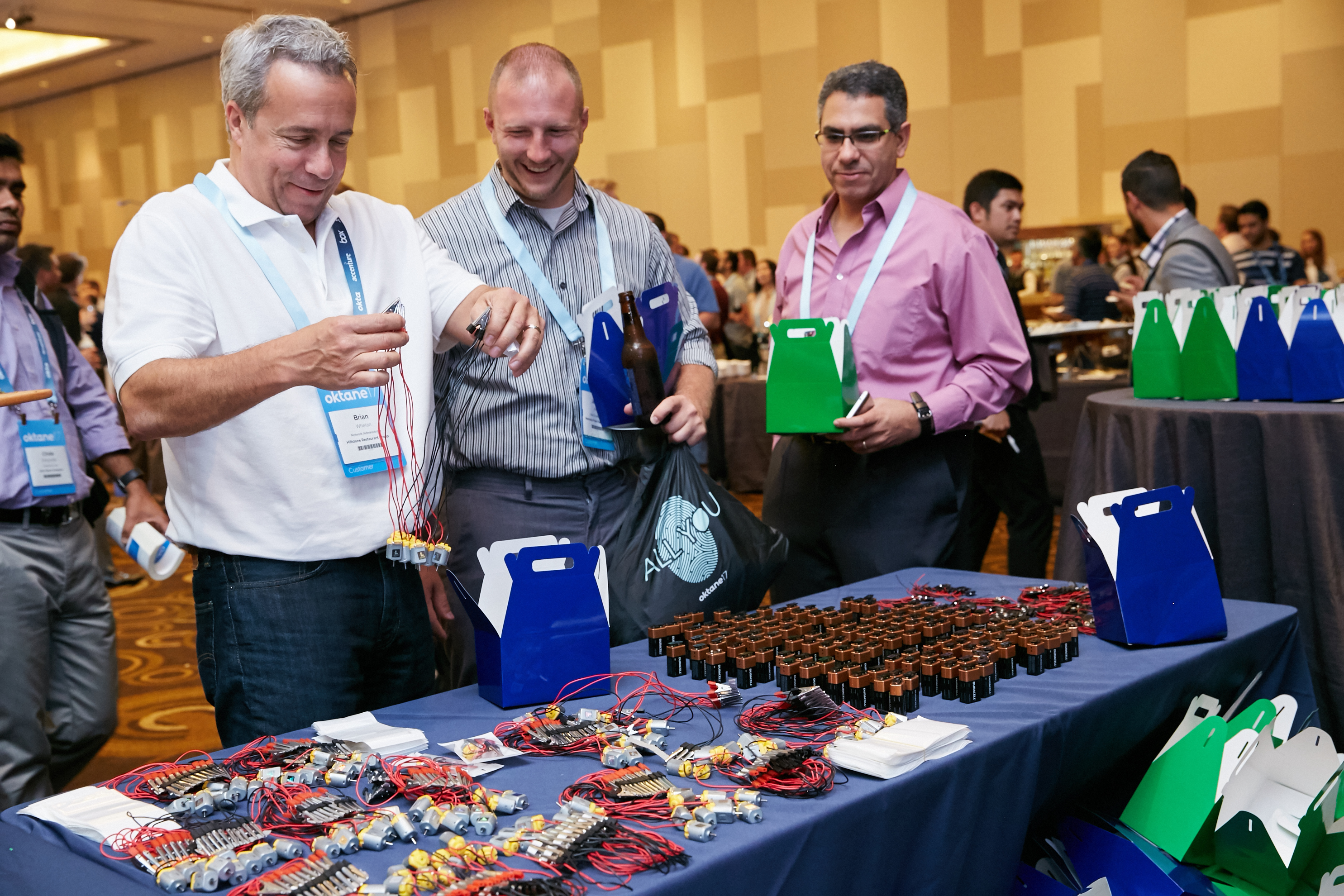 We also had the opportunity at Oktane17 to hear from Girls Who Code Founder and CEO, Reshma Saujani. She shared why it's so critical for our community to empower young women in STEM fields. She challenged us to consider the messages we share with young women, pushing them to ensure we afford the same opportunities to both our young men and women. Our community was fired up, and we wanted to make sure that we gave them opportunities to take action immediately. Building off our our past work, activations at Oktane raised $10,000 for Girls Who Code (attendees could each direct $10 to Girls Who Code by adding their name to a giant Okta for Good Lego wall) and also built 150 science kits to benefit youth from the Boys & Girls Clubs and Girl Scouts of Southern Nevada. These efforts represented a collection of hundreds of small, individual actions from our community members that added up to something bigger together.
What's Next for Okta for Good We keep saying it's only a start – but we're building on this momentum from the last year to continue to grow and evolve our Okta for Good programs. We look forward to sharing more on how that's coming to fruition in the coming months.