NetHope Summit: What We Learned When Nonprofit and Technology Leaders Converge
Earlier this year, we announced NetHope as our first Okta for Good Fund grantee. A consortium of 50+ leading global nonprofits, NetHope empowers nonprofit leaders to change the world through technology. As a part of our inaugural grant, Okta committed as a founding partner for The Center for the Digital Nonprofit, a new initiative that aims to help NGOs improve their digital capabilities to better serve their communities. It's something we believe in strongly and are committed to as we evolve our own work to better serve nonprofits.
A few weeks ago, our team joined 350+ nonprofit CEOs, CIOs, tech leaders and industry partners at NetHope's annual Summit in Vancouver. It was a week that demonstrated the incredible community NetHope has brought together, built upon a shared vision of collaboration as a driver of positive change. Here's what we learned:
1. The nonprofit sector is at an inflection point with respect to technology.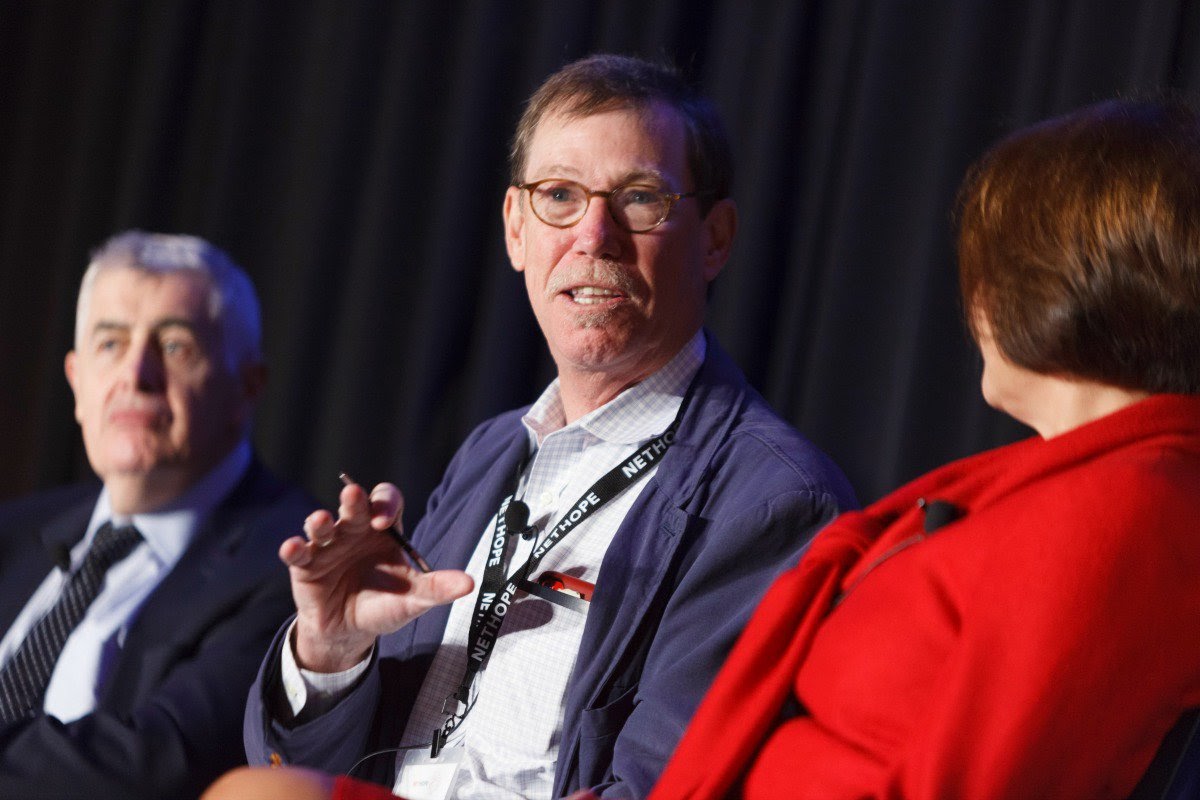 "In order to be an effective actor, we have to become a tech company that addresses human needs." – Patrick Fine, CEO of FHI 360
The resounding message at the conference was that the nonprofit sector has reached an inflection point. Technology has to be key to driving impact with ever-increasing global challenges, but most nonprofits today aren't ready to take advantage of the opportunity. A recent survey of NetHope members revealed that 70% do not have a digital strategy for their organization. Technology is a part of the equation, but again and again, we heard that the primary gaps are in leadership and organizational capacity – the people and processes that enable the use of that technology.
This is why The Center for the Digital Nonprofit exists – and why we see massive opportunity to lend our experience to support the effort. We've gotten to know these challenges up close over the last ten years. Our CEO and cofounder Todd McKinnon talks often about how every company is becoming a technology company, from large multinational businesses to small mom and pop shops taking advantage of digital platforms to grow their organizations. Nonprofits are no exception.
Perhaps the most inspiring takeaway for us is that as this unique community strives to figure out what 'digital transformation' looks like for the sector, they're committed to working together in a uniquely open and collaborative way – demonstrating the idea that, as NetHope CEO Lauren Woodman shared, "the only time you see any industry make exponential change is through collaboration."
2. Nonprofits want solutions, not just technology.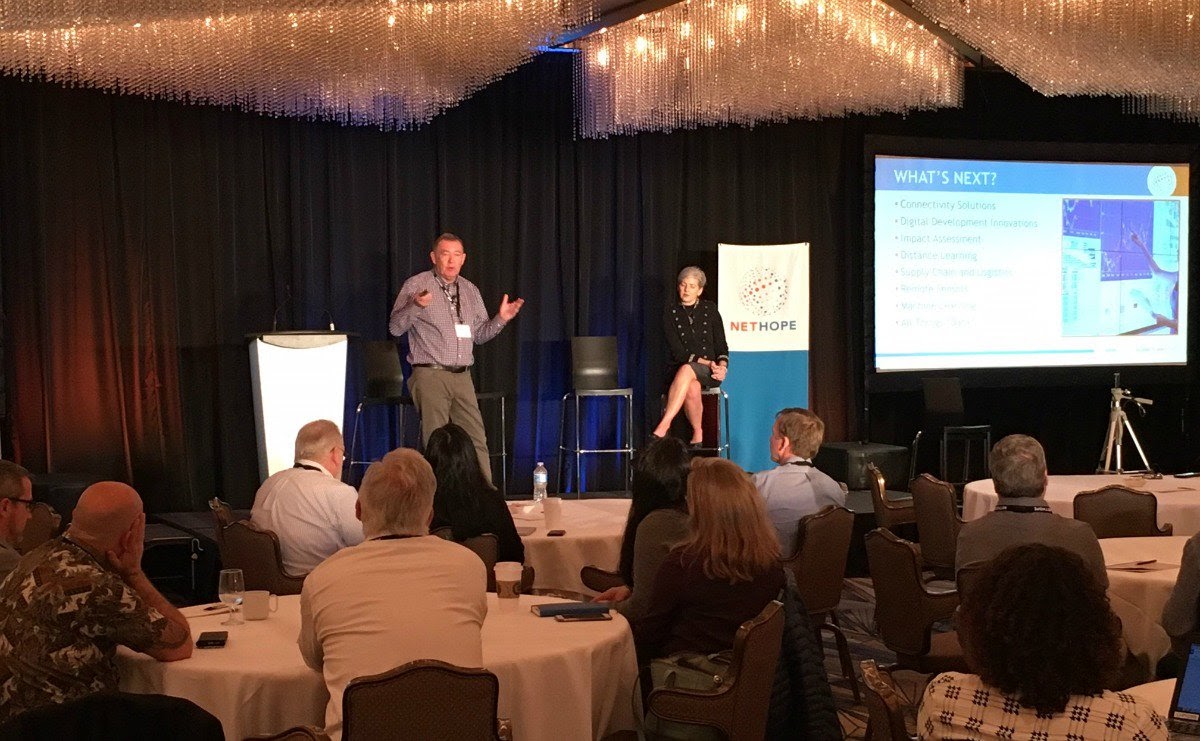 Another common theme was that, for NetHope members, a big part of solving the challenge of digital transformation is understanding how different technologies fit together and making that integration happen. All organizations – public, private or nonprofit – face resource constraints, but this is especially relevant for nonprofits. The NGO leaders I spoke with all shared a desire to identify repeatable processes and build shared solutions that can cover common needs across the NetHope community… and beyond.
Helping NGOs identity solutions and take a holistic approach to the cloud is a huge opportunity – especially as one NGO leader put it, "when we're looking for innovation through partnership, not through technology." This is the root of our Impact Cloud work, a collaboration with Box, Salesforce, Tableau, Splunk, and others to support cross-cloud innovation for NGOs. One of the highlights of the Summit for me was sharing an intimate breakfast with Impact Cloud and NGO leaders – where we had an engaging and candid conversation about the needs of the sector and how committed companies like ours can move the needle through collaborations and shared solutions.
3. The potential for impact is staggering.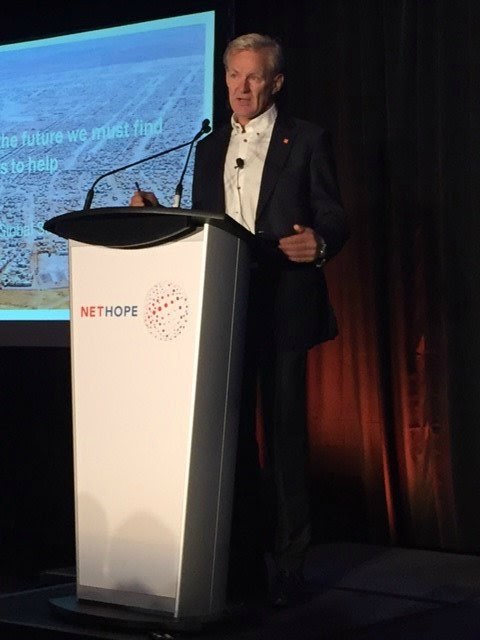 "A child born today has nearly double the risk of being displaced than a child born in the 60s, 70s or 80s." – Jan Egeland, Secretary General, Norwegian Refugee Council
It probably doesn't come as a huge surprise to hear that the potential impact for unlocking the power of technology within these organizations is significant – but I was shocked to learn just how massive the impact of this particular group is.
Today, 60% of all international aid is delivered by NetHope's member organizations. Sixty percent delivered by these 53 organizations. These nonprofits are reaching the world's most vulnerable, and the global challenges they are taking on are more important than ever: the refugee crisis, climate change, global health. They're all top of mind and likely the top of your news feed for a reason. We appreciate that NetHope serves as a platform for connecting companies like ours to organizations doing so much to address these global challenges.
As I consider Okta's role as an emerging player in the corporate social impact and philanthropy space and how we best position ourselves for impact as we grow, two things are top of mind: 1) giving where we can learn, and 2) looking for leverage. By investing in NetHope, we do both.
To learn more about The Center for the Digital Nonprofit and ways to support, visit NetHope.org.
And, ICYMI, check out Okta's COO and cofounder Frederic Kerrest giving a keynote from the NetHope Summit here: