Making Our Mark in EMEA: A Day in the Life of Myriah Thompson
Ever received an email from Okta or attended an Okta-hosted event in EMEA? Chances are Myriah Thompson, regional marketing manager at Okta, was behind it. Myriah is responsible for creating demand through strategic programs throughout the EMEA region. Read on to see how she does it and get a peek into #lifeatOkta in our London office!
How did you find out about Okta?
I actually used Okta at my previous job! I recognized its benefits as an end user and loved how easy it made access to the tools I needed to be productive. My friend, Jahrina Burke, also works for Okta and had great things to say. She referred me to this role and the rest is history!
Why Okta?
I realized quickly during my interviews that Okta is filled with very genuine people. I found throughout the process that they were more conversational, giving me the platform to ask honest questions and receive authentic answers in return. It's important to me to be around these types of people and gives me great respect for our leadership team.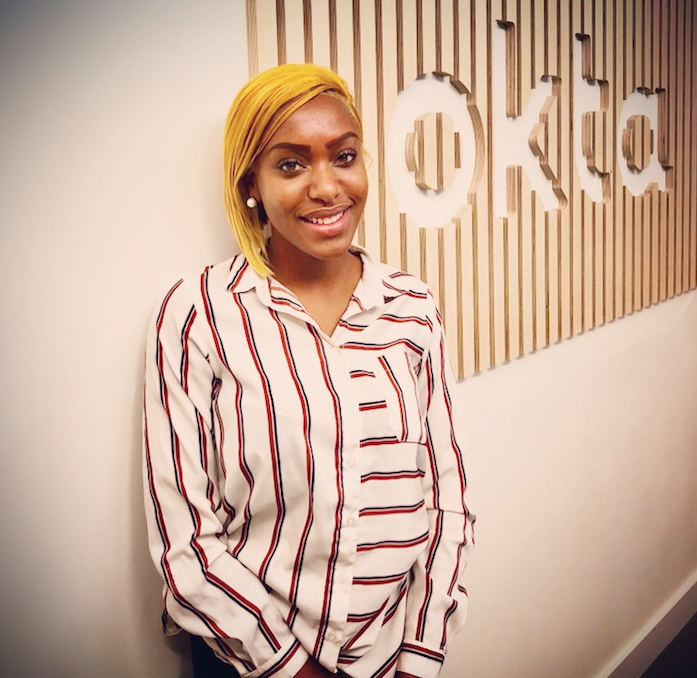 The other reason I chose Okta is because of the endless opportunities for my career. This company is very transparent with where we're headed and the role that my team and I can play to help get us there.
Tell me about your role.
I am responsible for creating demand by executing strategic programs with cross-functional teams to create demand for the UK/I, Benelux and Middle East and Africa and I do that through campaigns and programs. I am constantly looking to drive sales pipeline for our European account executives, generating awareness and creating demand by using a variety of marketing vehicles and tactics. I work closely with our territory sales directors, inside sales representatives, and the broader go-to-market team. I drive regional field events, programs and campaigns including analyst research events, content marketing, email campaigns, direct mailers, field events, and exclusive executive programs.
It's great to see how much my role and our entire team actually influences deals and company growth. A campaign or conversation at an event can be the starting point for a net new win, and that is really rewarding.
Do you work closely with the team in our San Francisco HQ?
Yes, we collaborate on all of our campaigns -- I couldn't do my job without the American team. Often times I leverage the content that they build and then localize it. They're the backbone of many of the campaigns that we run and that collaboration is essential for success.
What does an average day look like for you?
My day-to-day in the EMEA office differs every day! We work closely with agencies, so I spend time communicating with them to make sure projects are on track and translations are correct. When looking at which programs to execute for the quarter, I spend a lot of time in our budget to make sure each campaign and event fits with our territory allowances. As part of that, I am always looking at campaign performance to ensure we make good decisions moving forward and learn from any mistakes.
Because we travel to various field events, I spend a lot of time focusing on our presence there and thinking about interactive booth design and overall messaging. It's also important to me to carve out time to educate myself on everything that is happening within Okta and the industry. It's interesting and exciting work. The industry is continuing to expand rapidly so we need to make sure that we're doing the right things at the right time.
What's the best part of your role?
Being challenged daily. I appreciate that I get to step out of my comfort zone. Often times it means jumping into the deep end and figuring out how to make it work. This works though because we have leadership that believes in us and supports us along the way.
What's the most challenging part of your role?
The most challenging part of my role is figuring out ways to constantly innovate and then waiting patiently on the return on investment (ROI) of the campaigns and programs that I've run. Also spreadsheets!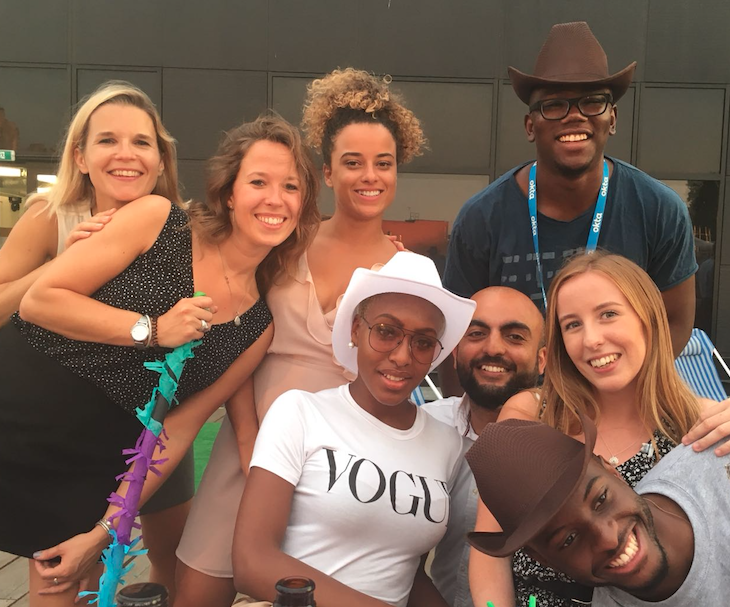 Describe Okta's culture.
I love Okta's culture. There is room to take risks and innovate, which is always refreshing. Each day I am challenged and I constantly feel supported by my team both inside and outside of the office. We also have plenty of fun, which doesn't hurt either!
What do you enjoy doing outside of work?
I love being with my friends and family and checking out new restaurants and bars. One thing that I've picked up recently is checking out pop-up events. The other day I went to dinner in the sky and sat 150 feet above ground while watching a chef cook in front of me. That was such a great experience! I also love to travel -- particularly somewhere I can swim and snorkel.
Okta in one word?
Intriguing. We're on a journey and it's only just the beginning of an amazing story. I'm intrigued to see how I will be challenged in my career and I'm intrigued to see how we grow into all the potential in this industry.
Our EMEA team is growing quickly! Check out our careers page to join us.