Investing in Local Talent As Okta's Footprint Expands
We've experienced significant growth at Okta over the past year — not only in my world of social impact, but across the board. We expanded our customer base, launched new products, built partnerships, added employees and opened new offices around the world.
When we open offices in new cities and regions, the Okta community grows. And it presents a unique opportunity to learn about local needs, cultivate new relationships with nonprofits, and invest in addressing the issues most important to those communities. Across the globe, we are seeing similar needs around connecting diverse, local talent to careers in technology. With this as a focus, we've gotten to work in some of our new communities.
Developing young talent in Washington, DC
In August, our CEO and co-founder Todd McKinnon officially opened our new office in Washington, DC — a community that cares deeply about education. We made a commitment to support the development of diverse leaders by giving $10,000 grants to GenesysWorks and YearUp. Both organizations are bridging the opportunity gap that exists between youth in our local communities and thriving, high-wage careers. GenesysWorks and YearUp empower young people to participate in the economic opportunity that companies like Okta are driving.
We've built strong relationships with GenesysWorks and YearUp in the Bay Area, so it felt natural to move into a new market where we could partner with their sister organizations. We know the power of opening our doors to the community, inviting students and potential employees to meet with our team and learn about opportunities at companies like Okta, so we're excited to continue partnering with GenesysWorks and YearUp in DC.
Bridging the gap in Toronto
A few months later, we expanded our footprint in Toronto, Canada with a new, standalone office at King Street West. At the opening event, our country manager Mark Quesnel announced that Okta will be a Cohort sponsor of Bridge School.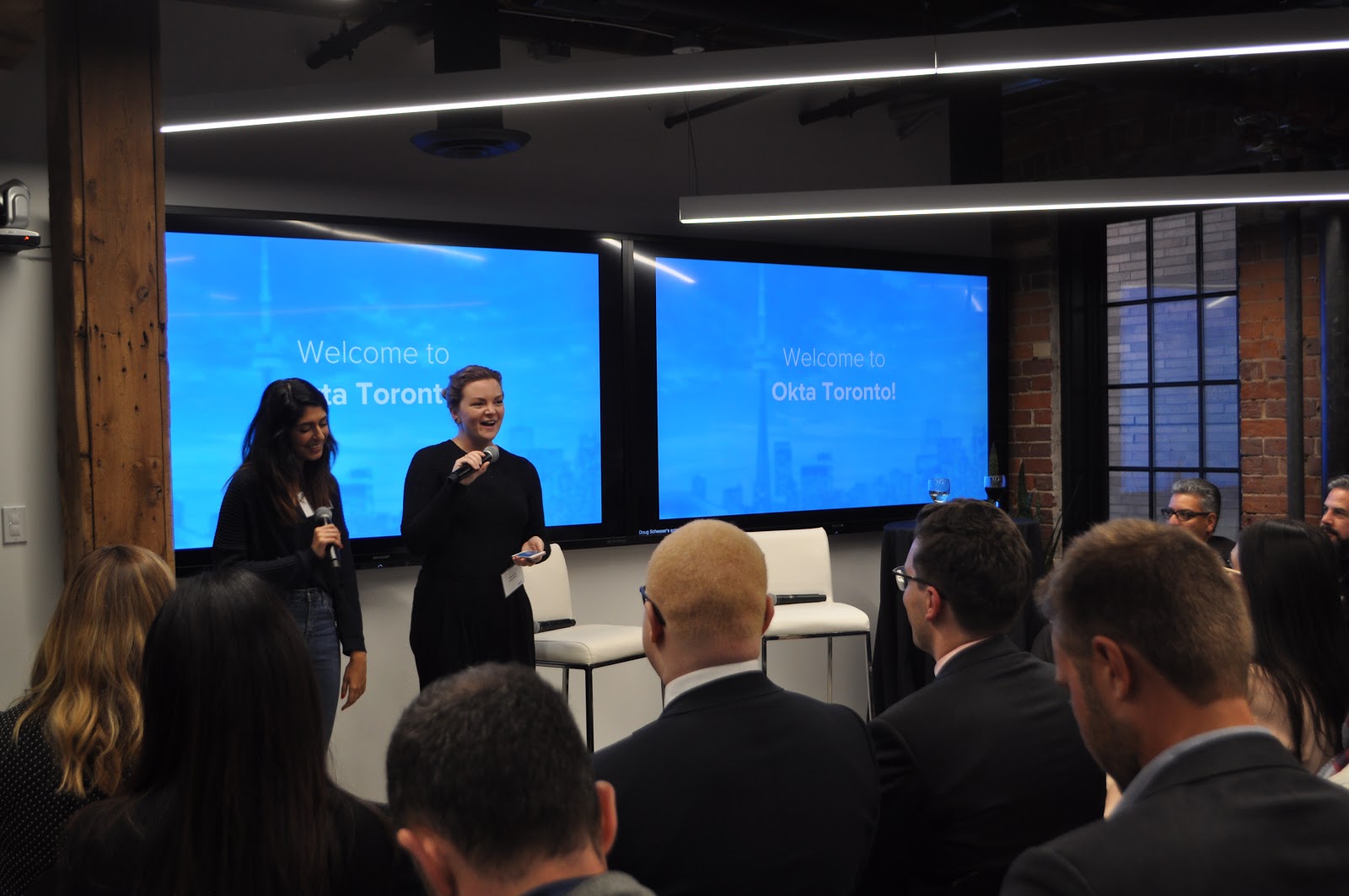 Bridge is a Canadian nonprofit that builds and delivers advanced, free, in-person training courses for developers and designers who are women, agender and/or non-binary. Bridge brings its students together with forward-thinking companies who want to hire great talent — with the ultimate goal of building more diverse teams. The organization's unique focus on the "middle" of the pipeline — professionals who are already in the industry, looking to move beyond junior roles — drives more diverse, expertly-trained and highly sought-after developers and designers into leadership positions within technology companies. We're excited about the work ahead with Bridge.
Focusing on female empowerment in Paris
Our most recent office opening took place in Paris, France, where our co-founder and COO Frederic Kerrest announced a 10,000 Euro grant to BECOMTECH. (And yes, he did it in French, his second language.) Frederic discussed how giving back isn't a nice-to-have, it's a need-to-have — and emphasized that we're thankful to be in a position to not only invest in our communities, but also in the organizations and the people that are dedicating their lives to positively impact our communities.
He then introduced Salwa Toko, the founder and president of BECOMTECH, a nonprofit organization that introduces junior and high school girls to digital and computer science, developing homegrown female technology leaders. Earlier this year, Salwa was appointed president of the Conseil National du Numérique (National Digital Council) and she discussed her charter for both roles, emphasizing the importance of developing diverse, passionate talent to contribute to France's society and economy.
It was the culmination of a year of commitments to our communities, partnering with organizations building pathways into tech for high potential talent. Supporting nonprofits dedicated to workforce development around the world is one of the best and most direct ways we can make an impact as a company, and you can expect to see more from us in the coming year.