Holiday Work Habits by Okta

The holiday season means different things to different people, but some aspects of it are universal: reconnecting with family and friends, eating great food, and taking the time to unwind from work. At Okta, the holidays are also a chance for us to look back at the data we've gathered from our more than 7,000 customers, and 6,000 apps and integrations in the Okta Integration Network to explore how people's working habits have changed as we mark the end of another year.
Whether you're celebrating at home, with family, or with friends, the holiday season is an excellent litmus test for how we choose to travel, as well as which working behaviors are most ingrained into our work culture—some may log off completely, others may check their email from their seat by the fireplace. As the festive season approaches, we're taking a look at which travel applications are seeing the most success; when people manage to sign off; and whether workers truly disconnect from workplace apps when the office lights go out.
TripIt, American Airlines, and Marriott Bonvoy fly ahead
The holidays are a crucial time for travel companies. Thanks to growing wages and an increased interest in visiting other places, 54.3 million Americans traveled at least 50 miles away from home for Thanksgiving in 2018—the highest that figure has been since 2005. And this winter season could be even more profitable.
The way we see it, there are three key parts to planning a trip: how you get there, what you do, and where you stay. With that in mind, we've taken a look at the data for booking, airline, and accommodation apps to find out just how Americans like to escape.
TripIt edges out Expedia
Over the last couple of years, TripIt and Expedia's apps have attracted significantly more customers than their competitors within Okta's customer base. And while travel planning apps are seeing increased usage across the board going into this holiday season, TripIt is looking like the clear winner. The app has been attracting a growing number of customers as Americans increasingly turn to one-stop trip planning.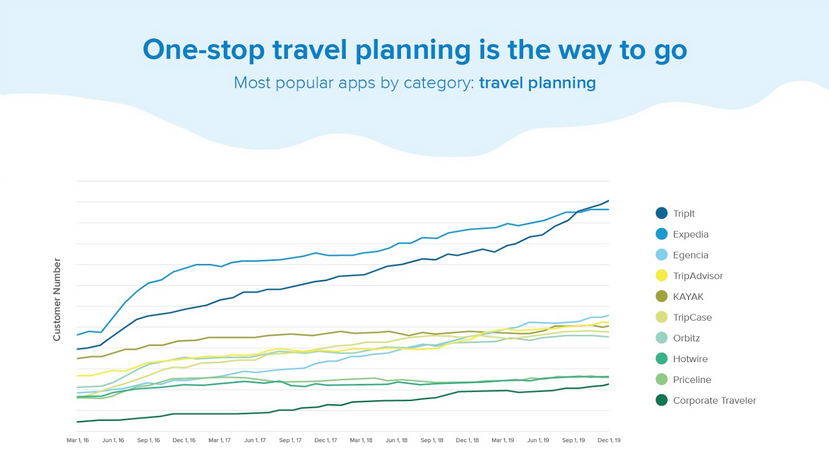 American soars above their competition
Everyone likes a redemption story, and that's exactly what we're seeing for American Airlines as it's emerged from the pack to lead in airline app usage in the last year. After a surge in summer customers, the airline's app usage now shows that it's the carrier of choice among Okta customers—a title it looks set to preserve during this holiday season.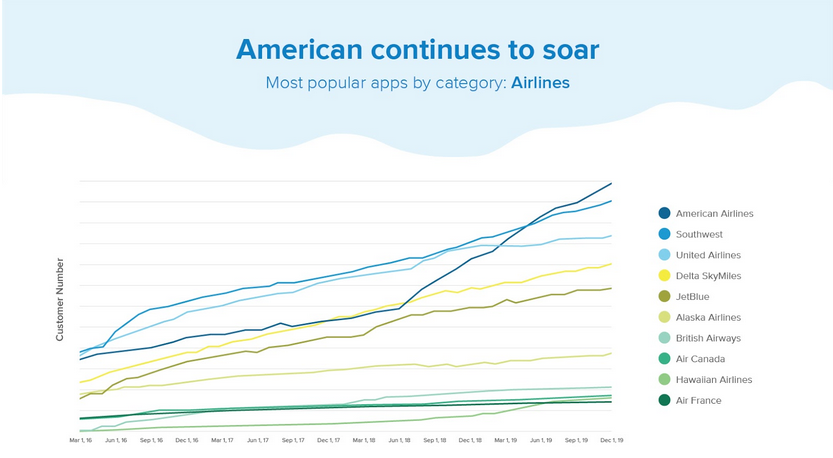 Marriott and Starwood combine and conquer
It's no secret that Airbnb has seriously disrupted the business of booking accommodations—and other businesses in the hospitality space have been forced to find innovative ways to keep up. This year, Marriott and Starwood merged, becoming the brand new Marriott Bonvoy. This consolidation has put the incumbent hotel chains back in the front of the pack, despite the fact that more and more Okta customers are opting to use Airbnb.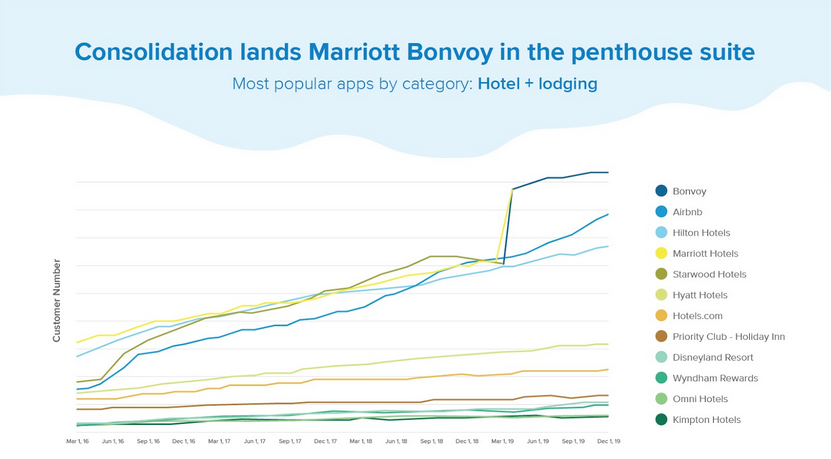 Americans struggle to disconnect from email—even on Christmas Day
No matter where we spend the holidays or how we get there, the digital tools we use to do our jobs mean we're more connected to our work than ever. The data we've gathered from the Okta Integration Network has also given us some clear insights on the degree to which people engage with their workplace apps during the holidays.
While it's certainly easier to collaborate, communicate, and keep up to date, the lines between work and life are increasingly blurred—and that can result in challenges for employees. With 67% of the American workforce feeling at least an occasional degree of burnout, there's an undeniable sentiment that people are struggling to unplug.
Christmas Day is the most work-free holiday
Compared to the average working day, app logins on Christmas Day and Thanksgiving Day 2018, as well as New Year's Day 2019 dropped by over half at any given time. Meanwhile, the eves of these big holidays also saw considerably fewer users signing in to workplace apps than the average workday, but not to the same extent. While the days before major holidays follow a similar pattern of waning logins as the day progresses, the holidays themselves show an inverse relationship—as the day goes on, more workers are signing back in as they start preparing for work the next day. New Year's Day specifically shows just how much workers aim to get a jump on the new year, with a 30% increase of logins at 5 p.m. versus 8 a.m.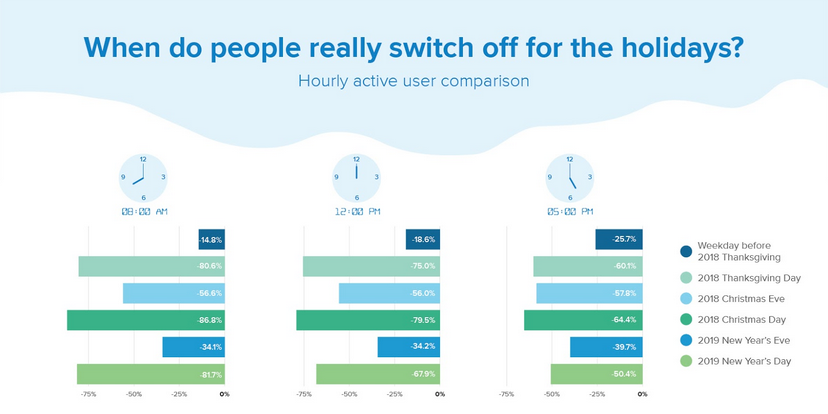 All I want for Christmas is…email
Given that Christmas Day is the most work-free holiday, it makes sense that usage of various applications would drop off. The exception to the rule, however, is Microsoft Office 365. The data shows that on and near big holiday days in 2018, the app retained most of its users. On the opposite end of the scale, apps like Box, Zoom, and Slack experienced near-total drops on Christmas Day. This tells us a few things: while the impulse to check our emails knows no bounds, we're still a far cry from spending our holidays on video conferences or checking the workplace Slack channel.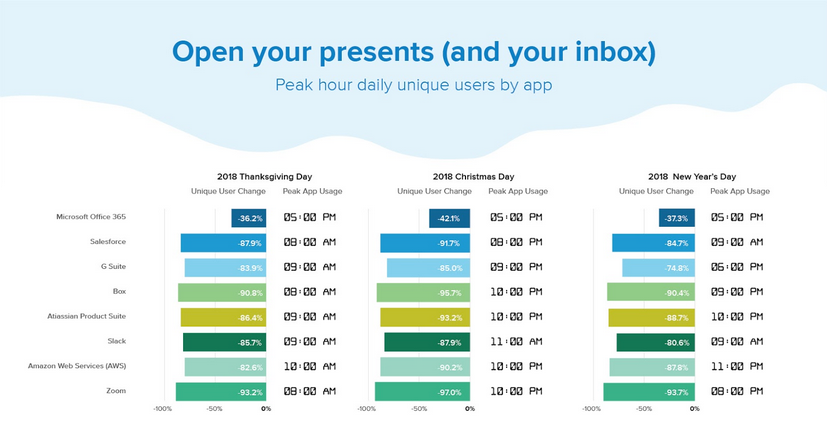 Our data points paint a dynamic picture of how Americans work (or not) and travel over the holidays. There are a few key players leading the pack in trip planning, air travel, and accommodation—and their success is set to continue with a growing appetite for travel across the country. Meanwhile, our digitally-connected workforce has clearly made it easier to bring work home, but the holidays are still a time to disconnect from our to-do lists and reconnect with our loved ones.
Stay tuned for the full Businesses at Work report coming out in January 2020.
How Did Okta Create This Report?
To create this report, we anonymized Okta customer data from our network of thousands of companies, applications, and IT infrastructure integrations, and millions of daily authentications and verifications from countries around the world. Our customers and their employees, contractors, partners, and customers use Okta to log in to devices, apps and services, and leverage security features to protect their sensitive data. Our customers span every major industry and vary in size, from small businesses to enterprises with hundreds of thousands of employees or millions of customers. As you read this report, keep in mind that this data is representative of Okta's customers, the applications we connect to, and the ways in which users access these applications through our service.
We have worked carefully to standardize our data. Unless otherwise noted, the App Trend data is from January 1, 2016 to October 31, 2019 and the Holiday Login data leverages November 5, 2018 to November 9, 2018 as the benchmark.