Businesses @ Work (from Home): The Education Edition
In the midst of the COVID-19 pandemic, people and organizations are rallying to respond to unprecedented challenges. With this massive disruption to what we consider 'normal', more people than ever are working and studying from the comfort of home. Within our schools and universities, teachers and students are figuring out new ways of learning, ensuring that they can still meet their educational goals as they navigate this pandemic. To help achieve those goals, our educational institutions need best-in-class technologies that ensure their people are connected, productive, and secure.
These unique challenges inspired us to publish a mid-year update to Businesses @ Work. In it, we've looked at month-over-month data from the Okta Integration Network (OIN) to understand what technologies and applications organizations are using in this unique situation. The OIN now includes nearly 8,000 customers and over 6,500 integrations with cloud, mobile and web apps, and IT infrastructure providers.
As part of this review of our data, we uncovered the education sector as a particular area of interest, which prompted the development of an education-focused report. Okta's end users in this sector include students and staff at post-secondary institutions, as well as staff at kindergarten-12 schools. Here's what we found.
Education sees unprecedented usage spike
Educators, administrators, and students have had to radically change how they work day-to-day. They've rapidly adopted learning and instructional applications, while also ensuring seamless access to their learning tools. At the same time, they've risen to the challenge of educating their students remotely, bringing collaboration and security technologies into the fold.
Our full report shows that, between February and March 2020, there was a marked uptick across the board in the number of unique users accessing certain apps in their organizations—especially when it came to collaboration and network security applications. Across our network, the fastest growing apps during this month were Zoom (110% growth), PaloAlto Global Protect (94%), and Cisco AnyConnect (86%).
Meanwhile, as schools sent their staff and students home, we saw a significant number of unique users turn to collaborative technologies. In just one month, conference solution Zoom's unique users in education went up 668%, while Cisco Webex's grew 491%. Meanwhile, the Atlassian Product Suite, a collection of applications that support collaboration and remote working, saw an uptick of 27%.
Percentage Change in Unique Education Users Accessing Apps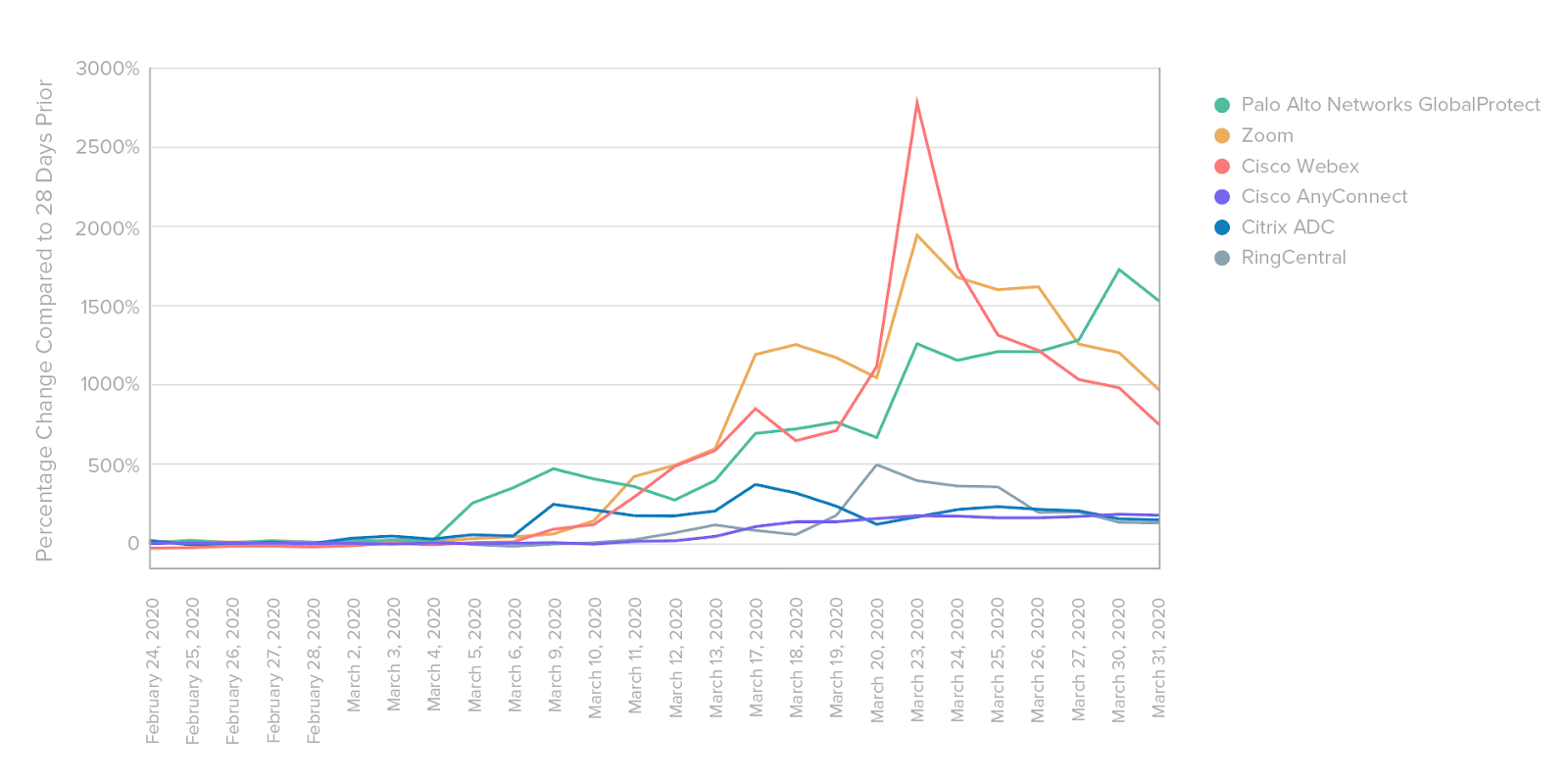 As we explored our data, we took a closer look at our fastest growing apps and tools to see if we could identify a correlation between the growing impact of the pandemic and users' behavior. When it comes to the education sector, the second half of March saw the percentage of growth of unique users for GlobalProtect, Zoom, and Webex in the thousands. This is far greater growth than we've seen in any other sector, showcasing just how significant this transition has been for students and educators alike.
Our customers are leading the way
Around the world, our customers in the education sector have been quick to respond to the implications of the pandemic, rolling out remote communication apps, extending VPNs, and adding MFA to ensure that their students continue to thrive.
University of Notre Dame
Before the emergence of COVID-19, the University of Notre Dame had recently integrated Zoom with Okta—making their first step to provision everyone to Okta. The day Okta went live for students, the university received much fewer helpdesk calls than anticipated.
Educators have also evolved: before the pandemic, only 60% of the faculty were comfortable using the university's learning management system, but that number has grown significantly. Now, Notre Dame is more confident about their ability to support remote work, teaching, and learning needs for all their users.
DeVry University
Even before the pandemic, DeVry University held 90% of its classes online, as its 25,000 students and 3,500 staff, faculty, and visiting professors were spread across 45 campuses around the U.S. However, in light of the pandemic, DeVry University had to react quickly to continue to deliver quality learning experiences for the 500 classes that weren't already online. To do this, it increased its reliance on apps like Cisco Webex, Canvas, Microsoft Teams, and homegrown mobile and portal applications, as well as other publicly available technologies. The institution also shifted the remainder of its Single Sign-On experience to Okta, and was 100% operational within 10 days.
DeVry University and the University of Notre Dame both demonstrate that educational institutions are capable of being agile and creative. Once the dust settles, we believe these and other schools will be ready to face a second phase of evolution, adding apps and tools that will not just enable remote productivity, but enhance what will likely become a "new normal" of dynamic learning.
For more insights into how the education sector is responding to COVID-19, please read our full Education Businesses @ Work (from Home) report.