Businesses @ Work (from Home): The Finance Edition
As the COVID-19 pandemic and shelter-in-place regulations continue to keep people at home, businesses around the world have adapted to new ways of operating—with many looking to quickly deploy solutions to keep large remote workforces connected, productive, and secure.
Organizations in the banking and finance industries are no different—and with vital customer information that has to be protected at all costs, as well as call centers that need to be monitored for compliance purposes, moving operations offsite is no small task.
These unique challenges inspired us to publish a mid-year update to Businesses @ Work, which looks at how our nearly 8,000 customers are using cloud, mobile, and web apps across the Okta Integration Network. And after noticing some patterns in how banking and finance organizations were adapting, we developed a finance-focused version of the report. Here's what we learned.
Connecting and engaging employees
In general, financial organizations are prepared to support some remote workers on occasion. But with social distancing restrictions in place, the industry's daily remote workforce has grown significantly—in a matter of days.
Workplace communication and collaboration apps—including Zoom, Slack, and Quip—have proven essential to this transition. But looking at this sector as a whole, video conferencing and messaging platforms saw the greatest increase in unique workforce users between February and March of 2020:
Across all industries, Zoom grew a staggering 110%. In finance and banking specifically, it climbed 98%.
Cisco Webex has become the seventh fastest-growing app across all industries, with 37% gains overall and 28% in banking and finance.
The number of unique users on Slack has grown 25% in banking and finance over the month of March.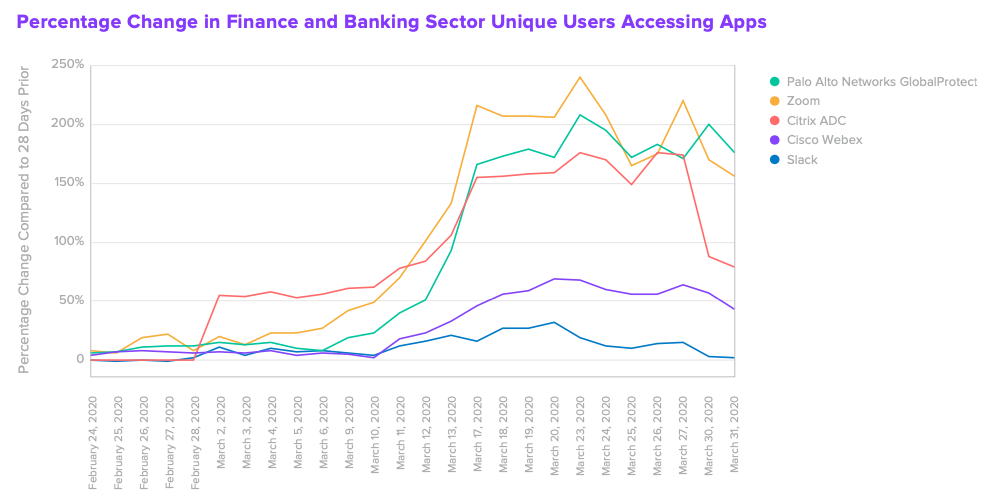 Securely enabling a vast remote workforce
Shifting into crisis management mode, financial companies are expanding their online offerings to a much broader customer base in a much broader selection of services. And that means they need their apps to securely perform at maximum capacity across multiple cloud, on-premises, and hybrid IT infrastructures.
At the same time, as financial services move to virtual channels and call volumes increase, there are more opportunities for fraud and cybercrime. As such, financial services institutions have had to deploy applications that enable their employees to serve their customers effectively, without compromising the security of the organization.
It's no surprise, therefore, that network security tool Citrix ADC has become the single fastest-growing app for banks and financial firms since social distancing practices began. While its use increased by 56% across all sectors in March, it hit an unprecedented 99% spike in financial verticals specifically.
This trend is also reflected in the growing adoption of Palo Alto Networks GlobalProtect, which saw 94% growth across all industries in March compared to February, with a sizable 62% surge in banking and finance.
Protecting Capital Group's workforce
Like organizations across the globe, the team at Capital Group was suddenly in uncharted territory. Not once in the company's nearly 90-year history had there been a situation like this. Besides a small group to maintain facilities, the entire company went virtual—with 98% of employees working from home.
VPN access to the organization's secure environment was typically around 10% to 15% of the workforce on any given day, and only on dedicated Capital Group devices. With work-from-home as one of the company's business continuity strategies, the company was ready to support thousands of workers via VPN. Additionally, for users that were not part of the work-from-home strategy, the company quickly expanded its BYOD offering to provide a secure platform for accessing Capital's secure environment. The company was able to employ a multi-layered strategy that included their existing Okta environment to provide secure remote access.
Enterprises across every industry and sector are adapting their workflows and operations to empower their teams, support their customers, and identify new opportunities in a world quintessentially altered by COVID-19. For more information on how financial organizations are using technology to respond to the pandemic read our Finance and Banking Businesses @ Work (from Home) report.