Moving to the Cloud? Okta Gets You There Quickly and Safely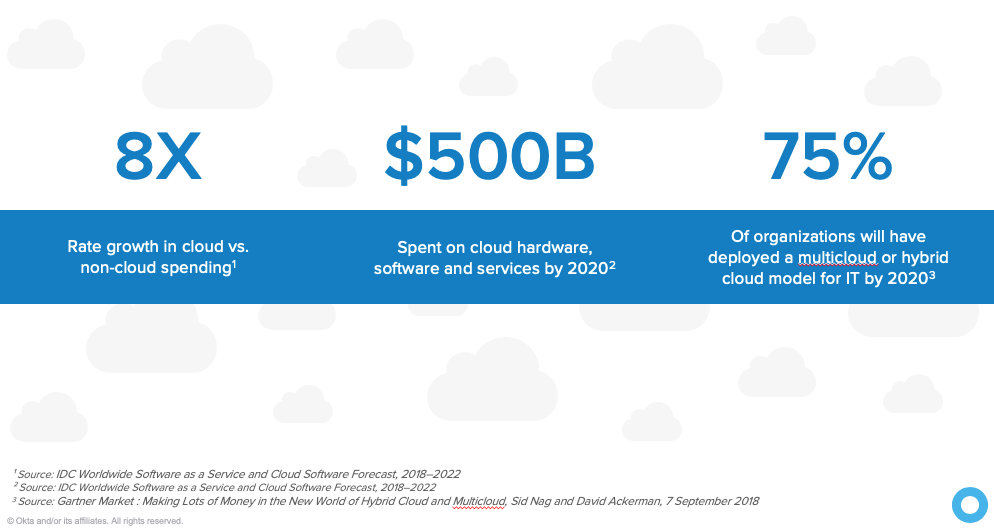 According to IDC, cloud spend is out-pacing non-cloud spend by 8x. The same report estimates that half a trillion dollars will be spent on cloud hardware, software and services by 2020. It's clear that almost every organization on the planet is on a cloud journey of some sort, as Gartner predicts that 75% of them will have deployed a multi-cloud or hybrid-cloud model for IT by 2020.
But truth be told, migration to the cloud is scary and complex. Companies need an expert to help them with their migrations. Legacy identity methods struggle to adapt to the modern technology stack; enterprises need a modern identity platform that enables quick adoption and secure access.
As a result of this Cloud Revolution, employees and partners are generating more data in more places, including cloud, mobile and legacy apps, and that data needs protecting. As the traditional perimeter is dissolving, passwords are still the most common single security mechanism for applications. With a diverse workforce, use of personal devices, and data residing outside of an organization's premises, traditional access methods like simple passwords no longer scale. The cloud revolution requires a new identity-centric security strategy—the user becomes the new perimeter, and a modern identity platform enables it.
What's exciting is that Okta is not the only organization tackling these problems. Our technology partners are embracing this new cloud and identity mindset. Atlassian is offering "Atlassian Access" to their customers to help them consolidate all of their products and services into a single cloud offering. With Atlassian Access, customers can centrally manage all of their Atlassian products. And to seamlessly enable this option, Atlassian has partnered with Okta.
Okta is the Identity standard, and our modern approach to (Identity Access Management) IAM helps customers with easy migration to cloud. As a foundation for zero trust security, Okta provides:
Centralized IAM control using single-sign-on (SSO) to reduce password management risk
Context-aware security
Protect data with MFA + eliminate surprises by knowing who has access to what
Automated provisioning and deprovisioning
Reduce IT overhead by automating joiner, mover and leaver workflows
By leveraging Okta's identity engine technology with Atlassian's Access cloud suite, organizations can provide secure access to the tools they need to be successful and productive. Companies interested in seeing how Okta and Atlassian work together can leverage our partnership to scale the deployment of Atlassian Access and other Atlassian products. To rapidly deploy Atlassian Access in the most secure and accessible way, Atlassian customers can enable SSO, LCM and MFA for free with Okta.*
Join our webinar!
There's a lot more to learn here, and we're staging a webinar to give you the details. To get them, join the Accelerate Cloud Adoption to Enable Remote Work webinar!
*This free Okta offer is linked to Atlassian Access, and limited to net-new Okta customers. It provides limited support. Please contact Okta or Atlassian for more details.