Founders in Focus: Adam Pettit of Kandji
For the last Founders in Focus post of the 2020, we're chatting with Adam Pettit, founder and CEO of Kandji. Kandji joined the Okta Ventures portfolio in October, and Adam shares with us how Kandji is reinventing Apple device management for modern organizations.
What is Kandji, and what is your mission?
Kandji is a device management (MDM) solution built for organizations that run on Apple. Our product empowers busy IT administrators by automating repetitive tasks and introducing new features to the device management space, such as the industry's first one-click compliance functionality. Apple is rapidly becoming the device of choice in the enterprise, and the Kandji team is on a mission to reinvent Apple device lifecycle management.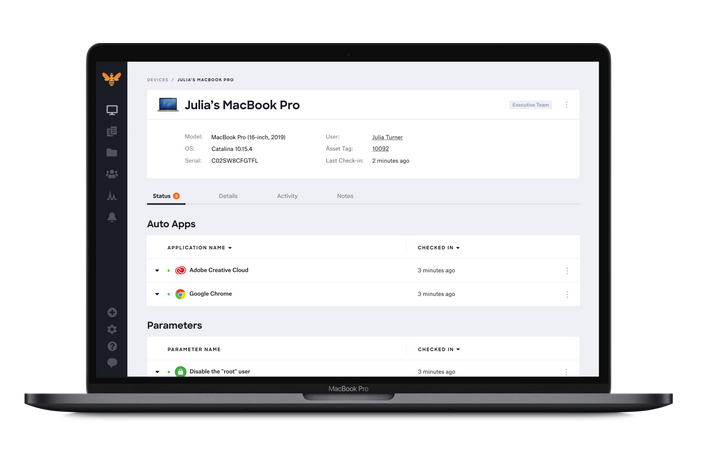 What is Kandji's origin story?
Before the founding team started Kandji, we ran an IT consultancy focused on helping customers deploy Apple in the enterprise. For almost a decade before we founded Kandji, we consulted with customers to manage Apple devices using just about every MDM solution on the market.
That's when we uncovered large gaps in the device management space. Existing solutions were either too limited or overly complex, and none of them could accommodate scaling businesses and mounting regulatory demands. It became clear to us that there was a growing need for a powerful yet streamlined platform.
So, we sold our IT firm and got to work. After two years of product development, we launched Kandji in October 2019. Within a year from launch, we onboarded hundreds of customers with tens of thousands of devices. The demand has been incredible, and we're proud to work with leading companies like Crunchbase, Belkin, Attentive, HackerOne, Turo, and so many more.
What is Kandji's solution?
As businesses scale, it becomes more challenging and time-consuming to manage company devices. Inefficient or outdated device management workflows can lead to countless hours of wasted time—and unmanaged devices pose serious security threats to corporate data. Because IT administrators oversee hundreds or thousands of corporate devices, manually setting up and securing each one simply isn't feasible.
That's where Kandji comes in. Our MDM solution makes it easy to set up devices for new team members, enforce security settings, and push down applications remotely—all without having to physically touch a device. IT administrators can manage devices and achieve compliance from a centralized platform. This degree of remote management isn't possible without a solution like Kandji.
How does Kandji stand apart from others in the market?
What makes Kandji unlike any other MDM solution on the market is our focus on automation. We've fine-tuned our platform to help save our customers countless hours of repetitive tasks, freeing up time for work deserving of their expertise. Our growing library of pre-built automations and workflows is key to accomplishing this new take on device management.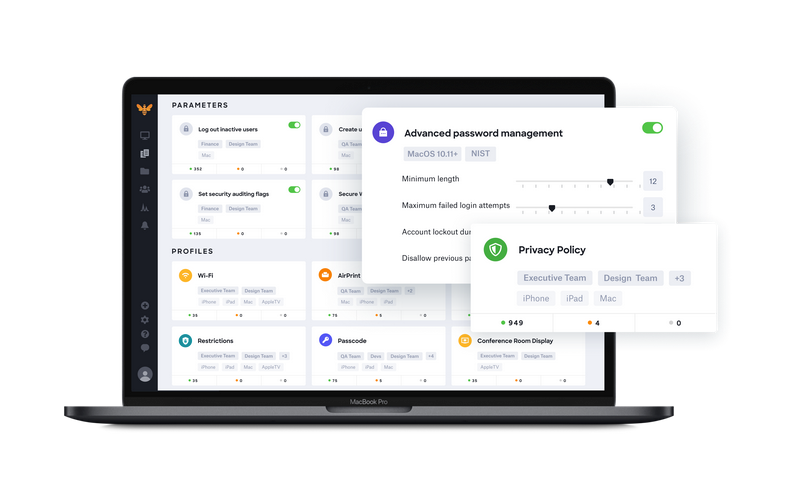 This is how our customers tell us Kandji stands apart from the crowd:
MDM for the Modern Workplace: Kandji is a truly cloud-first MDM solution. This lets us rapidly release new features to our customers to stay at the cutting-edge of Apple device management. We also built our platform from the ground up using modern architecture, including our proprietary Kandji Agent, which was built from scratch in Swift. This gives us a huge advantage when it comes to executing complicated device management tasks in the Apple ecosystem.
Next-Level Automation: While all MDM solutions have access to the same set of platform APIs, the way providers implement features can result in very different outcomes. At Kandji, our priority is saving organizations time. We have a growing library of 150+ pre-built automations that help IT administrators eliminate repetitive tasks.
Auto Apps: We've created a powerful new way to install fully managed applications for macOS. Rather than manually packaging, hosting, and patching common apps like Zoom, our Auto Apps feature lets IT do it in one click. All of the updates are packaged and hosted for you in our cloud storage, and Kandji makes sure that your apps are patched and kept up to date.
Continuous Remediation: We place a strong emphasis on continuous device remediation (state management). Other solutions use a "fire and forget" strategy to configure device settings. This erroneously assumes that users won't deliberately or accidentally modify settings that could compromise device security. The Kandji Agent runs locally on every Mac, continuously checking for setting overrides and remediating them on the spot.
One-Click Compliance Templates: Kandji includes access to unique compliance features, including one-click templates for frameworks such as CIS level 1 or level 2 compliance. The Kandji Agent helps us manage additional options like SSH configuration and root user access to achieve true compliance. Better yet, Kandji is the only MDM that works around the clock to enforce compliance and remediate issues—even when your devices are offline.
Streamlined UI: It isn't enough to provide these features. We also make them incredibly easy to use. We care deeply about the IT admin and end-user experience, and we've paid special attention to Kandji's design. Our modern and intuitive interface lets IT administrators perform powerful device management actions with just a few clicks.
Why did Kandji want to work with Okta?
We spent a lot of time looking for investors who understood the significance of a modern Apple enterprise management solution, and we found that in Okta. Okta has already innovated the identity ecosystem, and we're thrilled to have their support as we continue to redefine Apple enterprise management. 
Today, there's nothing quite like Kandji for device management and compliance, but we're also setting our sights on expanding to other aspects of the Apple device lifecycle. Okta Ventures will play a critical role in achieving this moving forward.
What trends do you expect to see in the MDM space?
We're excited to see how quickly enterprise companies are adopting Apple devices. The power, accessibility, and efficiency that Apple represents really resonates with businesses and their employees, and we're proud that our solution makes Apple's unmatched device experience even easier to deliver at scale. In the next few years, we expect enterprise adoption of Apple to continue increasing at record rates.
It's also exciting to see how quickly Apple is innovating. They're constantly pushing their technology forward, opening up new paths for device management. We love the synergy this creates in the Apple device management space, and we're constantly building support for Apple's latest updates as well as expanding our MDM capabilities for the future of device management.
Interested in joining Okta Ventures? Check out our FAQ here and feel free to reach out to our team or submit your business for review.