Inspiring the Next Generation: Wow Moments from Okta's Internship Program
It's a common predicament for college students approaching graduation: knowing everything you need to launch a career in your field—except what you actually want to do. Understanding your options, or even your preferences, can be difficult without the perspective that comes with real-world experience. That's why Okta invites students to join the team as interns and get a genuine taste of working life. 
Okta's internship program, established in 2015, encourages interns to explore what's possible for their careers, make an impact, and discover work they really love. (Many discover they love working at Okta and return as full-time employees.)
This year, 80 interns came on board globally. That's a small cohort for an organization of thousands—and intentionally so, to make sure students get support from all sides. But Okta leadership is keen to invest in emerging talent, and the number grows every year.
Jen Dynes, Okta's Director of University Recruiting, and Justin Abrokwah, an Okta Software Engineer who interned during the 2020 program, explain what makes the experience exceptional.
Okta's internship application process
For Justin, Okta's internship program came up in a search, and he applied online after reading amazing reviews of our company's culture on Glassdoor. A college course he took as part of his computer science degree had piqued his interest in security, and he was excited about the opportunity to get experience with an industry leader. "Okta seemed like a place where I could develop my skills and contribute to a company on the rise," he says.
After Justin heard back from a recruiter, he completed a coding challenge followed by a phone call with an Okta engineer. They discussed the challenge and Justin's reasons for wanting the internship. Justin explains, "It was really cool because he was a former intern himself and was able to give me that perspective, things to look out for, and general advice for internships. That was a good first phone call."
Jen loves seeing applicants light up during the recruitment process. "I think this sets Okta apart from other companies. Students may not be familiar with Okta," she says. "But once we start the interview process, and they learn more about the company and opportunities, they get pretty darn excited."
Over additional rounds of interviews, Justin unpacked further coding questions, discussed the general field of computer science, and learned about life at Okta. When the invitation came, he was ready to sign on.
The intern experience at Okta
What makes students like Justin choose Okta's internship program? It comes down to its people, its projects, and lots of perks along the way. 
People
Okta teams take care to immerse interns in the organizational culture and treat them like full-time employees. Each intern has a manager and a mentor—someone with expertise in their area of work who can provide focused guidance and check in about any general questions. There are also regular team stand-ups and events that help employees build connections.
Even with everyone working remotely, "Okta did very well with having socials," Justin says. "It's easy to sit at home alone, not talking to anyone, but they encouraged us to reach out to other people."
Projects
A network of support sets interns up for success with one of the program's central elements: the opportunity to contribute in a meaningful way by completing a challenging project. Jen feels strongly about giving interns an experience they value: "Interns want to do real work that matters. With Okta, it's not a side project—our software engineer interns are writing code that ships. Our business development rep interns are on the phones with customers. The work is real."
Justin's main project during his internship was creating a software development kit (SDK) in Python. He revamped the SDK from scratch and carried it all the way to its release before his internship ended. Exploring a new discipline opened his eyes to career options he hadn't considered: "Open source development was something I never saw myself doing, but I really enjoyed the flexibility it provides, and it gave me a whole new mind-shift. The lesson is there's always more to learn, and each week there was a new tool or framework to add to my toolbox."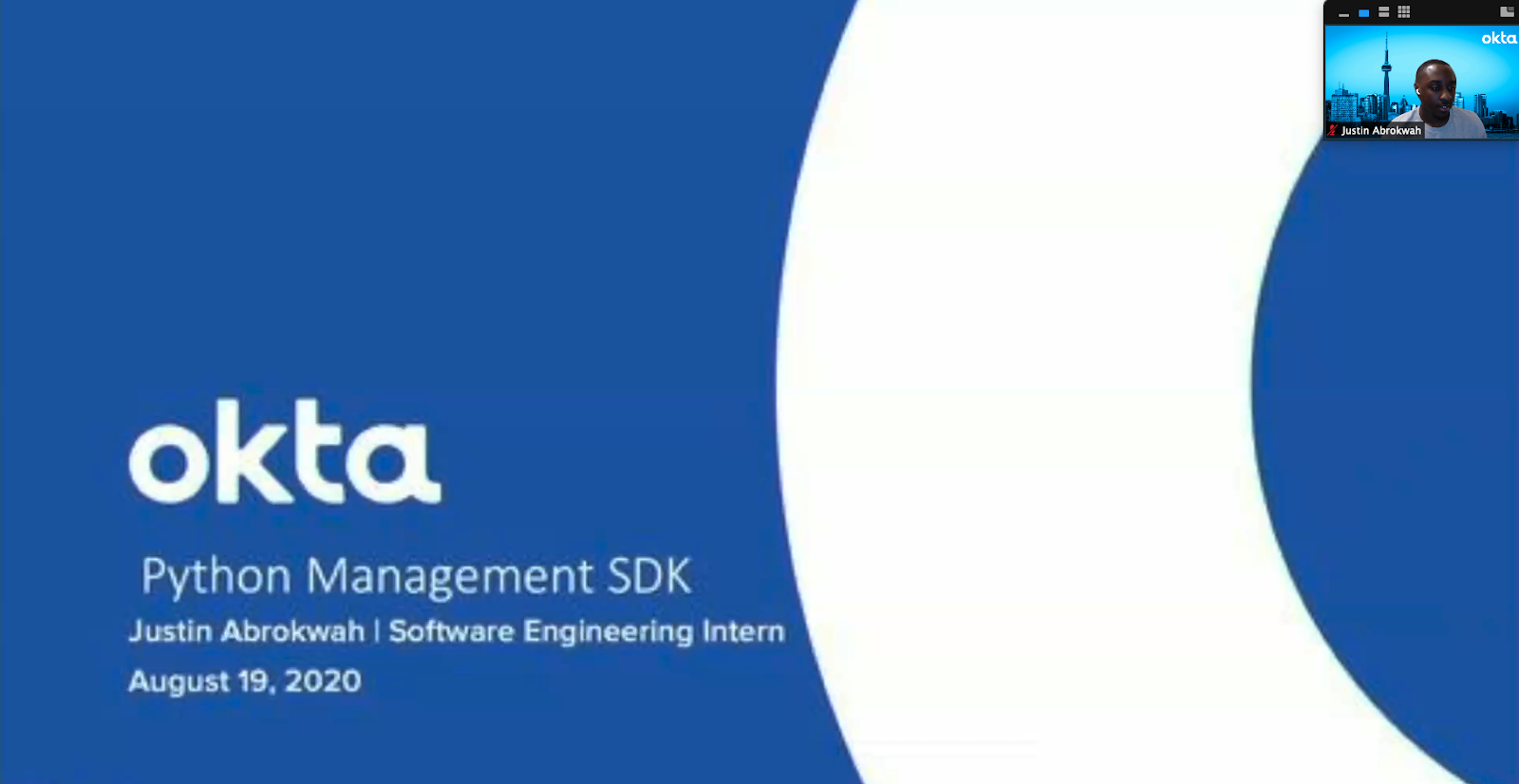 Perks
Justin's internship gave him the hands-on experience in application security he wanted, but he also appreciated fun perks like Okta swag. Interns get access to online workout classes, speaker series, lunch-and-learns, company events, and opportunities to meet senior executives.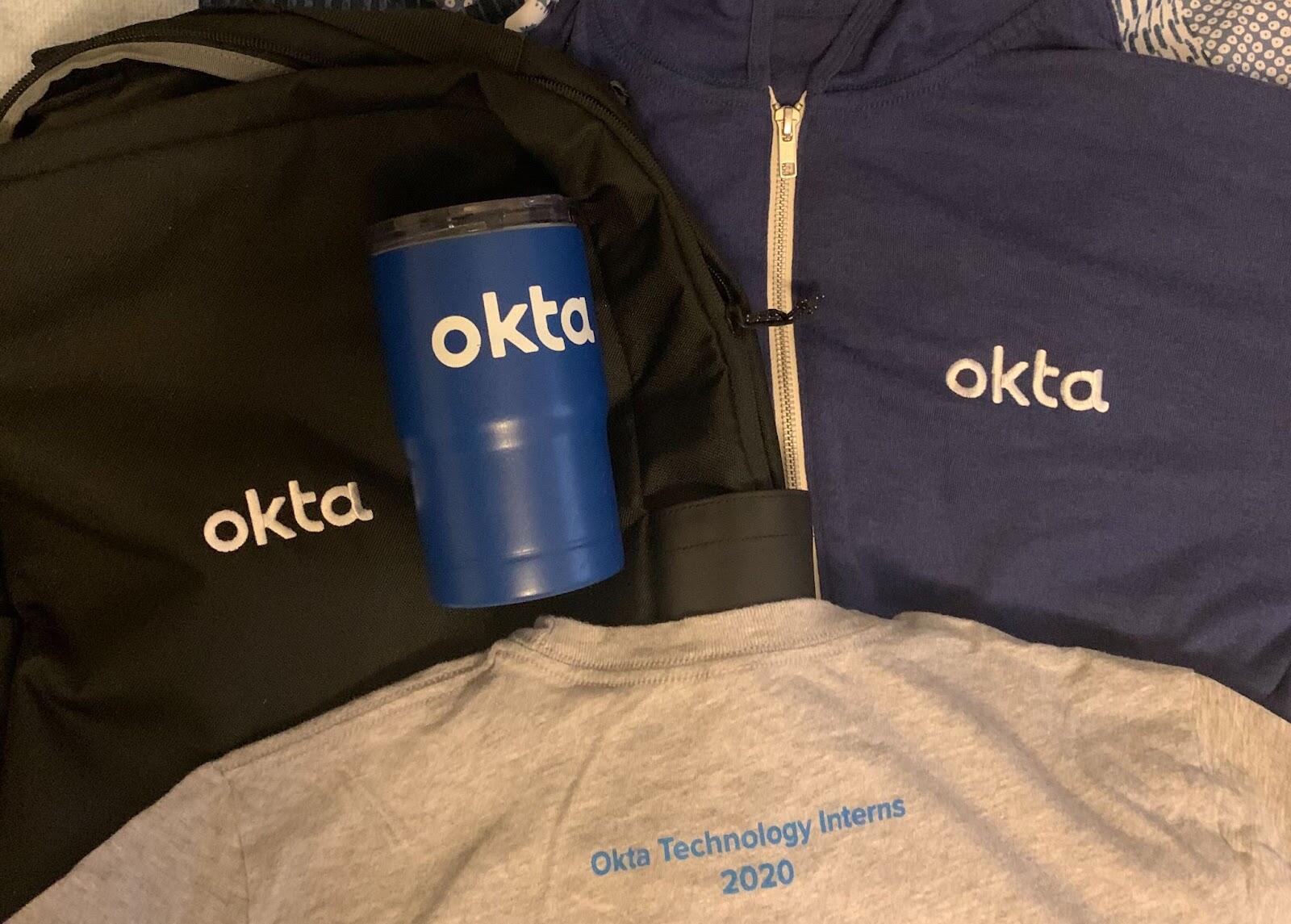 Justin considered his experience meeting Todd McKinnon, CEO of Okta, the highlight of his internship: "Todd told us not to settle for working for any company but one that supports and wants to know their employees on every level." Hearing that message changed how Justin thought about his job search. "It was like a wow moment. Todd knowing my worth helped me understand the standard of company I want to work at."
After the internship
The company that met Justin's standard was Okta. At the end of his internship, he received an offer for a full-time job after he graduated. He jumped at the opportunity to join. "It's a great feeling to know you're wanted back, and it was exciting to have that opportunity to secure my future before going back to school," he says. The decision "was a no-brainer. It was the best internship I've ever had by far, and I'd never been challenged—but also encouraged and supported—so much before."
Enthusiasm for Okta's internship program extends across the organization. Our leadership team embraces the fresh perspective interns bring to the table, recognizes their importance, and encourages them to build communities and careers. Becoming an Okta intern gives students more than just valuable work experience: it also gives them the experience of being valued for their work.
We look forward to talking with applicants for Okta's 2022 internship program. Look out for internship postings on Careers at Okta in fall 2021 or join our Talent Community to stay informed about news, events, and internship opportunities.