Here's How Okta is Prioritizing Mental Health and Wellbeing in 2022
It might feel like mental health has recently gained new prevalence in our personal, professional, and societal conversations, but this topic has been growing in the public consciousness for decades. In fact, it has been more than 70 years since May was declared Mental Health Awareness Month—way back in 1949.
People may not have discussed this topic very often in the past, but that has changed markedly today as citizens, governments, and organizations have grown to understand how critical it is. Here at Okta, we take pride in the fact that we've long been leading on mental health initiatives, building systems, spaces, benefits, and incentives that provide holistic support for Oktanauts' wellbeing at all stages, phases, and seasons of life.
This year, we gave our collection of initiatives a new name: People First. Because no organization can thrive without making its people—and their mental health—a priority. To honor Mental Health Awareness Month this May, here's a look at Okta's People First program.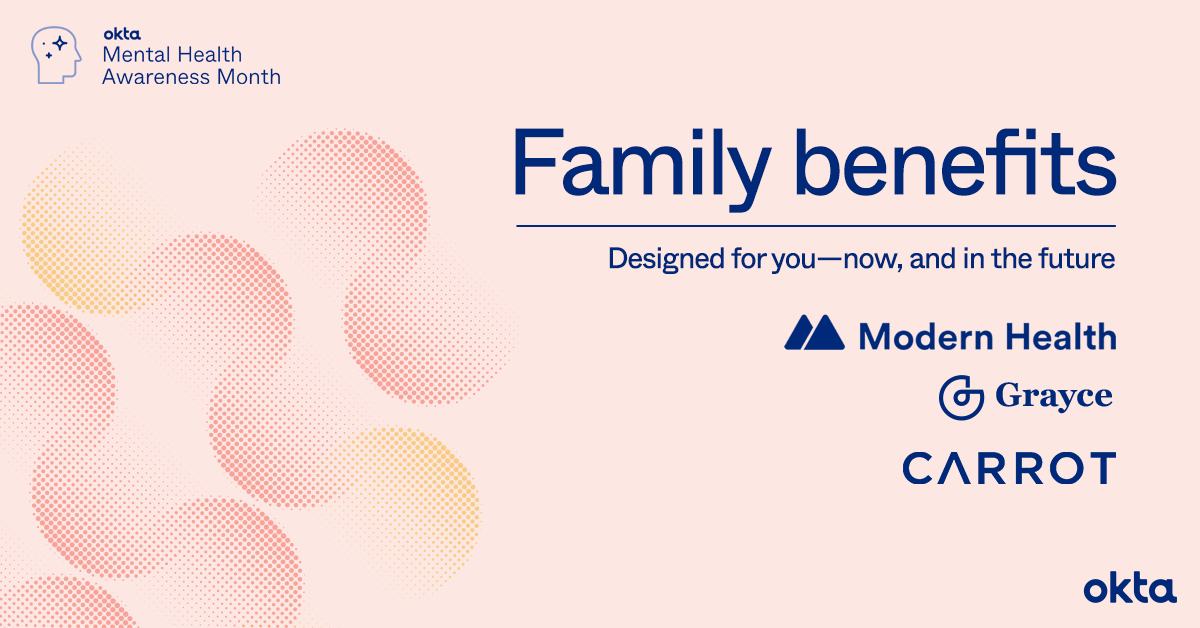 Benefits designed for the whole family—present and future
All employees should have access to the resources they need to take care of themselves and their loved ones. Okta considers this point essential, and we partner with multiple care providers to ensure that team members can maintain the peace of mind they need to be well, be whole, and bring their best selves to work.
Modern Health is an organization that specializes in delivering holistic mental health tools and support to employees and their dependents. Every employee is matched with a licensed clinical therapist or individual coach. They can take advantage of 1:1 sessions tailored to their personal needs.
Carrot's mission is to provide people with support for their family-forming goals. Naturally, finding fulfillment in your personal life is a crucial part of mental health. Okta is proud to provide funds through this partnership to help employees pay for services ranging from fertility treatments to adoption.
Grayce is a service that helps Okta employees care for their aging, medically fragile, and vulnerable loved ones. It can include guidance and support for everything from insurance, financial, and legal advice to medical care, home care, daily needs, and counseling—all delivered by dedicated experts.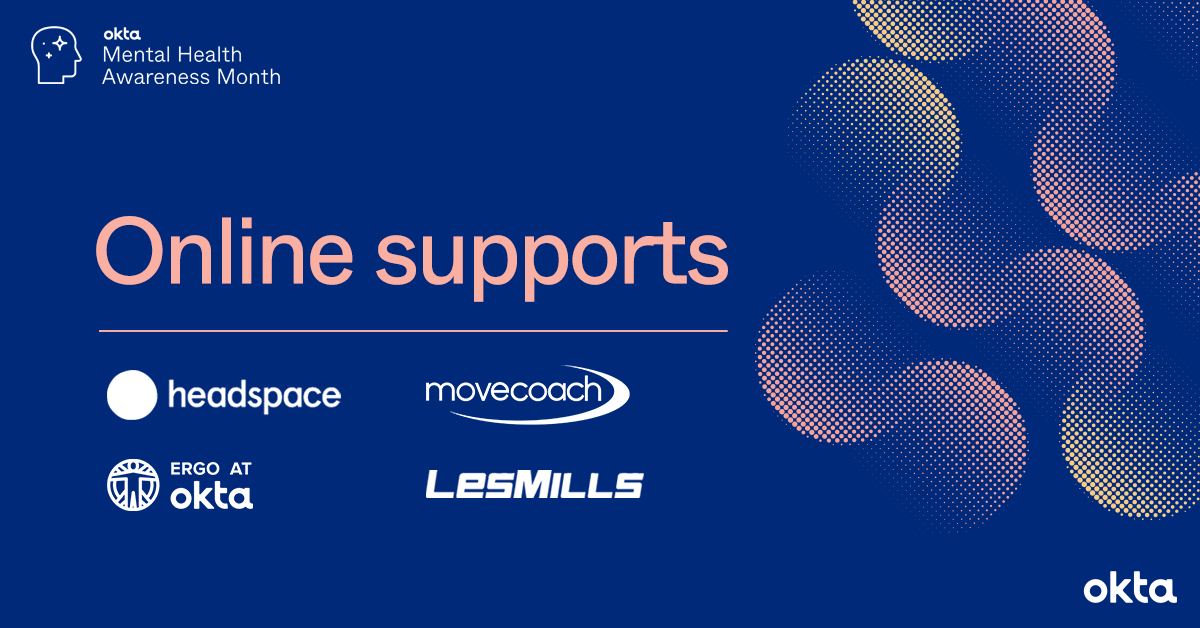 Apps and subscriptions meant to make every day better
At Okta, our business is built around enabling seamless access to online platforms and apps, so we'd be remiss not to provide this for our own employees—especially when it comes to health and wellness. Okta subsidizes subscriptions for a range of services to help Oktanauts practice self-care and elevate their quality of life.
Headspace is the world's leading meditation app, helping people learn and evolve their mindfulness techniques with sessions that cover areas such as stress, sleep, focus, and performance. Every employee has access to Headspace, and so do two of their family members or friends.
Movecoach is a great way to set and meet fitness goals. Not only can employees create personalized plans, monitor their overall progress, and track their exercise activity, but there's an element of gamification that motivates members through a rewards system.
Les Mills expands the fitness options on offer by providing a wide selection of classes on-demand, from strength training and core conditioning, to HIIT and spin sessions, to dance and yoga—and they're all completely free for Okta employees.
Ergo at Okta — Okta partnered with PBErgo for the Ergo at Okta program. Employees complete a self-assessment and receive a personalized action plan to enhance their comfort and posture, and therefore boost their mood, mindset, and productivity.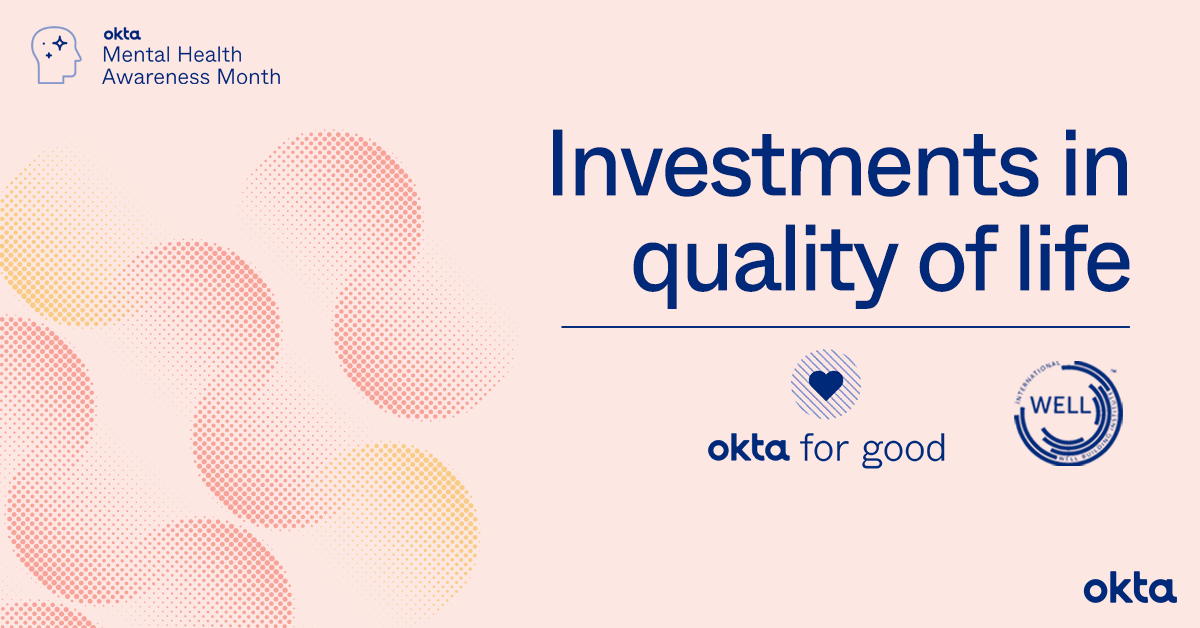 Tangible investments in employees' quality of life
Providing resources that Oktanauts can access independently is important, but at an organizational level, Okta is also taking steps to improve the team's health and happiness. One of these is WELL, an office space protocol and wellness roadmap that takes an innovative approach to layout, design, and amenities to improve the quality of light, air, water, and the work environment as a whole.
It's also essential to acknowledge that the health of the individual is connected to the health of the community, and that people need to feel empowered to make meaningful contributions to causes they care about. That's why all Okta employees can claim a full four days—or 32 hours per year—for volunteering, through the 4 Good Days program.
Our month-long calendar of mental health awareness events
The month of May is bringing Oktanauts an impressive lineup of speakers, sessions, and workshops to help them learn more about mindfulness and mental health. We've kicked off the program with an inspiring keynote by bestselling author and mental wellbeing expert Mike Veny. Here are some of the other not-to-miss events coming up in the days and weeks ahead:
May 16: Mindfulness for Busy Working Parents webinar
May 17: Mindfulness for Managers webinar
May 23–27: Five day Meditation Challenge in observance of World Meditation Day 
May 24: Burnout Prevention webinar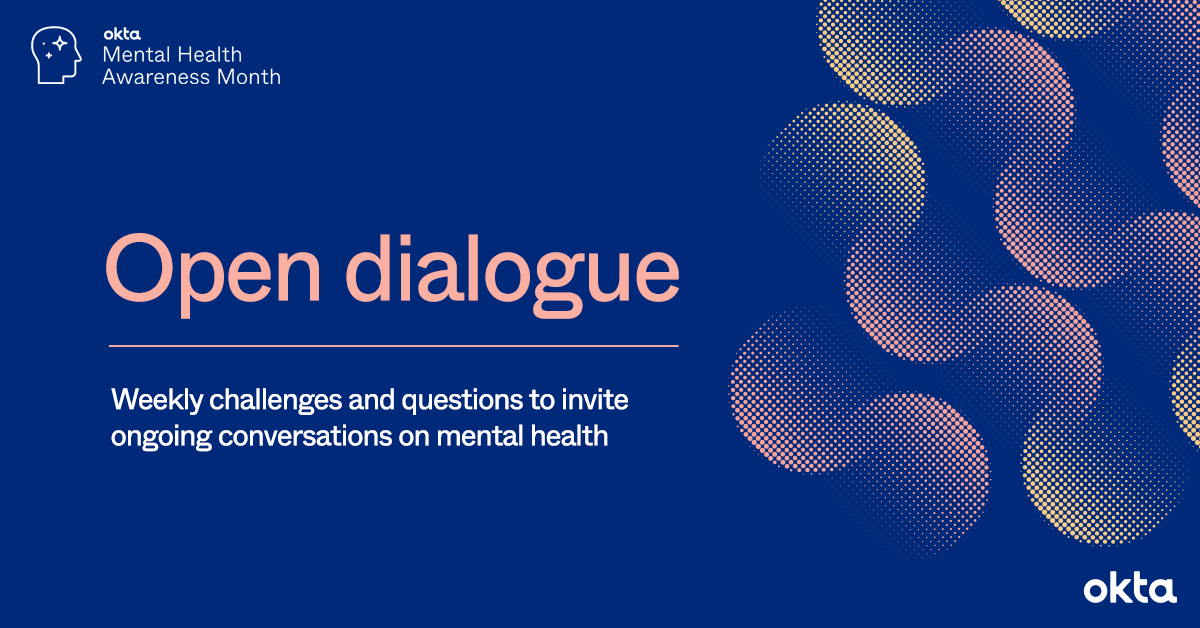 Staying Engaged Online With Weekly Topics of Conversation
It's our goal to make sure the topic of mental health keeps going all year long, but to keep it top-of-mind this May, we'll be posting weekly challenges, resources, and questions through our dedicated Slack channel, #mentalhealthawareness. 
The challenge will take the form of an optional assignment that enables Okta employees to familiarize themselves with mental health resources, and invest some time and energy into their own wellbeing. The purpose of the question is to help facilitate an open dialogue around mental health, since one of the most effective and impactful ways to care for it is to talk about it.
If you're an Okta employee, join our Slack channel #mentalhealthawareness to stay informed on our weekly discussion points and challenges, as well as details on forthcoming events and opportunities. And if you're curious to know more about the People First culture at our company, or interested in joining Okta, have a look through our Careers at Okta page.