Okta + Palo Alto Networks
Layer strong authentication everywhere and deliver seamless remote access to the internal network.
The Challenge
Today's workforce demands anytime access to enterprise resources from any location
The enterprise must balance accessibility with security to protect all users and all assets
Malicious actors often leverage weak or stolen credentials to gain improper access into the network
The Solution
Deep integration between Okta + Palo Alto Networks for robust, user-centric security across your hybrid IT environment for all users, including partners and contractors
Strong authentication for additional access security across hybrid IT environments through Okta Adaptive Multi-Factor Authentication (MFA)
Seamless authorized access to cloud assets through Okta Identity Cloud and on-prem assets through Palo Alto Networks GlobalProtect VPN
Simple and intuitive authentication for all users everywhere with Okta Single Sign-On (SSO)
Strengthen security across a hybrid network with Adaptive MFA everywhere
Okta's Adaptive MFA integrates deeply with Palo Alto Networks to strengthen the network perimeter—making it harder for threat actors to gain access with stolen credentials—as well as the assets inside, through policy-driven step-up authentication when users try accessing sensitive data.
Simplify and secure remote access to enterprise resources
Keep end users productive with easy, reliable, remote access to your internal network. Layer Okta's SSO in front of Palo Alto Networks Global Protect VPN to streamline authentication and access to apps and other resources, whether in the cloud or on-prem.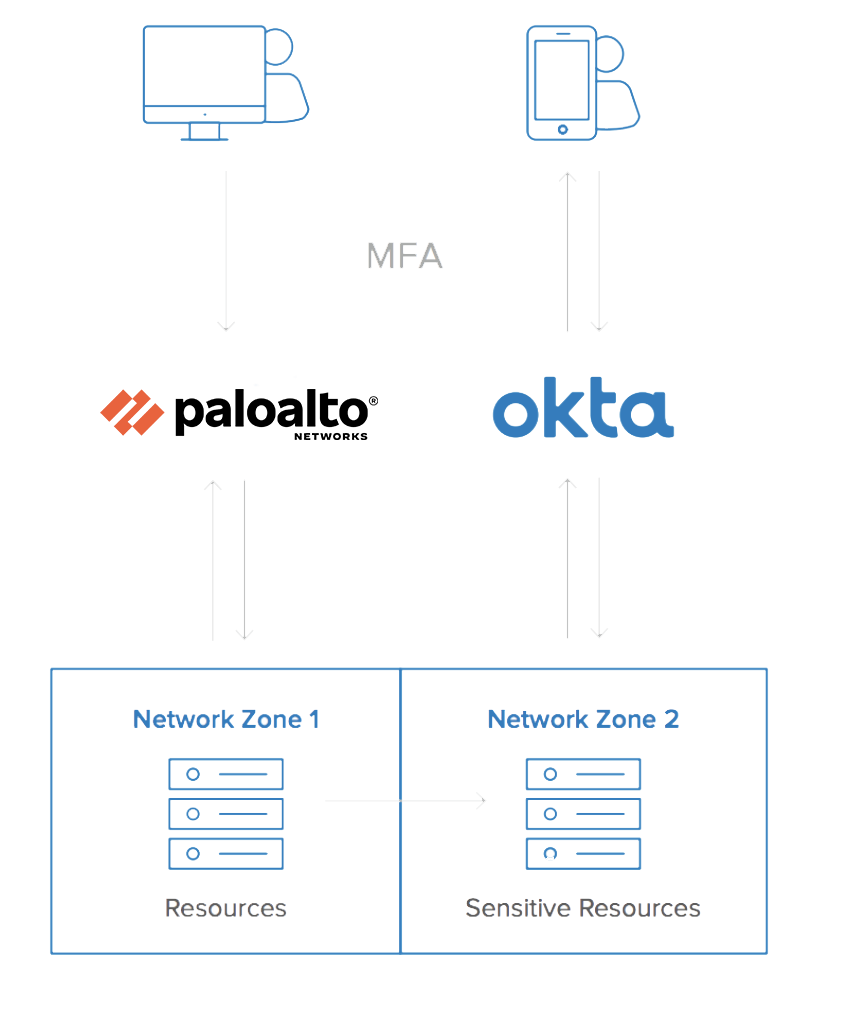 Ensure comprehensive regulatory compliance 
Industry compliance standards like HIPAA and PCI DSS demand a robust MFA solution that may be incompatible with older or homegrown or legacy apps and resources in your environment. Okta + Palo Alto Networks lets you deploy strong Adaptive MFA across the network, keeping the enterprise in compliance by protecting apps that need it but don't natively support it.
Keep management tools and processes safe
SysAdmins typically need to access and control a variety of firewalls, servers, databases, and other critical infrastructure. These administrative accounts must remain secure at all times, but authenticating separately for them impedes workflow efficiency. Okta + Palo Alto Networks enables your security team to safely authenticate once and manage globally, giving you peace of mind.
Okta + Palo Alto Networks: Securing the Network for Safe Remote Access
Okta + Palo Alto Networks provides a complex, multi-layered defense against credential-based attacks
Remote users enjoy seamless Okta SSO for cloud apps as well as on prem resources thanks to Palo Alto Networks GlobalProtect VPN
IT can further secure access through Okta Adaptive MFA, easily meeting compliance requirements and security best practices
Administrators can easily andsecurely access the Palo Alto Networks admin console
Integration is easily deployed, using SAML, RADIUS or APIs, for Palo Alto Networks GlobalProtect VPN, Captive Portal, and admin UI
Okta+Palo Alto Networks: Enable Simple and Secure Access to All Enterprise Resources
Provide simple, secure access to all users anywhere.
Download datasheet
Preventing Credential-Based Attacks with Okta and Palo Alto Networks
Palo Alto Networks integrates with Okta MFA APIs to deliver seamless user authentication across all sensitive applications.
Read the blog post
Protect Legacy Applications Without Touching Your Apps with Okta and Palo Alto Networks
Okta and Palo Alto Networks have collaborated to make rolling out multi-factor authentication a snap. Listen to the webinar to learn more.
Watch the webinar
Sources
1. Ponemon Institute; 2017 Cost of Data Breach Study (Global)
2. Forrester Research; Making the Business Case for Identity and Access Management 
3. Customer analysis of IT Savings and Productivity benefits