With Okta You Get More Than Technology (Though the Technology is Pretty Good, Too)
It's common practice to evaluate a company primarily on its product and features -- and for good reason: often technology companies and their products are one and the same. This is especially true in Silicon Valley where the race to newer features and the latest technologies is never ending. But it's also worth taking time to evaluate the people behind the product; they are ultimately the ones you need to be able to count on.
We believe Okta's service is the future of identity and access management. People are accessing so many of their applications via browsers, from so many different devices, and they are doing so from everywhere. These users need a way to reliably access their apps, and the IT teams that serve them need a way to enable them to do this securely. Okta is laser-focused on solving these problems.
But when you choose Okta's service you get much more than just the cloud identity management technology we've built, and we wanted to share some details about how we do things behind the scenes. We also wanted to throw some Internet memes into the mix. Yes, memes.
Customer Success
Okta's service has been designed and built with "ease of use" as a guiding principle. This lets our clients configure and deploy our identity management solution very quickly. But they're never alone in doing so; Okta's customer success team is by their side for every customer deployment. We're very proud of our customer success team, but it's best to hear about them from our customers themselves:
"Can I just say that you guys kick a@$? No one does this kind of work at this speed AND does such a good job at informing their customers. No one." -- AMAG Pharmaceuticals
"Very easy to work with; you guys are always willing to do WHATEVER it takes to make us successful." -- LinkedIn
"For new application integrations you guys just go out and get it done. Every time. That is huge for us." -- Jazz Pharmaceuticals
"Your customer support team is simply the best I've ever worked with." -- PANNA
"Okta has now become a trusted partner and adviser in identity management." -- Purolator
"One of the reasons we love Okta is that they just get it. They're at the top of the list of partners we depend upon for our IT infrastructure" -- Enterasys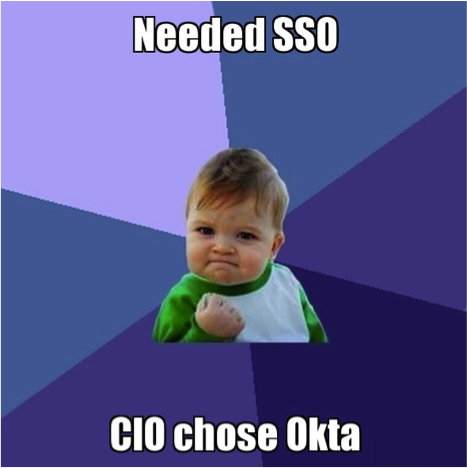 Okta Application Network
A sometimes overlooked aspect of identity management products is the applications into which they provide access, and how those connections are made and how they are maintained. With other IAM products, the customer is often forced to connect all of their cloud/SaaS and on-premises applications to the IAM service themselves, and then fix those connections as the apps inevitably change over time. Okta completely changes this approach. We integrate support for all applications ourselves, without requiring customers to do anything. Just as importantly, we've built a novel approach to continually testing and maintaining these connections, so they always "just work."
Because Okta is a multi-tenant architecture, every time we add a new cloud/SaaS application to our network every single one of our customers can benefit from the work we've done. Having application connections that "just work" helps our clients sleep well today. And knowing that we will handle any *future* cloud/SaaS applications they might deploy helps them sleep even better.
Trusted Partner
Identity and Access Management is a unique service in that it serves as a de facto gateway to all of your employee's applications. If your IAM solution goes down, your employees can't access their apps, and when that happens they're not getting work done. We consider IAM to be critical infrastructure, and because of that we go above and beyond to ensure that we are a partner that our customers can trust.
A big part of this trust is the way we architect, build and test our system, and this can be seen in our proven uptime performance. By the way, we guarantee this uptime in our standard SLA for every customer.
But another part of being a trusted partner goes beyond the product; it is also the people behind the scenes and the way the company is run. Okta's identity management product helps secure your cloud apps, but Okta's people and its company are also secure, and we hold ourselves to the most stringent security certifications available: Okta has successfully met all 5 trust principles in the SSAE 16 (SOC2) Type 1 standard.
And the last, and arguably most important, part of being a trusted partner is dependability. When a problem comes up, any problem, Okta solves it. Period. Whether it's a problem with an application, with a customer configuration, or with the product itself, our customers have come to see Okta as someone they can count on. And that trust comes from more than just our technology.