Staying on the (Leading) Edge of Things at RSA
RSA can be intimidating for first-time attendees – and this year's event was no different. Walking the exhibit floor (all 700,000 square feet of it) is nearly a full-day experience on its own. And when you consider the bright oversized logos and crowded aisles, loud conversations, booth crawls and tchotchkes galore, it can be overwhelming for the unprepared.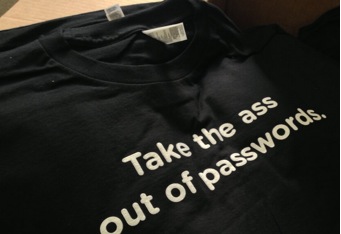 After this year's event, first-timers (or even RSA veterans) are likely having trouble differentiating between the hundreds of companies exhibiting. And for good reason. Every company seemed to be saying the same thing, namely "BYOD and proliferation of mobile are changing the security game completely," and the scary follow-on of, "Act now or your company is in danger." Very few of them talked about exactly how they can help security professionals face these new challenges.
Isn't that what RSA should be all about?
That wasn't lost on Okta. It was a chaotic few days at our booth – even more so than last year. While the crowds may have had something to do with the awesome t-shirts we were giving away, I'd also bet that we were one of few companies talking openly about shifts we're seeing in the enterprise, and how our product alleviates many of the resulting headaches.
The best part of RSA was that the Okta team had a chance to talk face-to-face with many of our existing customers and many more IT and security professionals about identity management in the cloud. In those conversations, two key topics emerged
1. A Tipping Point for Cloud-Based Identity Management: There has been a clear shift in how people talk about our space. In the past, RSA conversations were about the pros and cons about identity in the cloud vs. on-premises solutions, but the conversations we had this year reflected a "when" and not an "if" attitude. People are spending more time evaluating which cloud-based identity solution is best, versus wondering if the cloud is the direction they actually want to head. That's exciting.
2. Stay on the Edge: There's a hack that many RSA attendees used to navigate the massive exhibit floor. They purposefully avoid the center booths, branded by the giant software dinosaurs, and instead stick to the edge of the tradeshow floor where the booths are smaller, the companies are newer, and the technology is leading-edge. (We were in great company – with companies like SkyHigh Networks and Zscaler as our direct neighbors.)

That's not to say we're not seeing massive growth and demand for our solutions. Since this time last year, we've grown to a customer base of more than 250, tripled our employee count and seen big companies start paying attention to the disruption we're creating (with some even entering our market themselves). Needless to say, our booth was packed the entire show.
Don't expect us to move toward the center of the show floor anytime soon. Okta is proud to stay on the edge, to continue to be nimble and agile in developing the best cloud-based identity management service in the world. Despite the temptations to venture into the middle of the floor, we'll probably be on the edge again next year.