An Even More Open, People-Centric Okta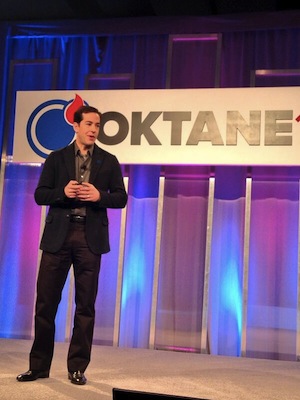 Today at our inaugural user conference Oktane13, we proudly announced a set of features that open and extend the value of the Okta service. It's all part of our goal to securely connect every application, user and device in the enterprise.
Over the past four years, we've built an extensive network of more than 3,000 applications, 500 enterprise customers and millions of users. We recently raised $27 million in Series D funding to continue that growth – and to expand into Europe. Together with our customers and partners, we're continuing to take steps forward in developing our service so more organizations worldwide can adopt even more mobile- and cloud-centric IT strategies.
So what's the news today? Our newest features open and extend the value of our service to every user and organization connected to Okta. It's a dramatic expansion of our reach and our scope, both broadening the amount of services that Okta integrates with and adding depth to the level of those integrations. Click over to our press release to hear more.
With these new features, we're taking a huge step toward people-first IT. We're thinking about the customer, the partner and the employee experience before deciding what we need to make sure that happens. At the same time, we're empowering IT leaders to worry less about maintaining technology, and focus more on designing and deploying productive experiences for their people. Those people are at the center of what we do. That's what people-centric technology is all about.
For our customers, putting people first and technology second means the opportunity to be the IT superhero, driving customer loyalty, business innovation and employee productivity.
To hear more what our partners and customers are saying about Okta, be sure to follow @Okta and @Oktane13 for live updates from sessions at our inaugural user conference.