Making Security Concerns a Thing of the Past: New Cloud Framework Panel
At Okta, we know that the cloud has become the standard for enterprises, making it easier to manage applications, mobility and the data sprawl involved with those apps and devices. And yet, with cloud adoption comes security concerns – another thing we know quite a bit about.
That's why we're participating in next week's 'The New Cloud Framework: Best Practices for Enterprise Data' panel.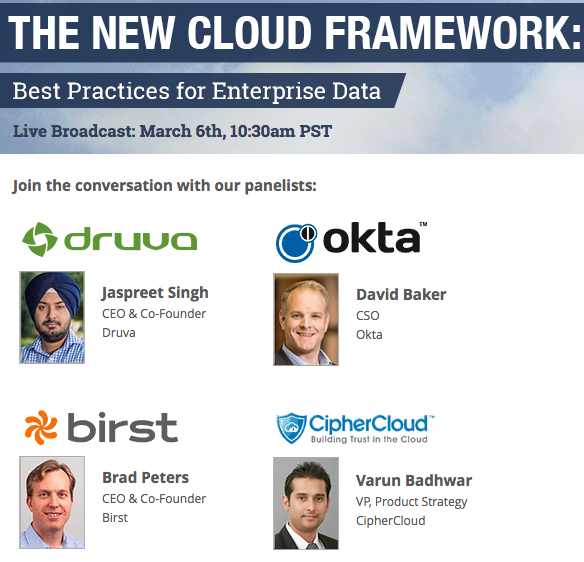 On Thursday, March 6, our CSO, David Baker, will be joining Jaspreet Singh, CEO and co-founder of Druva, Brad Peters, CEO and co-founder of Birst, and Varun Badhwar, CipherCloud's VP of product strategy, to discuss the massive opportunities and challenges in the cloud. Druva, Birst and CipherCloud are also innovating in new ways to make security concerns a thing of the past and create a new framework for enterprise data.
The event will run from 10:00am to 1pm PT at Workshop Cafe in San Francisco's Financial District.
If you want to grab a coffee and chat cloud security with us, be sure to register here. If you aren't local, we also invite you to join the online broadcast, which will run from 10:30 – 11:30 am PT.