Introducing the Okta FAQ: Tips, Tricks and Time-Tested Words of Advice
Embarking on a treacherous solo expedition? Studying for a final exam that could make or break your semester? No matter the situation or your level of experience, it can't hurt to have a few tips and tricks from the pros to put your best foot forward.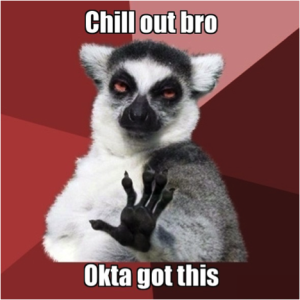 Okta's known for our simple and delightful user experience, but for those just getting to know us, we've created an FAQ in the Okta Community to reduce nervousness, strengthen confidence and prevent the development of hives when working with Okta. Whether it's your first time using Okta or you're curious about a new feature, our FAQ offers insights into everything from set-up to using your dashboard to explaining how Okta's plugin works. Plus, you'll find a few tips and tricks from our expert technical team (be careful: Okta may stick to certain types of skin.)
Check out some of our favorite questions and responses below, and leave your perspiration to other -- more dangerous -- matters.
Why do I have to input my password for some apps and not others?
With Okta you can access your applications through a single, unified dashboard. Access to these applications is delivered through single sign-on (SSO) technology via either Security Assertion Markup Language (SAML) or Okta's own Secure Web Authentication (SWA) technology.
With SWA, you need to maintain your own password, meaning if an app requires you to make a password change, you should do so within the Okta dashboard. With SAML, Okta automatically passes on access through a token, so you don't need to manually make a change when the app requires an update.
How do I add an app to my Okta dashboard?
If your organization allows you to add your own apps, there will be an '+Add Apps' button on the top right of your Okta dashboard. Select that button, search for your app and click the 'Add' button on the right to place it on your dashboard.
So, the app I want isn't available when I search. How do I request that it be added?
You should make application requests to your company's helpdesk. If the app is not yet in the Okta Application Network, it's easy to add. Select the 'Add an App' button, create a 'Bookmark,' input the login URL and finally, check the box that reads 'Request App - Ask Okta to add this app to the catalog.'
Is my information really secure?
Yes! Okta offers multifactor authentication, meaning there are multiple steps someone has to take before accessing your information. That authentication is also flexible -- meaning you'll use a traditional password and you can also choose your second authentication to be either a text message pin number, a 6-digit soft token or a security question.
How does multifactor authentication work?
Your user credentials are encrypted using both an industry-standard encrypted AES and a randomly generated symmetric key. This key-store, containing your symmetric encryption keys, is then encrypted with a master key that is held only in memory and only accessible to the Okta app.
At startup, the app is provided a master passphrase allowing it to access, decrypt, and store the master key in memory. A technical operations administrator at your company inputs the master passphrase. Only a select number of administrators know this master passphrase. As a result, attackers can only decrypt the data if they have the master key, private key, as well as the user's app context.
How do I add Okta to my mobile device?
For Apple users, go to iTunes and download Okta Mobile. For Android users, go to the Google Play Store and download Okta Mobile.
Once installed, you'll need to know your company's Okta Organization name, Help Desk name and your Okta username and password. Once authenticated, Okta Mobile will ask you to create a PIN. Simply enter your PIN again, and you're ready take Okta on the road.
Head to the Okta Community to find more answers to your frequently asked questions. We'll even make emergency protocol recommendations, in the chance case that Okta begins to smoke -- hint: seek shelter and cover your head!