SMC Corporation on Oktane: How Technical Tips, Engaging Keynotes and SNL Jokes Justify Attending Oktane14
The countdown to Oktane14 has begun! In the next few weeks, we'll be sharing guest posts from our amazing customers about their experiences at Oktane and why they're looking forward to this year's conference. Follow along on the Okta blog and on Twitter with #Oktane14.
+++
From Bob Stephan, IT Application Services Manager at SMC Corporation: At SMC Corporation, the process for gaining approval to attend a conference is pretty standard: submit your request with justifications, include an ROI and wait for a decision. I've been pretty firm on attending Oktane14 this year, but attending isn't guaranteed so I pulled together my rationale from last year's event to explain why attending Oktane14 is in our - and your company's - best interest.
First, let's look back at last year's inaugural conference.
When I found out about Oktane13 last year, SMC had already committed to using Okta. In fact, we were in the middle of the Okta implementation project: I was sending out teaser emails and finalizing the training materials. (Thanks again to the Okta team for their assistance with our announcement and training templates). The timing of Oktane13 was advantageous; I was planning on a late October go-live. Oktane13 was scheduled to occur within a few weeks of our proposed cut over, and I was able to convince management that postponing the go-live by a couple of weeks allowed us to reap the benefits of attending this event, including getting more information to validate our implementation decisions and advice on potential obstacles and strategies to minimize their impact. The agenda also had several sessions of broader interest, including hands-on labs, IAM best practices and using Okta as a driver for automation. Still, this was Okta's first user conference and while the formula for a user conference is no mystery, the question was could Okta execute successfully.
Well, that question was answered with a resounding yes.
The location was ideal. The event rooms were compact and convenient. Keynote speakers were relevant and compelling. Geoffrey Moore's presentation was particularly engaging -- his contrast of 'Systems of Record' versus 'Systems of Engagement' emphasized how much "The Cloud" and tools like Okta impact the current IT environment and the continual change we see around us everyday.
Technical breakouts were on target, addressing questions and issues I had faced in the weeks leading up to Oktane13. Okta has made app configurations relatively simple: Secure Web Authentication (SWA) is a very common technique. Unbeknownst to our team, there were tools and tricks that make the build and testing process even easier, smooth and painless. James Garvin, a senior technical instructor at Okta, gave a 'Do it Yourself Application Integrations' session that was just what the doctor ordered. James also had another great session where he demonstrated the power of Okta's restful API. In this session, he discussed the concept of a Universal Directory which, coupled with the API, has the potential to change the way we expose employee attributes to all of our internal IT systems.
I also loved getting the chance to meet James face-to-face. Even though we only got to chat for a few minutes, interactions like these really help you to build relationships with your Okta contacts. Yes, you have the opportunity to talk about AD, SWA and OAN, but it wasn't all business.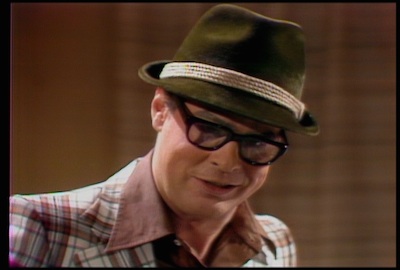 I'm a big fan of Saturday Night Live and one of my favorite skits was Dan Aykroyd's Fred Garvin. Now it's common practice to have a couple of fictitious users in your test environments, and Fred Garvin lives on forever as a popular test user within the systems at SMC. So, naturally, when I met James at Oktane, I asked him if he had a cousin named Fred -- his sly grin said it all.
The customer and partner-led sessions were on-point, too. Patrick DeMartine and Roy Scheer from ServiceNow discussed Automation, Control and the Governance of user provisioning. The topic was of particular interest: this type of thinking was in line with the goals of our IT department. These gentlemen were able to demonstrate successful automations showing Okta as a key tool in these types of integration.
I also took great interest in the session that Mike Latouf from Okta and Dan Beck from Workday presented on the idea of Workday-driven IT provisioning. SMC is a Workday shop, so this one really hit home -- and now SMC is in the process of implementing this concept. We might have made it there eventually, but this session really lit the fire to get us going.
Throughout the conference, I was able to ask questions, meet one-on-one with technical experts and put faces to voices. I even met the presenters who contributed to informational forums and had helped to implement our project. The information was related to all aspects of configuration, training and communication. What a fantastic experience.
Which brings us back to our original question -- what about Oktane14?
As it turns out, we're in a similar situation to last year. We've just initiated a new project, Workday-driven IT provisioning, or Workday as a Master (WaaM). We're about to flip things around, using Workday as our directory of record – or source of truth -- pushing that data to Okta and its Universal Directory, then on to Active Directory and ultimately leveraging the Okta Universal Directory concept as a user attribute repository, accessible via the API by multiple systems within our environment. I've got my eye on the Universal Directory and Okta API labs, along with the Gatwick Airport presentation -- those guys are cool!
So Oktane14 approaches, and I must prepare my justification -- and this year, I'm confident that the goal of "gaining more knowledge" is achievable once again.