Okta and Microsoft Partnership Grows at WPC 2015
Office 365 is a massive product moving at an even more massive pace. However, moving from legacy on-premises platforms and migrating to Office 365 isn't always straightforward. Microsoft recognizes that the migration challenge is best met by leveraging partner solutions like SkyKick, BitTitan and, of course, Okta.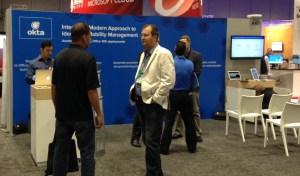 Getting your organization up and running on a solution like Office 365 is also about the people. It's often more cost effective to work with a certified Microsoft partner instead of letting your IT group go it alone. Partners don't just help configure technology – they help you address employee concerns and ease any user experience challenges.
Partnerships are so important for Microsoft that they dedicate an entire conference to them every year: Worldwide Partner Conference (WPC). Okta, a certified silver partner, sponsored and attended the event last month, which attracted over 15,000 people from 135 countries.
As Sr. Technical Marketing Manager, my role at Okta is to ensure we deliver the best possible Office 365 identity integration on the market. So at an event like WPC, I have two jobs. First, I help educate other partners about how Okta helps customers migrate to Office 365. We met with new organizations to get them started with our partner training and to understand how to help customers quickly deploy the popular cloud-based business suite. We spoke with and signed up new partners such as Silicus, ProServe, Softura and Anexinet. In addition to these new partners, we also caught up with existing relationships with CDW, Insight, SHI and Slalom to ensure they're up to date on Okta's latest product enhancements. Our product is moving at a blistering pace, with over 50 releases to the Okta cloud service in 2014, so it is important we continue to communicate new features and improvements to our partners.
Secondly, we also spent a lot of time at WPC meeting with Microsoft to discuss how we can help them increase sales and deployments of their cloud applications. Under the leadership of Satya Nadella, Microsoft has made significant changes to improve its relationships with partners like Okta. WPC presents an opportunity to meet face-to-face with different groups at Microsoft and discuss how we can help achieve their ambition to bring cloud computing to everyone.
A great example of Okta and Microsoft working together to educate partners and customers – during WPC and beyond – is the below demonstration of how fast Okta can connect Office 365 back to your existing Active Directory environment. We recorded this Launchpad video at WPC with Baldwin Ng on the Microsoft Channel 9 website. Launchpad focuses on top Microsoft partners and you can check out the video below.