Raise the Roof for Carlisle Construction Materials: How Thousands of Employees Rely on Okta Mobility Management
When it comes to building a structure that can weather any storm, many construction companies turn to Carlisle Construction Materials for top-quality roofing and other materials. But as the Pennsylvania-based supplier saw many of its 3,000 employees increasingly using mobile devices, the organization needed a way to ensure their workers could easily and securely access their applications on the go.

Carlisle Construction Materials' Jeff Janovich spoke with TechTarget about how the company uses Okta's latest Okta Mobility Management upgrades and Okta Verify, our multi-factor authentication (MFA) solution. We were also able to grab some of Jeff's time to see how using our OMM solution has helped the company go cloud-first and keep employee identities secure at all times.
What made Carlisle Construction Materials turn to cloud-based solutions?
Mobility has become increasingly important to Carlisle Construction as more of our field representatives rely on mobile devices to do their jobs. Many of them don't regularly go to an office, and it's difficult for them to carry around a laptop, so we realized we needed a way to support Office 365 on corporate and BYOD devices. As we tried to move our internal user data, we realized that Active Directory Federation Services (ADFS) was not the right solution because of the significant amount of resources required to properly run it.
With all of those mobile devices flying around, what was your strategy for managing them?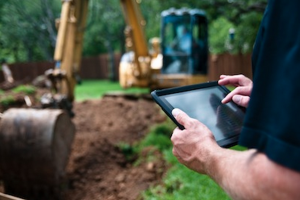 Before Okta, we didn't really have a solution to manage mobile devices. We purchased [mobile devices for employees], gave them out to the end users and really just hoped for the best. Chuckles. As a result, the help desk calls were really outrageous – we had a lot of password reset requests and a lot of people were getting locked out of their accounts.
How did things change after you adopted Okta's mobility management solution?
Okta was exactly what we were looking for – a full-fledged, cloud-based solution that helped us do everything we wanted to do. Using Okta made it possible to have a simple, clear view into user activity such as what web apps they use, email and to help administer and manage mobile devices.
Okta really makes IT's job much more centralized, and it is so much easier to manage user identities. For example, when a user changes their identity password, it updates all their devices – and we have a lot of users with multiple devices. That's tremendously important in a time when companies face the challenge of keeping data secure and uncompromised. The best way to do that is to make sure security doesn't dictate or make a user's life miserable.
How does Okta differ from other mobility management solutions?
Most users today have multiple mobile devices that they rely on each day and a lot of other vendors always enroll by device. With Okta OMM, we pay per user and can enroll multiple devices for a single user. OMM's automatic password sync and MFA are two components that really made Okta an appealing option because both helped make it easier to manage users' identities on mobile devices. These two offerings made purchasing Okta's management system a no-brainer.
Beyond the technology, what has it been like to work with Okta?
It's been a pleasure being an Okta partner and I'd make the choice again in a heartbeat. Any other solution I've found does not meet my expectations like Okta does.
Want to hear more about Carlisle Construction Materials' experience with Okta? Check out his webinar on securing a mobile workforce, and watch our interview with him on the customer testimonial page or in the video below.