The latest film may take place in a galaxy far, far away, but we're staying close, close to home to get into the Star Wars mood.
We're headed to Star Wars: The Force Awakens in San Francisco on Thursday, January 7 and we want our customers to join us. We've rented out an entire IMAX theater at the AMC Metreon 16 to see what some are calling the "best film in the series since [the] original trilogy" and have lots of extra tickets for our customers to join in the intergalactic fun.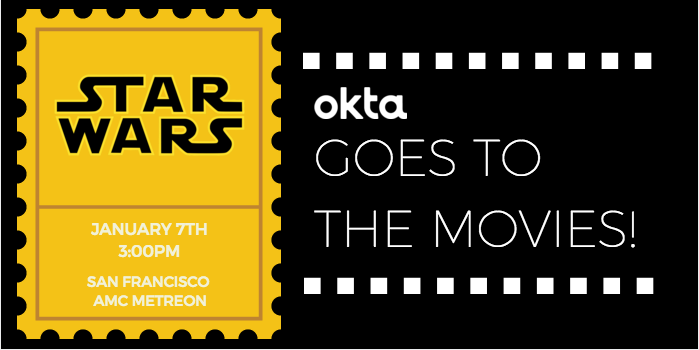 Here are the details:
Where: AMC Metreon 16, 135 4th Street, San Francisco 94103
When: Thursday, January 7 @ 3:00pm (arrive no later than 2:45pm)
Who: You! (And many other Bay Area customers, plus the full Okta team.)
How: Tweet @okta with #oktadoesstarwars or send an email to [email protected] to reserve your ticket.
Each ticket also comes with complimentary soda and popcorn.
There will also be an unofficial contest for those wanting to show off some of the galaxy's greatest costumes – and show off who you don't usually get to be during the normal work week. From Padmé, Han Solo and Anakin to Darth Maul, Jedi and Princess Leia – and even Jabba the Hutt and Chewbacca – we encourage everyone to dress up or come equipped with lightsabers to host a few duels and snap some selfies, too.
Whether you're a lifelong fan or someone who hasn't seen any of the prequels (hint: you don't need to to enjoy this one, here's a cheat sheet), it's going to be a lot of fun to see the movie with our full team and great customers.
We hope to see you there young padawan!