OAN Expands Behind the Firewall, Below the App: Adds Networking and IaaS Integrations
The Okta Application Network (OAN) has grown to include pre-built integrations for over 5,000 cloud, on-prem and mobile applications, with rich capabilities, like "app-as-master" which drives IT provisioning and intelligent user off-boarding, helping automate the user lifecycle. But Okta's mission to connect everything expands far beyond applications. We're excited to announce new categories of integrations with networking vendors and Infrastructure as a Service (IaaS) offerings that extend the reach of our SSO and Adaptive MFA products.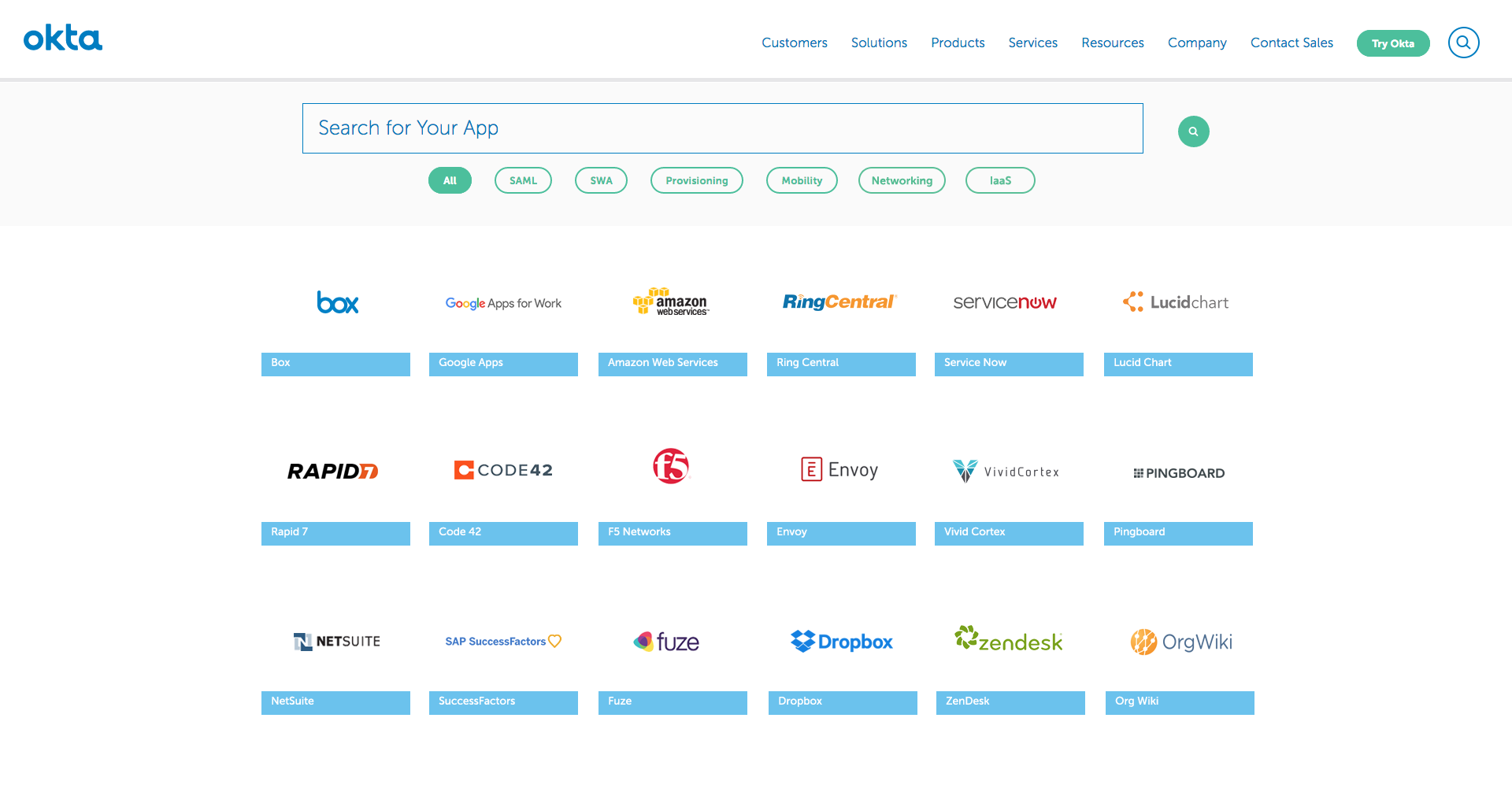 New updates to the OAN include:
Amazon Web Services and Amazon WorkSpaces integration: Okta's integration with AWS allows administrators to streamline the security management of their AWS accounts. It also provides end-users with a compact and user-friendly view of their AWS applications on their Okta dashboards. Additionally, Okta now offers an add-on tool that allows AWS administrators to use the AWS Command Line Interface (CLI) with their Okta accounts, thereby providing an end-to-end security solution to all AWS users. And our OAN integration for Amazon Workspaces enables user-friendly MFA and flexible security policies via Okta. To learn more, visit the blog post.
RADIUS support that extends SSO and Adaptive MFA behind the firewall: Customers can now leverage Okta's SSO and Adaptive MFA products to access and protect apps behind any VPN or network access appliance with Okta's support for the RADIUS networking protocol. This capability enables centralized management of Okta Adaptive MFA policies across all cloud and on-prem applications. Because it leverages Okta's patented technology for modeling an application, RADIUS integrations can be easily assigned to the appropriate users and groups, and benefit from the full power of Okta's access policies.
F5 Networks Integration that expands Okta's value for on-prem web applications: The combination of Okta and F5 Networks unlocks two powerful use-cases. Joint customers can now seamlessly and securely expose on-prem web applications to people outside their company, and can replace legacy Web Application Management solutions with a unified approach to SSO. To learn more, review the integration guide.
"App-as-Master" provisioning integrations: Okta continues to integrate closely with your favorite systems of record so you can use them to manage the user identity lifecycle. Last year, we announced support for Workday, BambooHR, and Ultipro, and this year, we're adding SuccessFactors and Netsuite to the list.
Enhanced developer tools and programs: Our SCIM Provisioning Developer Program provides developer tools, hands-on workshops, QA, and support to jumpstart an ISVs development of provisioning integrations for their apps. Recent graduates of this program include Envoy, PingBoard, VividCortex, and Lucid Software. We've also updated developer.okta.com with expanded docs, code samples, and SDKs. To learn more, visit the SCIM program site.