Open for Innovation: Okta's Newest Office and Cultivating Talent in Toronto
This year, I've spent a lot of time on the road meeting with our team and customers in Okta's new and growing global offices. My latest stop was Toronto, where I met with our engineering, product and sales leaders and formally opened Okta's new office on King St W with a celebration of our customers, partners and employees.
We've had a presence in Toronto for the past few years, but this office marks a milestone: we're now in our own building that will seat 100+ employees. Although our initial operations in Canada were more tactical, our current and future investments in the region are incredibly strategic. As I discussed with CTV's Mandy Kovacs at the event, our business model is dependent on customer success, and we need feet on the ground to best serve our Canadian customers. Plus, Toronto is an innovation hub with incredible engineering talent, and we're committed to investing in and growing that talent.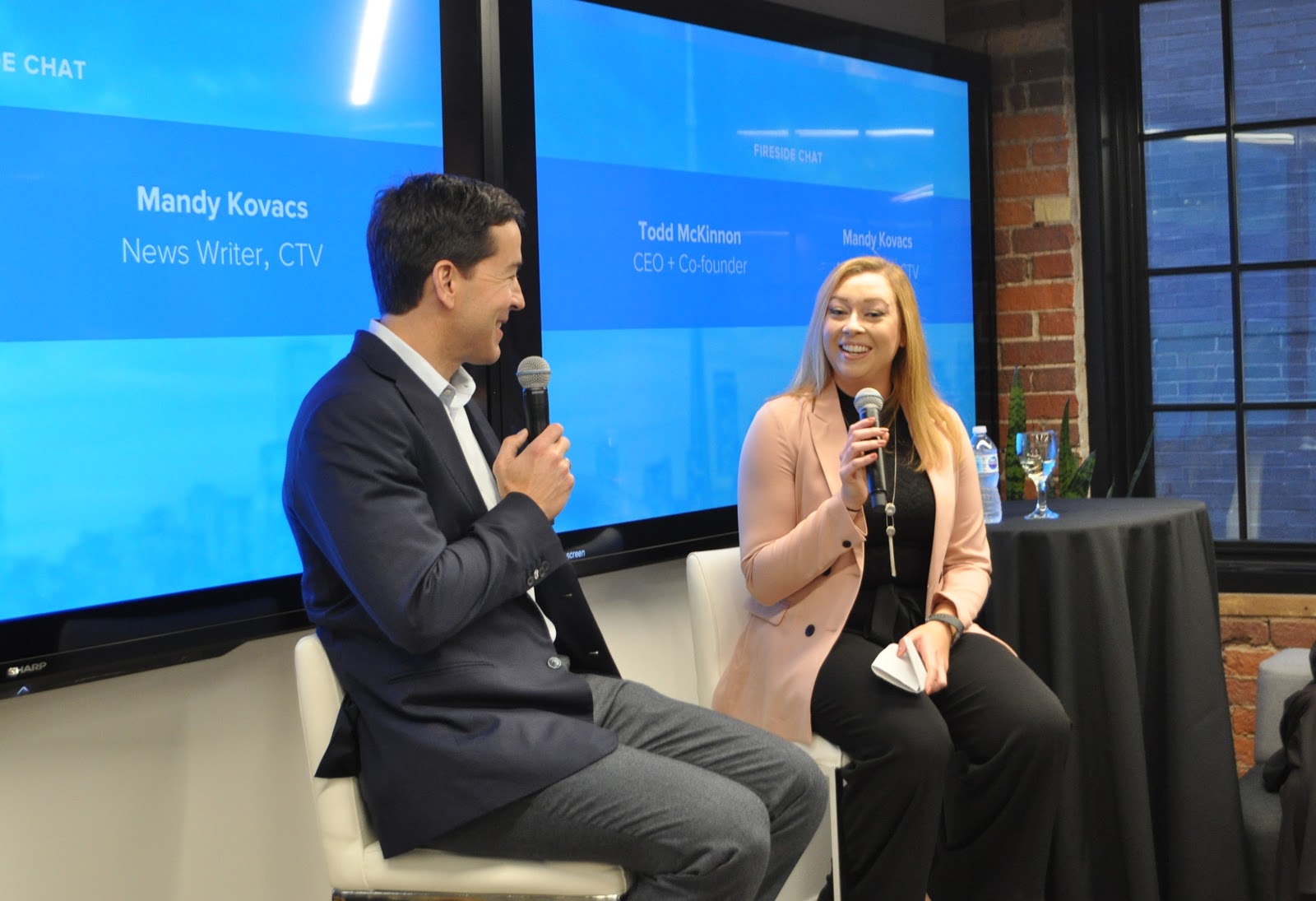 Okta CEO Todd McKinnon and CTV's Mandy Kovacs.
I recognize the need to strike a balance between being a Canadian employer and an American company. As an organization, we're conscious of the broader impact of everything we do, and we listen to what our employees want when it comes to Okta's presence in their city. It's not about opening an office downtown or near public transportation; it's about how we can give back to the communities in which they live and work.
That's why Mark Quesnel, our country manager in Canada, kicked off the event by announcing that Okta will be a cohort sponsor of the Bridge School, a Canadian non-profit that builds and delivers advanced, free, in-person training courses for developers and designers who are women, agender and/or non-binary. Bridge focuses on what they call "the middle of the pipeline": professionals who are already in the industry, looking to move beyond junior roles. The goal is to provide an experience for Bridge's students that results in expertly-trained, highly sought-after developers and designers, and ultimately to build the diverse tech leaders of tomorrow.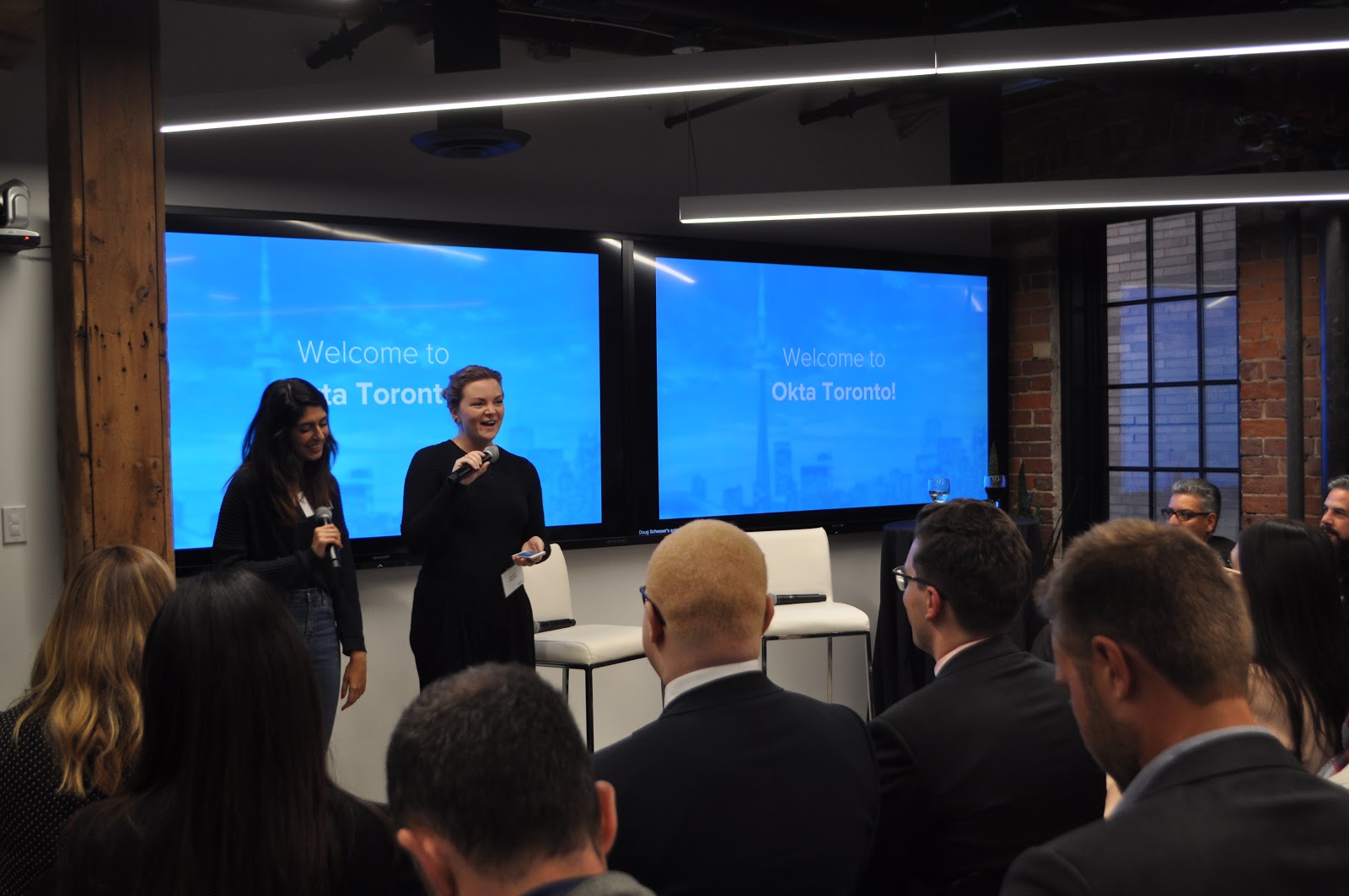 Bridge School's Purvi Kanal (Director of Software Development) and Emily Porta (Executive Director).
A panel of Okta customers continued this discussion on fostering workforce development. Bobby Singh (CISO and global head of infrastructure services at TMX Group), Bob Blainey (VP of P&CB architecture and platform engineering at Royal Bank of Canada) and Andrew Dunbar (Director of risk and compliance at Shopify) all discussed how their organizations are committed to growing the tech talent in Toronto, and how they weave innovation and security into their company cultures.
Although they vary in age, industry and missions, all three organizations equate their success with their ability to innovate. Whether it's keeping up with constantly changing markets, bringing on modern development practices, implementing a Zero Trust framework, or bridging the physical and digital worlds for their customers, they all depend on technology to securely enable their people and connect with their constituents. As Bob Blainey put it, Royal Bank of Canada "wants to be a technology company with a bank logo out front."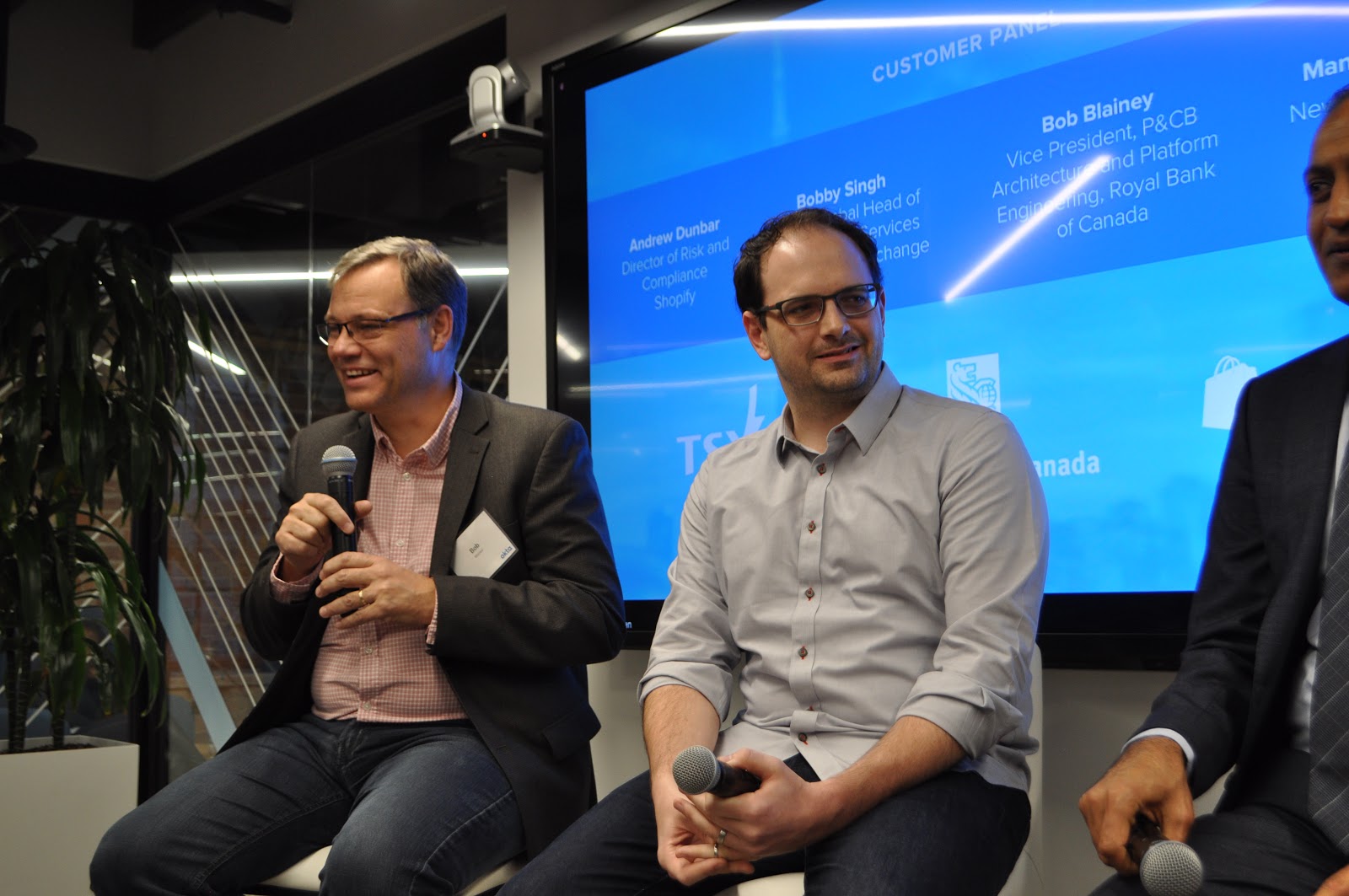 Left to right: Bob Blainey (Royal Bank of Canada), Andrew Dunbar (Shopify), Bobby Singh (Toronto Stock Exchange)
Bob, Bobby, Andrew and all our customers in Canada are driving impact in their organizations, and we're proud of the important role Okta plays in their innovation. We look forward to growing the team in Toronto and continuing to partner with the most forward-thinking organizations in Canada.
Our Toronto office is a refurbished piano factory, and our team used the anatomy of a piano as design inspiration for the building. The beams resemble piano keys, and we brought the building's history into our conference room naming scheme: every room is named after a famous pianist, like Canadian musician Neil Young.