What to Expect at Oktane20 Live (Part 1)
Oktane20 is now Oktane20 Live! We changed our annual in-person conference to a free virtual conference to bring the best of the event online so more people can participate in a healthy and safe way.
As the leading conference of its kind, Oktane explores how the identity and access management (IAM) and security landscapes are changing—putting the spotlight on our customers as they rise to the challenge. But most importantly, Oktane focuses on people, bringing professionals together so they can expand their networks, share their stories, and learn from each other.
Oktane20 Live will take place from April 1 from 8:30am–5:00pm PT and April 2 from 8:30am–6:00pm PT, with pre-conference training taking place virtually on March 30 and 31. You can check out the full agenda here.
Ready to learn more? Here are a few answers to questions we've been getting from our customers.
What will the sessions cover?
We have a great lineup of keynote speakers (including inspiring guest speakers, industry leaders, and Okta executives), dozens of breakout sessions, and networking opportunities that will keep you up-to-date on the latest in identity, security, and digital transformation.
You won't want to miss our featured speakers. Here are just a few—stay tuned for more announcements:
Amy Poehler, Actress, Comedian, Writer, Producer, and Director
Colin Powell, Former Secretary of State
Sam Esmail, Creator, Executive Producer, Writer and Director of Mr. Robot
Esther Wojcicki, Award-winning Educator, Journalist, Non-profit Leader, and Best-selling Author
Ben Horowitz, Cofounder and General Partner at Andreessen Horowitz
Liz Wiseman, CEO, Author, Researcher, and Executive Advisor
Additionally, Okta's leadership team, including CEO & Co-Founder Todd McKinnon; Executive Vice Chairperson, COO & Co-Founder Frederic Kerrest; and Chief Product Officer Diya Jolly, will share Okta's vision for 2020 and beyond. They'll deliver the latest product announcements and updates, helping companies secure their data today and get ahead of changes to the ever-shifting technology landscape.
More than 30 customers, including Cengage, HPE, and FedEx will also share how they use technology to drive radical changes and accelerate business value in their organizations. Whether you're a CIO, developer, security admin, or IT director, you'll find actionable solutions and guidance you can bring back to your team.
What is a virtual conference?
Okta's vision is to enable any organization to use any technology, and we're applying that focus to Oktane20 Live: we'll leverage the best technology to deliver an innovative, virtual attendee experience. Oktane20 Live will provide our keynotes, breakout sessions, and ancillary programs online and will give attendees the opportunity to interact with leading technology partners and solution providers virtually as well.
From the conference site, attendees will be able to:
Watch keynotes
Attend breakout sessions
Ask speakers questions
Download resources
Enter group chat rooms
Visit sponsor booths
Win prizes
How will the sessions work?
Just like an in-person conference, the sessions will begin at specific scheduled times, so you will be able to click into the session at the start time or a few minutes earlier. You can build a personalized agenda of sessions you want to attend and download calendar reminders for the sessions. While watching the sessions, you can submit questions for the speakers, and you will also be able to send speakers messages through the conference platform after the presentations—just like a networking event, only online!
The added bonus of the virtual experience is that once the sessions are over, the recordings will be available on the homepage immediately. If you're double-booked or tuning in from a different time zone after the live session time, you can catch up right away!
What will the conference platform look like?
We're nailing down the final details for the Oktane20 Live platform now, but in the meantime you can check out what the platform looked like for Okta Virtual Summit last year. Attendees will be able to enter the virtual conference center, visit the Partner Pavilion, and watch keynotes all from the platform.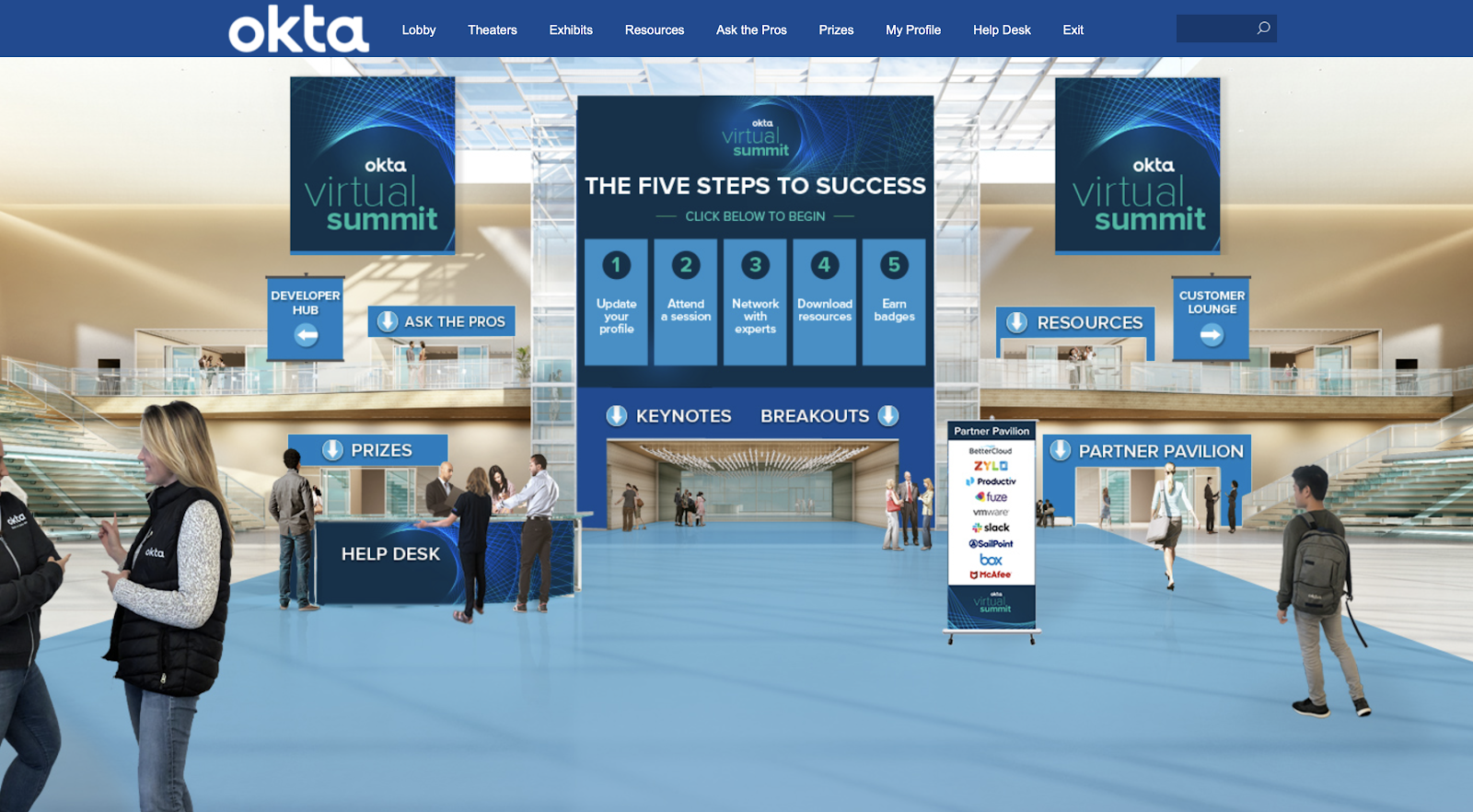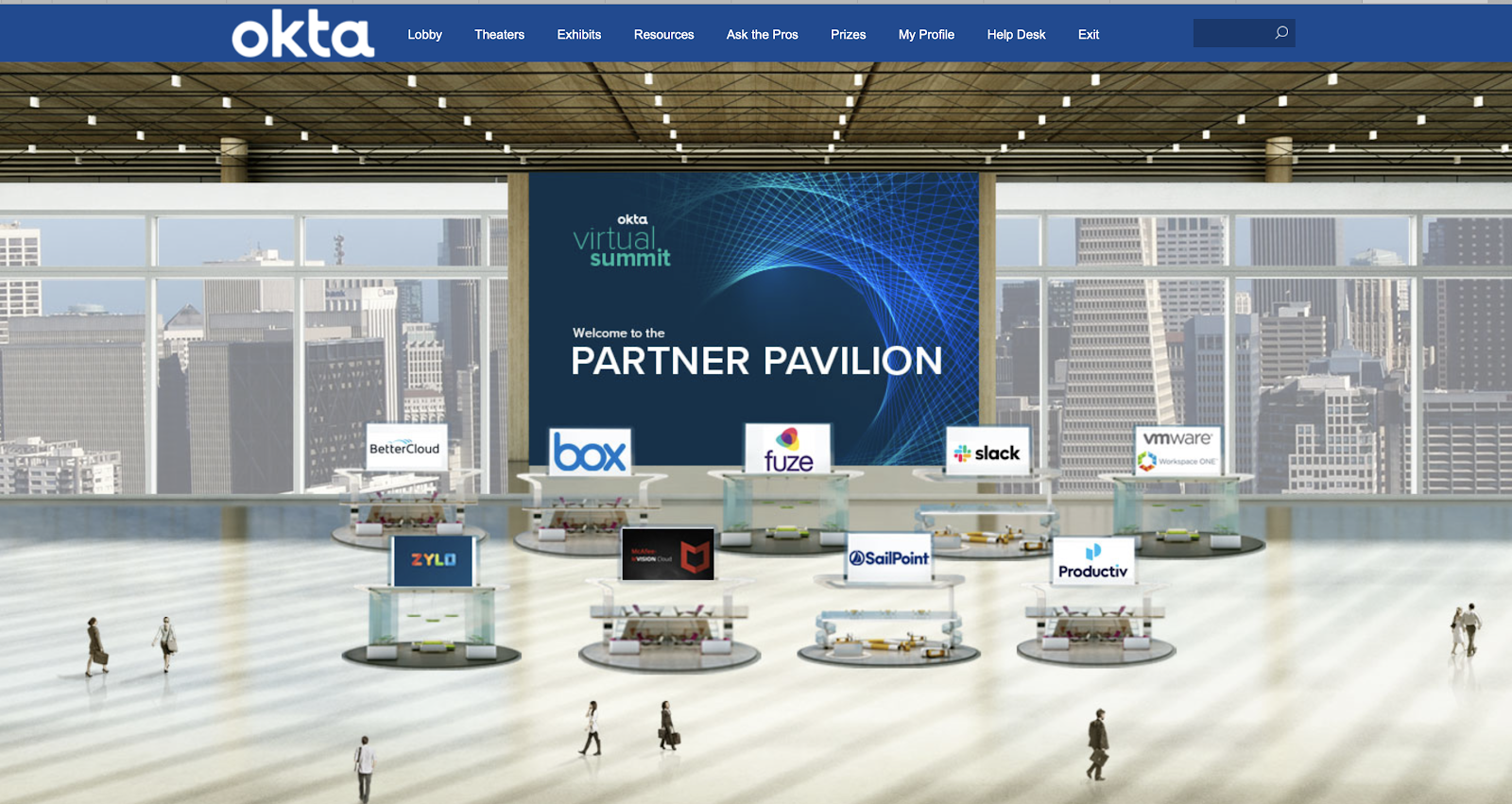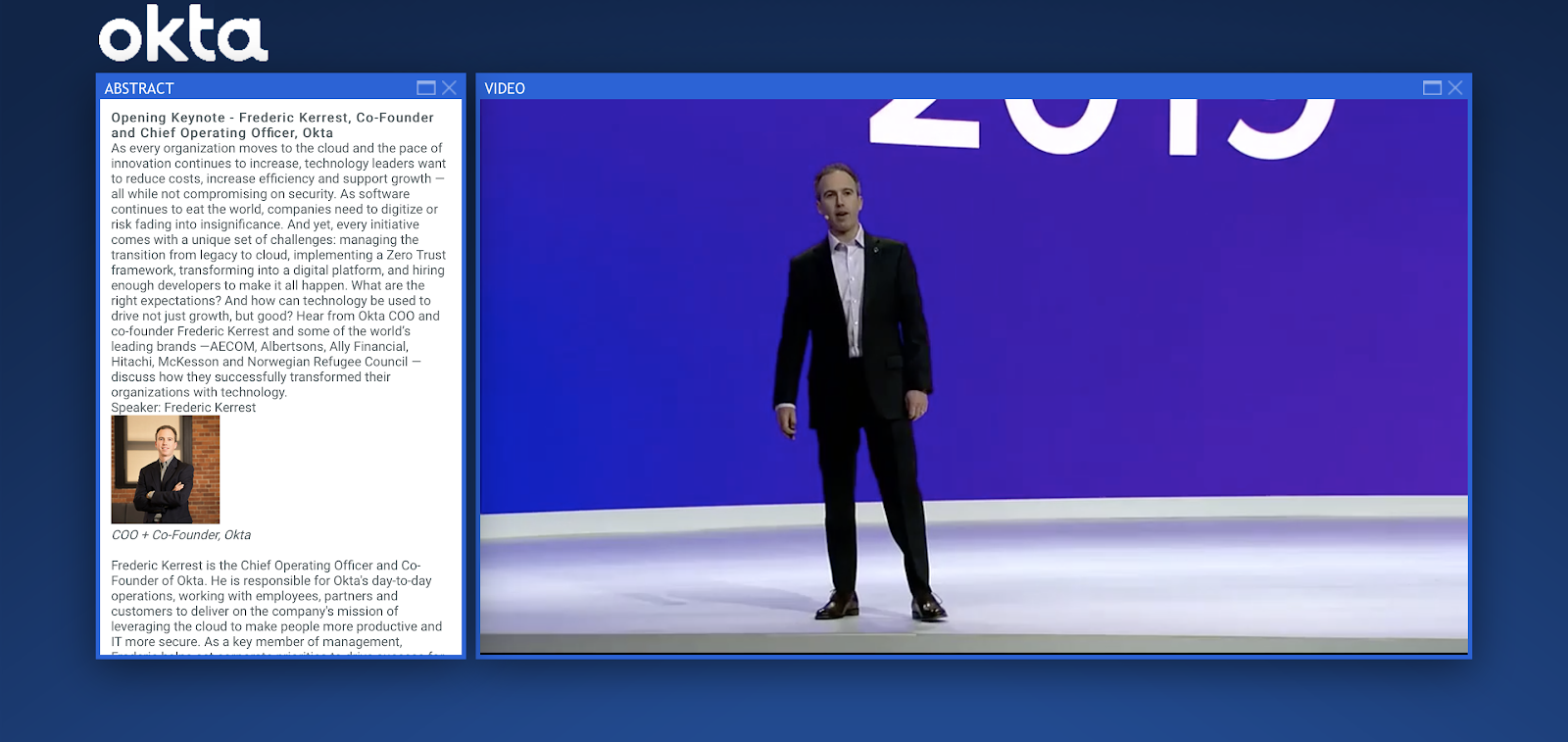 Other ways to get involved
Follow along on Facebook, Twitter, Instagram, and YouTube and share your experience using #Oktane20. And remember, you can register for free.
Check out our What to Expect at Oktane20 Live (Part 2) blog post, which goes into more detail about how the Oktane20 Live platform works.