What to Expect at Oktane20 Live (Part 2)
Excited for Oktane20 Live? We are too! Wondering how exactly this live virtual conference thing works?? We've got you covered. In this post, we'll share our tips and tricks for navigating Oktane20 Live and getting the most out of the digital conference experience. And if you missed our What to Expect at Oktane20 Live (Part 1) post that covered our industry-leading keynote speakers and how the sessions will work, you can go back and read it here.
How to Use the Oktane20 Live Platform
When you log in to Oktane20 Live, you will be taken to the virtual lobby. Just like at an in-person conference, the lobby will be your starting point to access all of the keynotes, breakout sessions, resources, and networking events. At any point, you can return to the lobby by clicking "Lobby" in the top navigation bar.
Here's a sneak peek of what the environment looks like.
This is the Oktane20 Live lobby.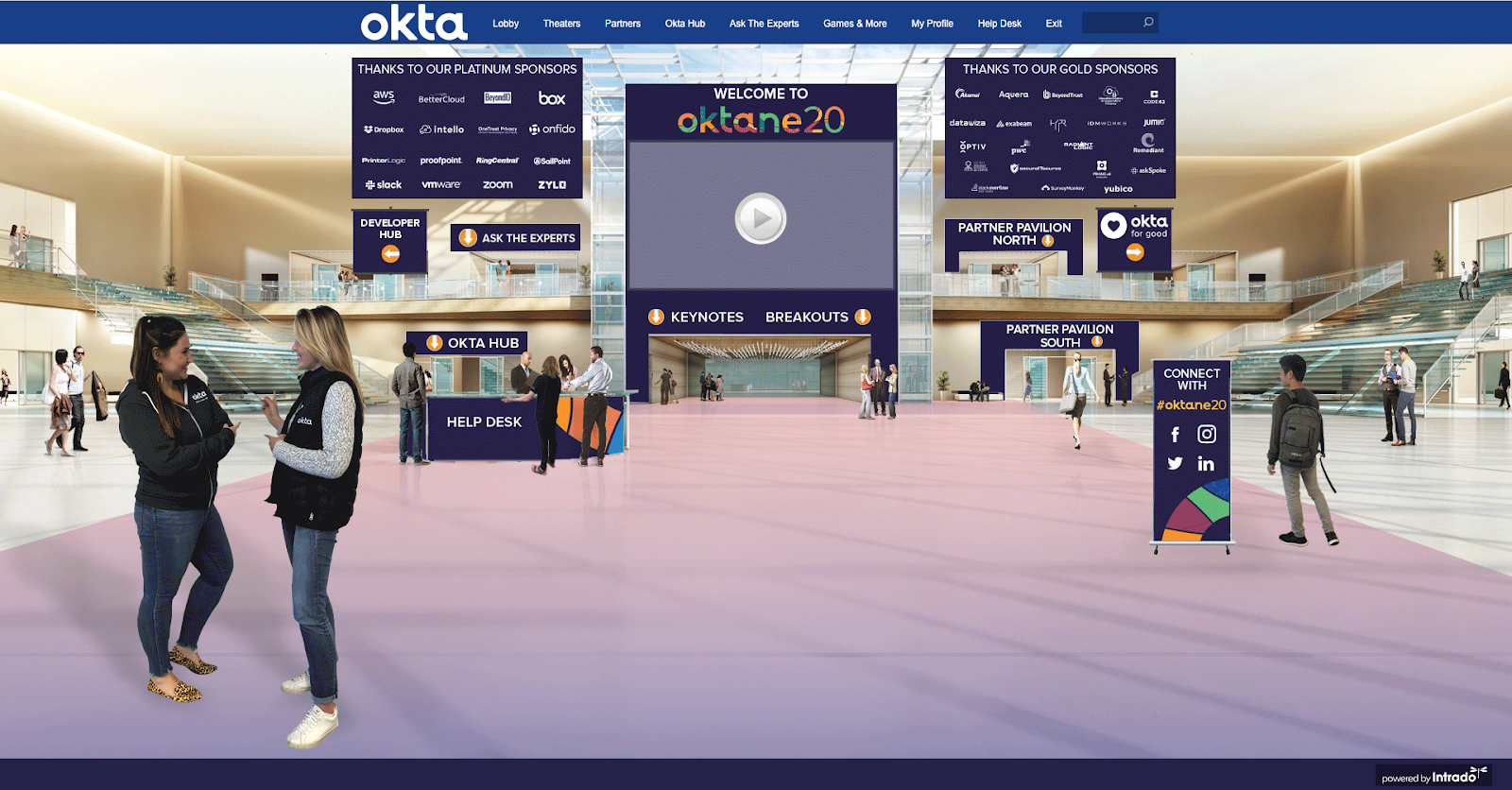 This is what you can expect to see when you attend a keynote or breakout session.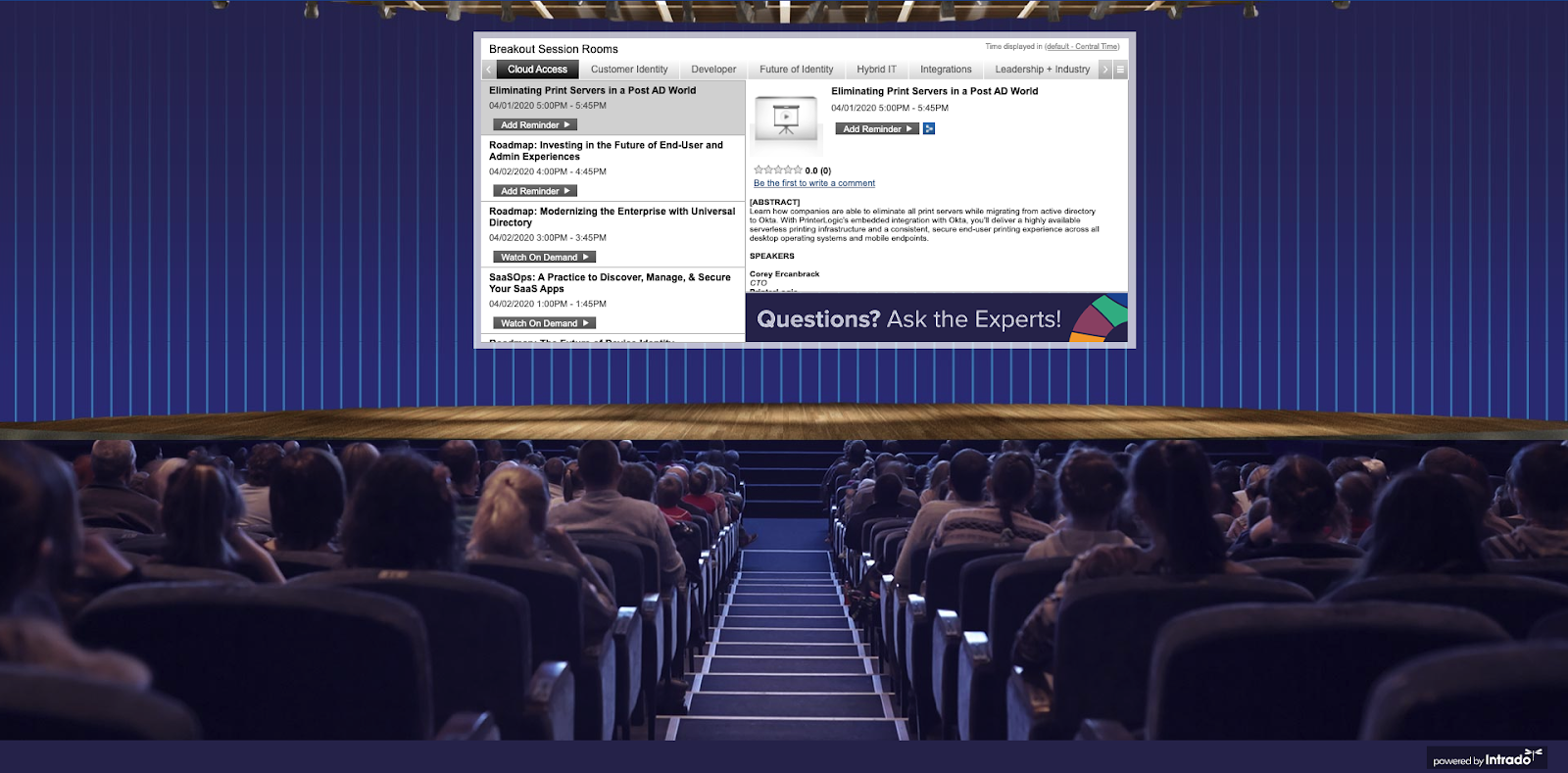 This is what the presentation mode will look like. From this screen you can see the speaker's slides and ask questions during their presentation. (The chat feature is not available when viewing presentations on demand.)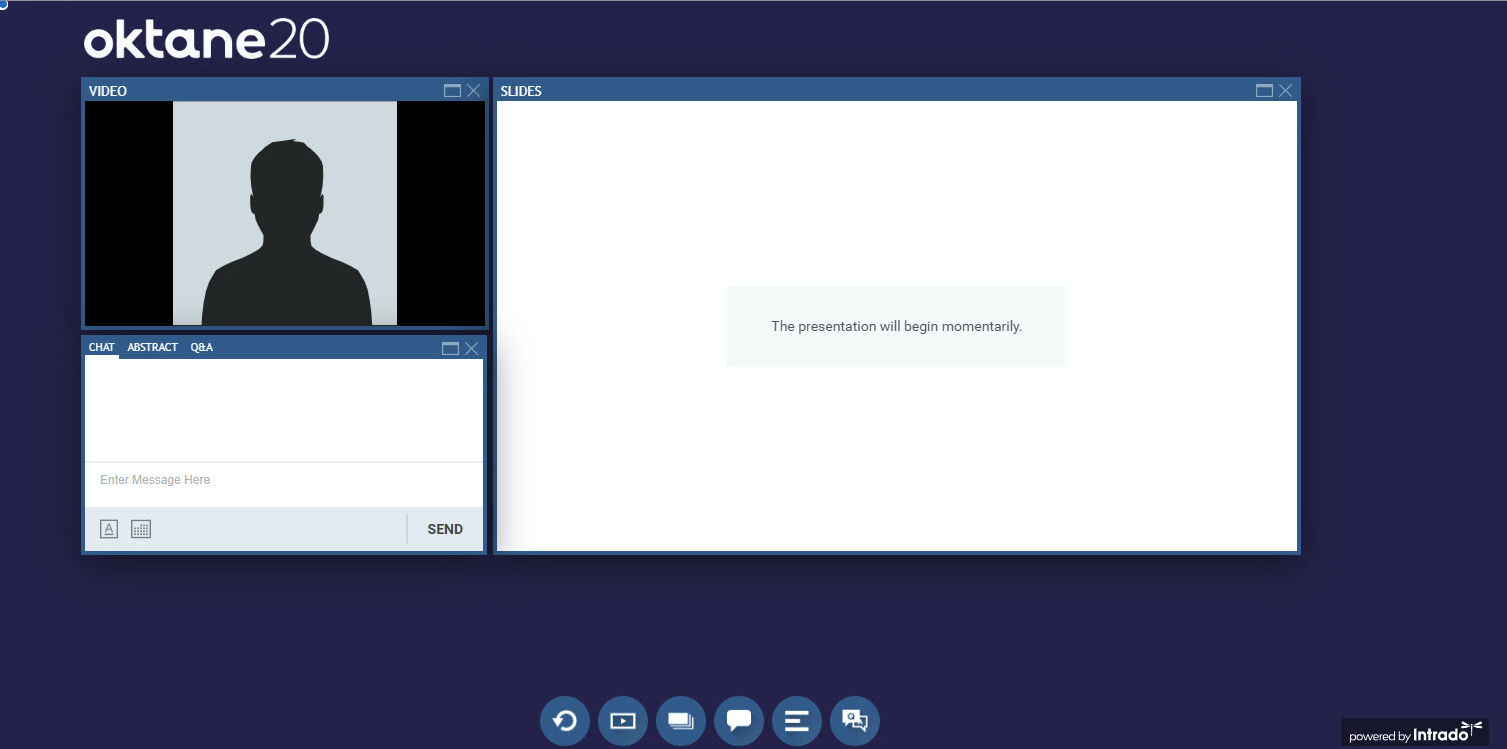 Ask identity experts questions through this chat feature at any point during Oktane20 Live. This feature is available for the full 48-hour timespan of the conference!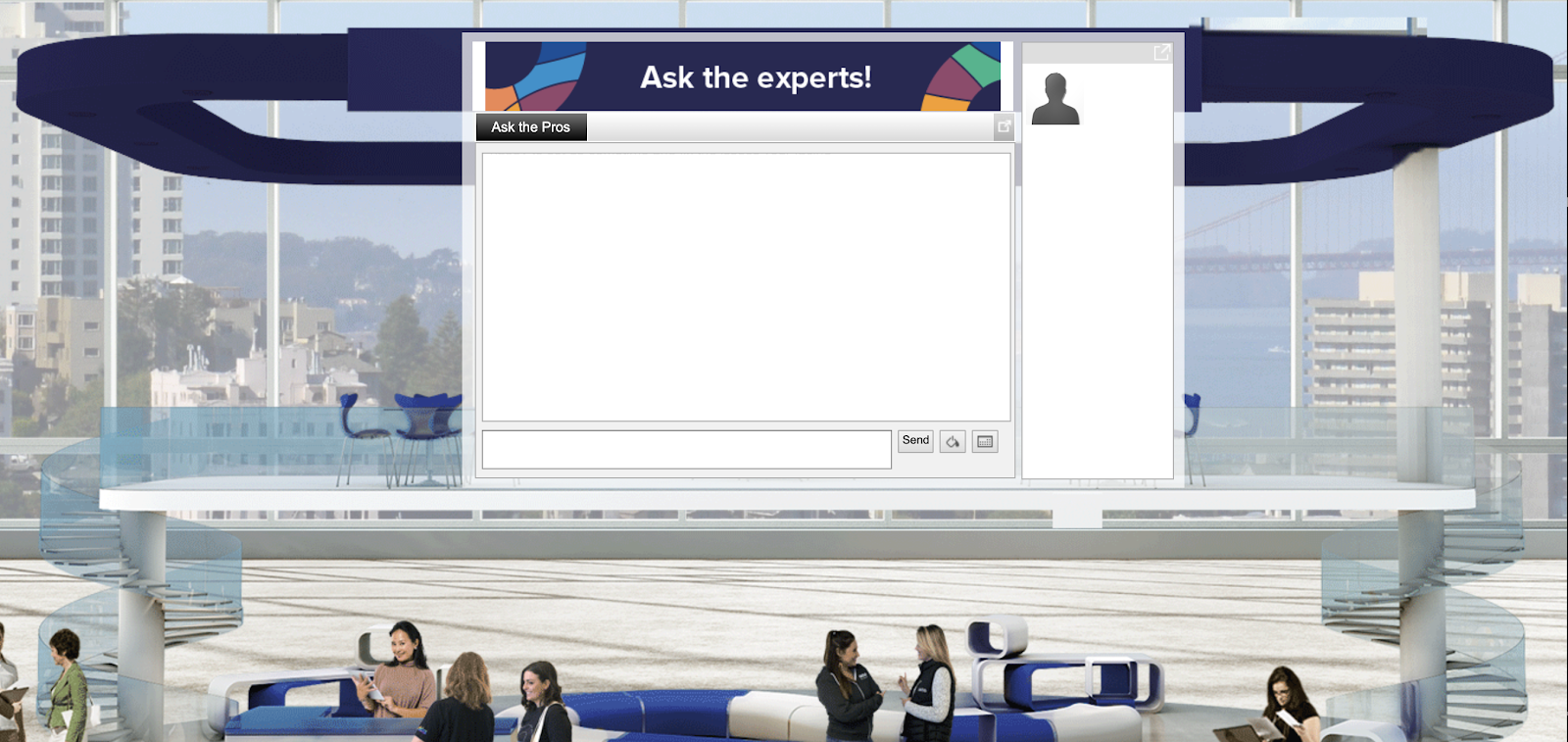 Learn more about Okta at the Okta Hub.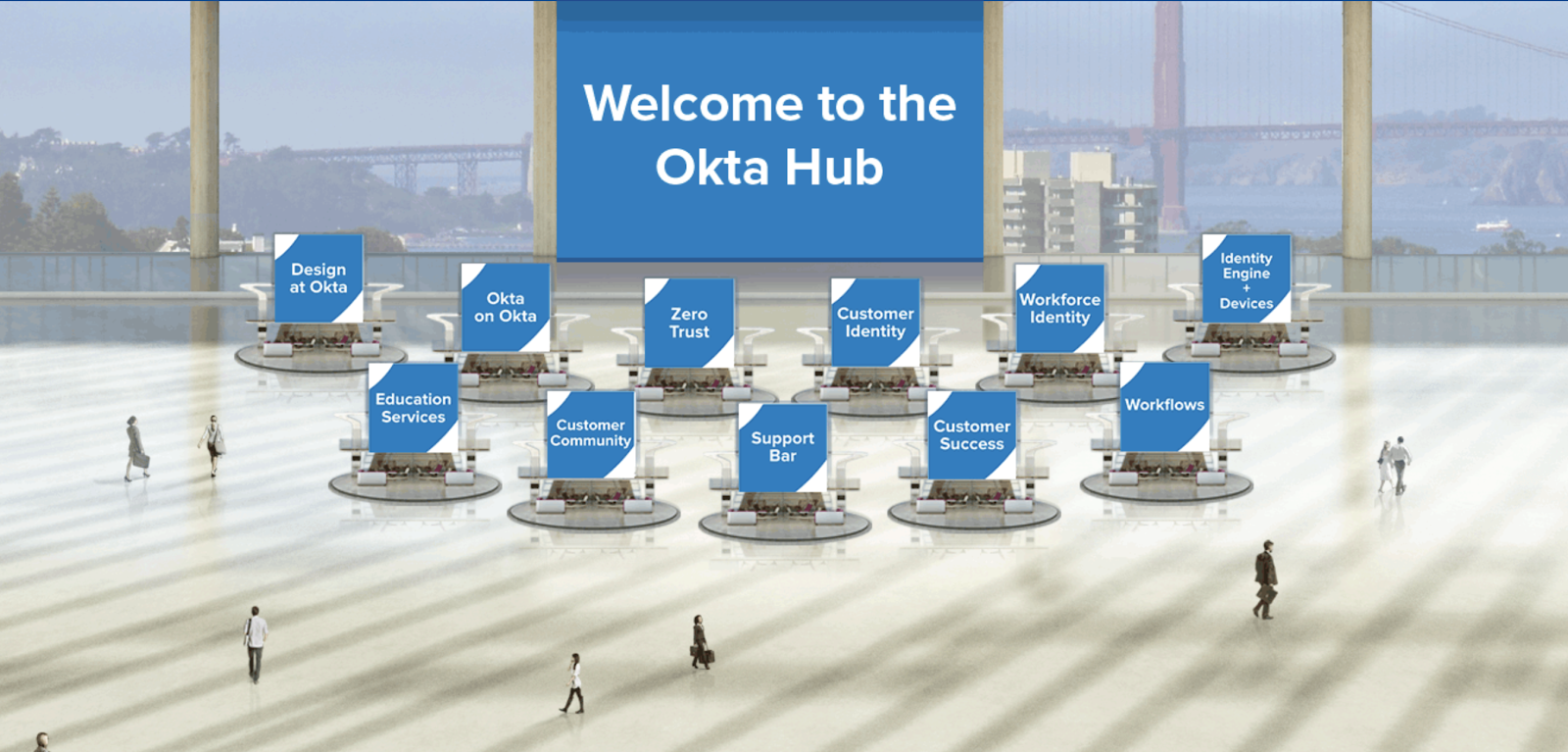 The Five Steps to Success
Explore your profile. Once you're in the platform, click "profile" in the top navigation bar. Here you can use chat and message features. Your profile also contains the briefcase section in the third tab. Your briefcase contains documents and links that you save from the resource center, presentations, meetings, or the sponsor space.
Attend a session. Click "Theaters"in the top navigation bar to explore keynote and breakout sessions and find ones that interest you. The sessions are organized by topic to help you find the right ones for you. Just like an in-person conference, the sessions will begin at specific scheduled times, so you should click into the session at the start time or a few minutes earlier. You can also build a personalized agenda of sessions you want to attend and download calendar reminders for the sessions. The added bonus of the virtual experience is that once the sessions are over, the recordings will be available on the homepage immediately. If you're double-booked or tuning in from a different time zone after the live session time, you can catch up right away!
Network with experts. This feature allows you to enter a chat room and ask Okta experts for individualized advice on your company's identity management strategy or questions about anything Okta. You can access this feature through the "Ask the Experts" option in the top navigation bar.
Rate your sessions. During or after the sessions you attend, you can rate the session on a five-star scale. This will help you and your fellow attendees find the best sessions out there!
Play the Passport Game. You can earn badges by visiting partner booths, attending sessions, chatting in the group chats, and more. Your badges will be added to your profile, and the top scorers will be displayed on the leaderboard for all attendees to see. Each badge is also worth a certain amount of points. Attendees with the highest number of points will be entered into a drawing for our prizes.
Additional Oktane20 Live Tips and Tricks
Don't be shy!
Think of the virtual conference the same way you would an in-person conference. Use the group chats as an opportunity to network and get to know your peers from other companies. Just because you aren't face-to-face doesn't mean you can't make new professional bonds.
Your communication notifications will appear in the upper right corner of your screen as a little bubble. There are three types of private communication you can have in the platform: email messages, chats (which you can accept or decline), and vCards.
Make the rounds.
Check out the Partner Pavilion, Okta Hub, and Developer Hub.
The Partner Pavilion is a virtual exhibit hall where you can learn more about our partners' technology offerings and how they work with Okta. You can also earn badges and points by chatting with our partners!
The Okta Hub will be staffed with Okta experts to help answer questions about our products and much more.
Join the Developer Hub to talk with web security experts, have all your Okta developer questions answered, and geek out with your fellow developers.
Use the search bar.
You can use the search feature in the top navigation bar to find attendees, sponsors, documents/links, and presentations/webcasts within the event.
Get personalized guidance.
Interested in a 1:1 meeting and/or product demo at Oktane20 Live? We will have plenty of Okta executives and product resources on hand for both! Get ahead of it and request a meeting or a product demo.
When in doubt, ask for help.
Visit the help center from the top navigation bar to read about computer tips to make sure your system is good to go for the sessions, view FAQs, and ask an Okta staff member for guidance.
If you can't access the platform, or want to reach someone via email, you can contact support at [email protected].
Other ways to get involved:
Follow along on Facebook, Twitter, Instagram, and YouTube and share your experience using #Oktane20.