Every Vote Matters: Access Registration Resources Through Okta
Voter turnout has long been a problem in the United States. Our political participation trails far behind other developed countries. An estimated 93 million eligible voters did not vote in the 2012 presidential election, and almost 92 million eligible Americans did not turnout to vote in the 2016 presidential race. As the fight against COVID-19 continues, fears of crowded polling stations may keep even more people from casting their votes this November.
At Okta, we champion choice and know every identity, voice, and vote matters. That's why we're making it easier for our users to access voter registration and election resources right from their Okta dashboard. We've rolled out a new application in the Okta Integration Network (OIN) that when selected, will take users directly to vote.gov, a public website that helps people find voter registration information in every state, download necessary documents, and learn how to vote safely this year. Today, we deployed this self-service app across Okta, and it's available in the OIN for customers and end-users to add to their dashboards.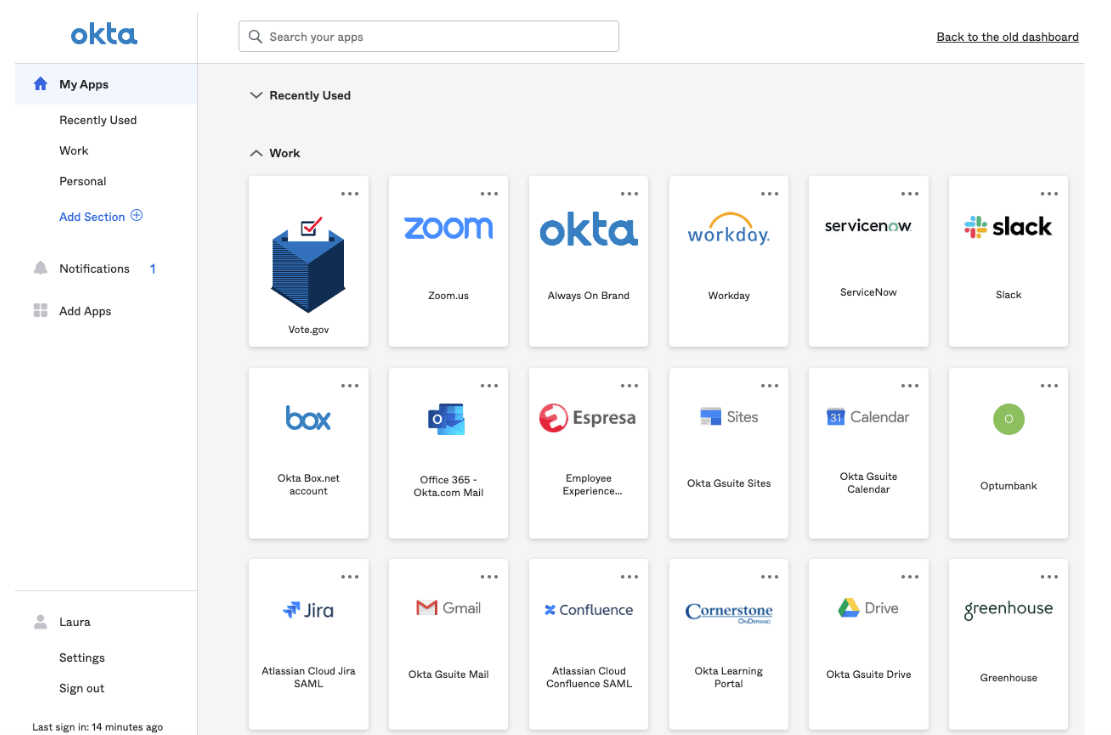 Volunteering on Election Day: The Polls Need You! 
We're also encouraging our U.S. employees to take advantage of Okta's flexible PTO policy and three days of volunteer time off leading up to and on Election Day so they can fully participate in the democratic process. Not only will this ensure everyone has the time to vote, but it gives them the opportunity to help out their community or volunteer for the candidates they support.
There are many ways that U.S. employees can donate their time, whether it is volunteering at the polls, or calling/texting eligible voters in their communities and reminding them to vote. We encourage our employees to get involved in their communities in whatever way they can — and however they feel comfortable.
Ensuring Everyone's Right to Vote
Our vision is to enable any organization to use any technology, and technology can play an important role in increasing voter turnout. While we're doing our part to increase civic engagement in 2020, we have a long way to go in addressing the systemic shortcomings of our voter registration systems. Some states are still relying on ink and paper to register millions of residents, and since 2013 more than a dozen states have removed or deactivated eligible voters based on incorrect information. As a result, our Cost of Privacy report found that 14% of unregistered Americans avoided registering to vote due to complications with the process. That number may sound small, but it represents 14 million potential voters.
To make voter registration easier and more secure, we must treat it like the modern identity problem it is. Creating a standardized voter registration system at the federal level would make it simpler for Americans to register no matter what state they live in, while ensuring states maintain control over running elections. That system could leverage modern, advanced security and usability practices like multi-factor authentication.
As CEO, it's my responsibility to do what's right not just for Okta's shareholders, but our customers, partners, employees, and communities. At times, doing what's right means speaking up on issues that impact society, our people, business, and identity at-large. I'm proud to support our employees and customers in getting the resources and information they need to vote this year, and I hope we can work together to make democracy more accessible for everyone in the future.
Tuesday, September 22, is National Voter Registration Day. Nearly three million voters have registered on this date since 2012 — let's triple that number this year!
To deploy the vote.gov application to your organization, visit: https://www.okta.com/integrations/vote-gov/.