Universal Directory Enhancements are Scaling With You
The digital transformation of the last decade has come with many unexpected byproducts. A key one is the proliferation of user data stores, especially among cloud apps holding their own user-identity databases. A centralized identity management system is critical.
Okta Universal Directory (UD) was built to control this sprawl of user attributes and entitlements. Once UD is in place, Okta can help you structure and manage user identities—from a single control panel.
But as your growing organization takes on external identities such as customers, partners, and contractors, you can quickly lose control over these data stores again. When this happens, you need an identity management solution that can scale with your organization.
This is why Okta has developed improved and scalable people and group management features, as well as advanced search capabilities, in Universal Directory. Specifically, we're delivering three new UD features that provide greater flexibility in administering your user identities:
All three features will be Generally Available (GA) in Preview environments in May of 2022. Read on for details about each one.
Bulk Assign Users to Group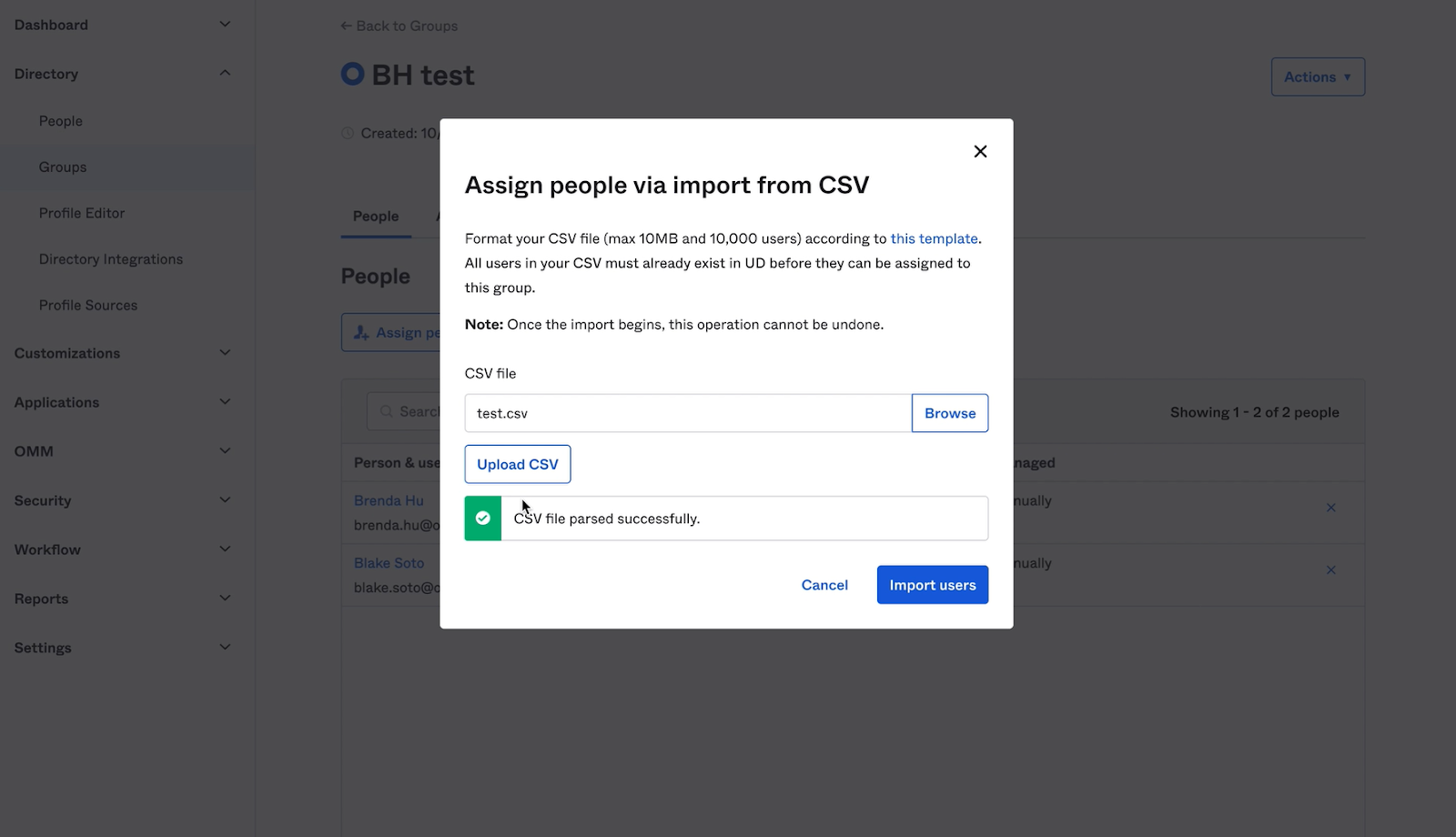 Easily assigning users to groups is essential to ensuring proper, least privileged, user access, as any user assigned to a group is automatically provisioned with the group's apps. This is why admins must be enabled to quickly and easily create these group assignments. But for organizations with larger user volumes, assigning users can be extremely time-consuming. Okta now provides a straightforward way to assign users to an Okta group, in bulk.
With this enhancement, Super, Org, and Group admins with the appropriate rights can use a .csv file to import up to 10,000 users per group. For non-technical admins, it's easy to assign users to groups in bulk—without an API—when using Group Rules is not possible or efficient.
Improved Group Membership UX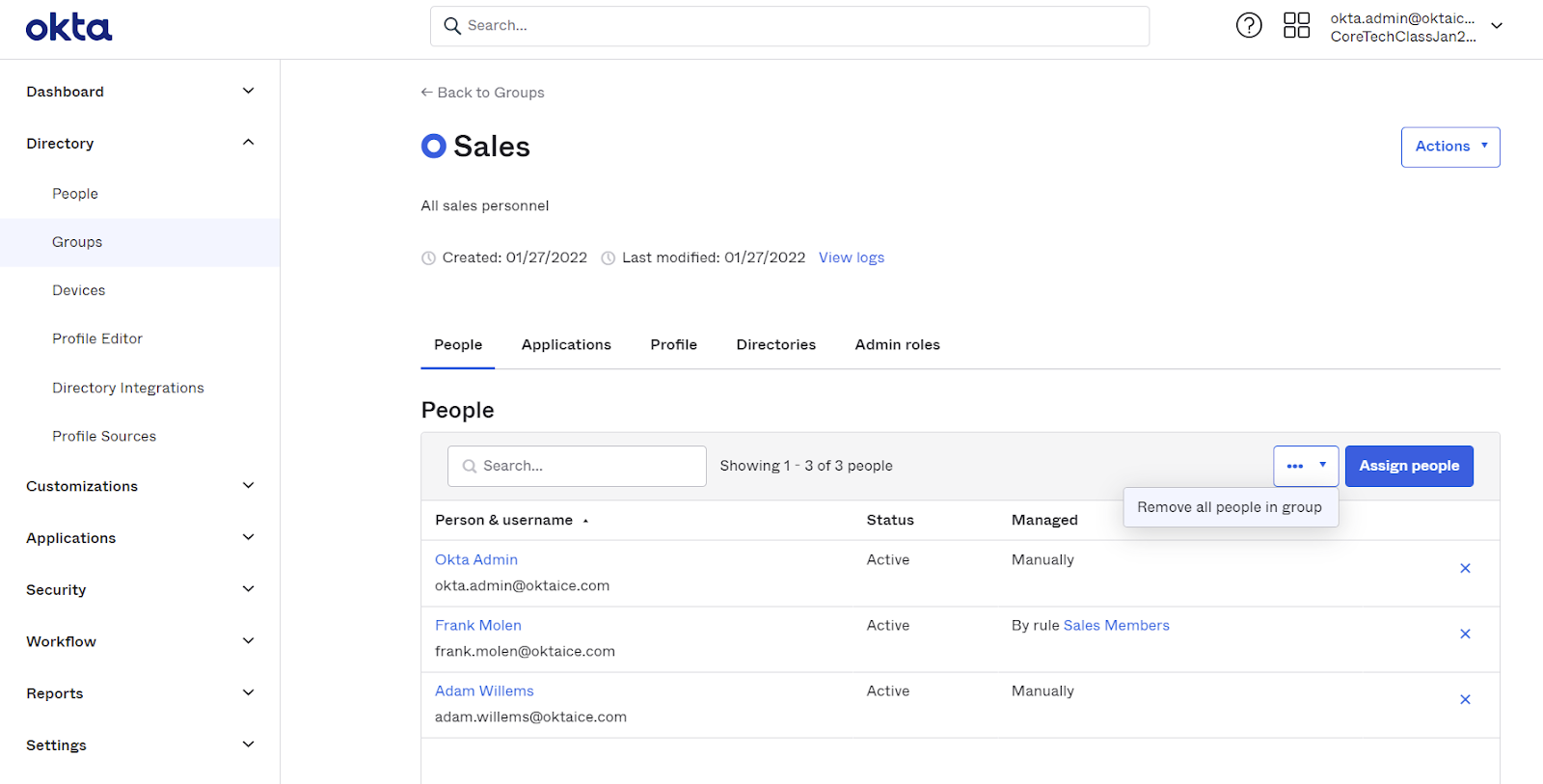 Again, proper group management is foundational to a strong security posture and critical for a Zero Trust strategy. So, to address usability concerns around group pages, we've improved the end-user experience for managing them. The UI design now minimizes the accidental deletion of all users from a group, which should prevent unintended loss of user productivity. Along with the Bulk Assign Users to Group feature, you now have greater control over managing large groups.
This improved UX also includes a new central control panel for group management, validation checks to prevent errors when making changes on users or groups, and streamlined add and remove flows on groups. As a result, admins are better positioned to handle larger-scale operations.
This feature has been available for Early Access in Preview environments since May 2021 and has now been promoted to GA in Preview environments. See additional details below.
Advanced Search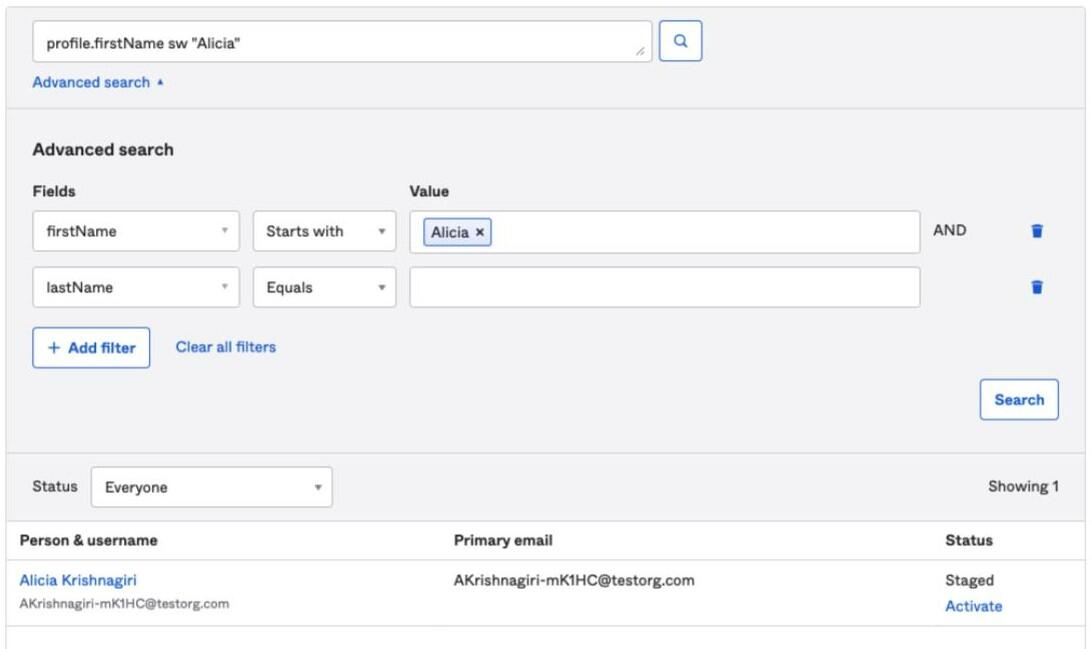 Occasionally, you'll need to quickly find and take action on specific people or groups. Perhaps you need to audit for a specific user attribute, to ensure a certain deprovisioning task, or to target a certain group within a specific date. To facilitate such tasks, fine-grained search, sort, and filter options are essential—especially when dealing with growing volumes of objects and attribute mappings.
To that end, admins can now use the SCIM protocol to perform advanced searches on people and groups pages to limit search results and obtain them faster. This feature also includes options to search based on events or timestamps, using "Created On" and "Last Updated On" in queries. In addition to searches by user or group name, admins can also search by base or custom attributes for people and groups. 
These new capabilities are foundational to Okta's plans to optimize search performance and cater to the identity needs of all organizations. Stay tuned for even more finer-grained search functionality!
Get started today!
These new Universal Directory features showcase Okta's commitment to providing a flexible, secure, and neutral cloud identity platform that can help simplify the administration and organization of users—at scale.
All three features will be GA in Preview environments in May of 2022. When available for your environment, these features will be enabled automatically.
Interested in learning even more? Check out this demo: