Tackling Operational Sustainability at Okta: An Intern's Experience
As a graduate student in a dual MBA and Master's program in Environment and Sustainability, I sought an internship where I could apply my sustainability knowledge to existing business practices. During my interviews, I witnessed Okta outlining their strategy to address climate change and hoped to collaborate on the transformation. The Okta Workplace Sustainability team wanted to evaluate site operations and recommend impactful changes that would lower relevant GHG emissions. As someone eager to contribute to the Workplace Sustainability and Environmental, Social, and Governance (ESG) teams, this sounded like a perfect combination for the summer.
Okta stood out as a great place to work due to its continuous commitment to transparency, quality products, and ESG and Sustainability as a high-growth company. Without digging too deep, it was clear Okta strived for impact beyond their identity solutions. During my first two weeks, I witnessed how the company harnessed its forte by highlighting non-profit tech entrepreneurs. Additionally, Okta leaders discuss social justice and Diversity, Inclusion, and Belonging (DIB) on weekly all-hands calls. I believe that openly discussing equity and belonging topics is important and can further inspire community conversations and understanding.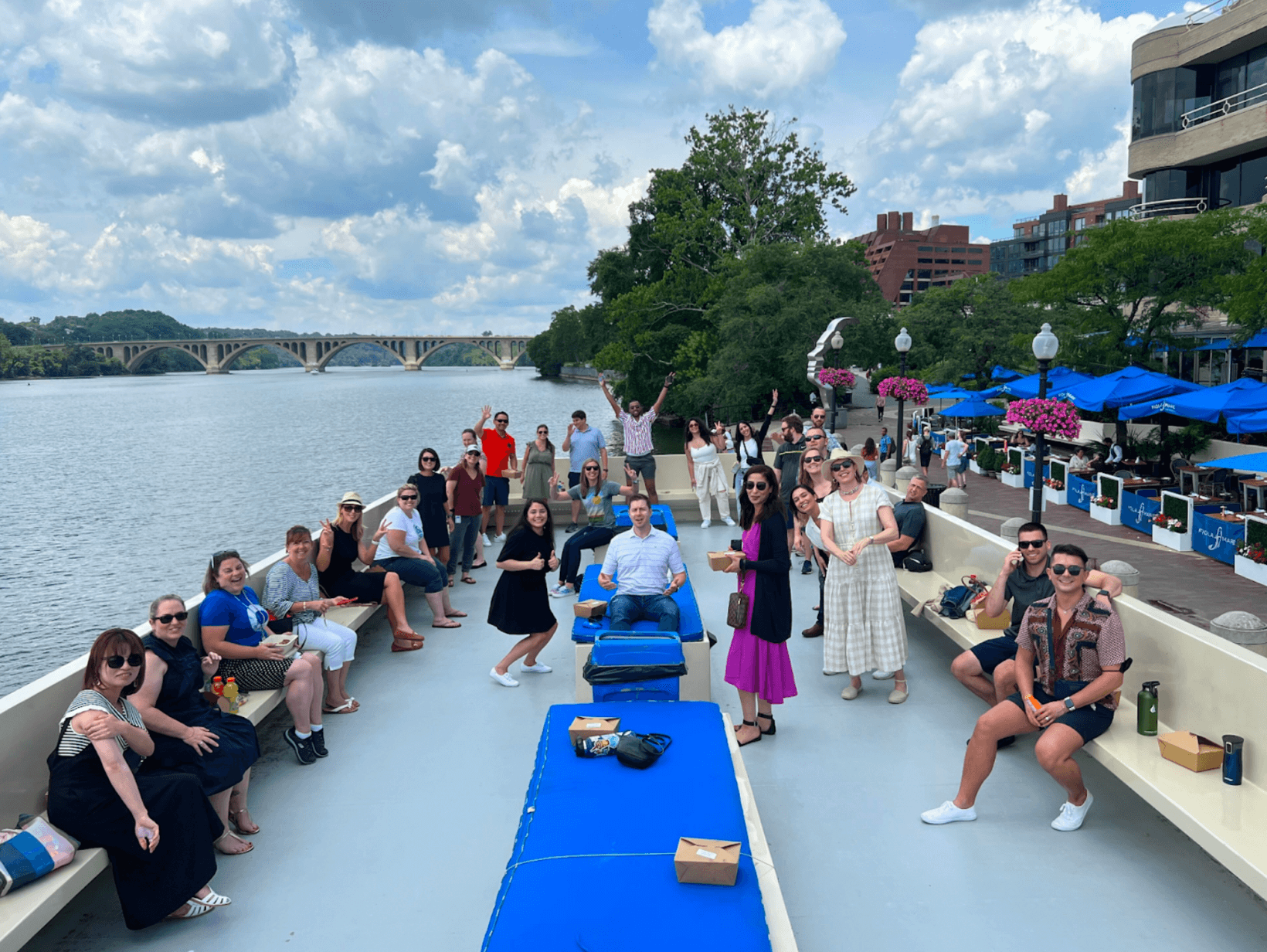 Davoodi and her Okta colleagues at the July all-hands in Washington, DC.
As I started my main project, I assumed there could be one or two standard solutions for achieving sustainable operations. However, after the pandemic and the success of dynamic work, I quickly noticed many obstacles accompanied by unique opportunities for each office. Collaborating with site management and workplace teams illuminated various approaches to improving food and beverage procurement. Simultaneously, I was encouraged to support the ESG & Sustainability team's efforts in developing Okta's public environmental disclosures, such as the Carbon Disclosure Project. Interpreting and understanding Okta's ambitious climate goals were a stimulating part of my role.
Upon completion of my summer project, I found paths to begin our global journey toward landfill diversion, improved supplier engagement, sustainable procurement, and earning WELL Building Standards in all offices. People are a key factor in reaching our climate goals, and cultural shifts help to sustain future commitments. To create organizational change, people at all levels should be on board with process changes by means of education and communication. For me, initiating actions to achieve Okta's workplace sustainability goals is a gratifying role to have. Thankfully, I have the opportunity to continue to contribute part-time during my third and final year at school.