Okta Integration Network
Deep, pre-built integrations to securely connect everything.
BambooHR
Overview
BambooHR is the No. 1 Software-as-a-Service (SaaS) company providing online HR Software for small and medium businesses that have outgrown spreadsheets. BambooHR's cloud-based system is an intuitive, affordable way for growing companies to track and manage essential employee information in a personalized Human Resources Information System (HRIS). Now HR managers have more time for meaningful work, executives get accurate, timely reports and employees can self-service their time off, using a convenient mobile app. BambooHR's clients include innovators like Fitbit, Fab, FreshBooks, Klout, and Squarespace, among thousands of others in 70 countries worldwide. For more information, visit www.bamboohr.com.
The Challenge
HR Information Systems (HRIS), like BambooHR, are usually the system of record for employee information. IT needs this employee data in order to create new accounts, provision applications, and deactivate users when they leave a business. This exchange between HR and IT can be a friction-filled process and is high risk for data transcription error and security vulnerabilities. With the explosion of cloud-based apps, HR systems, and directories, communication between HR and IT needs to be drastically simplified and improved.
Process inefficiency: It's time-consuming to transmit employee data through email or file extracts—and risky, too
Security loopholes: Deprovisioning users takes an average of 47 working hours—a long time to be unsecured
Wasted employee time: Filing helpdesk tickets and waiting for apps and permissions updates takes a toll on output
The Solution
Okta plus BambooHR is a pre-built integration that keeps HR and IT in sync. Employee data and profile updates in BambooHR inform IT systems, enabling automated user lifecycle management across apps (both SaaS and on-premises) and directories like Microsoft Active Directory.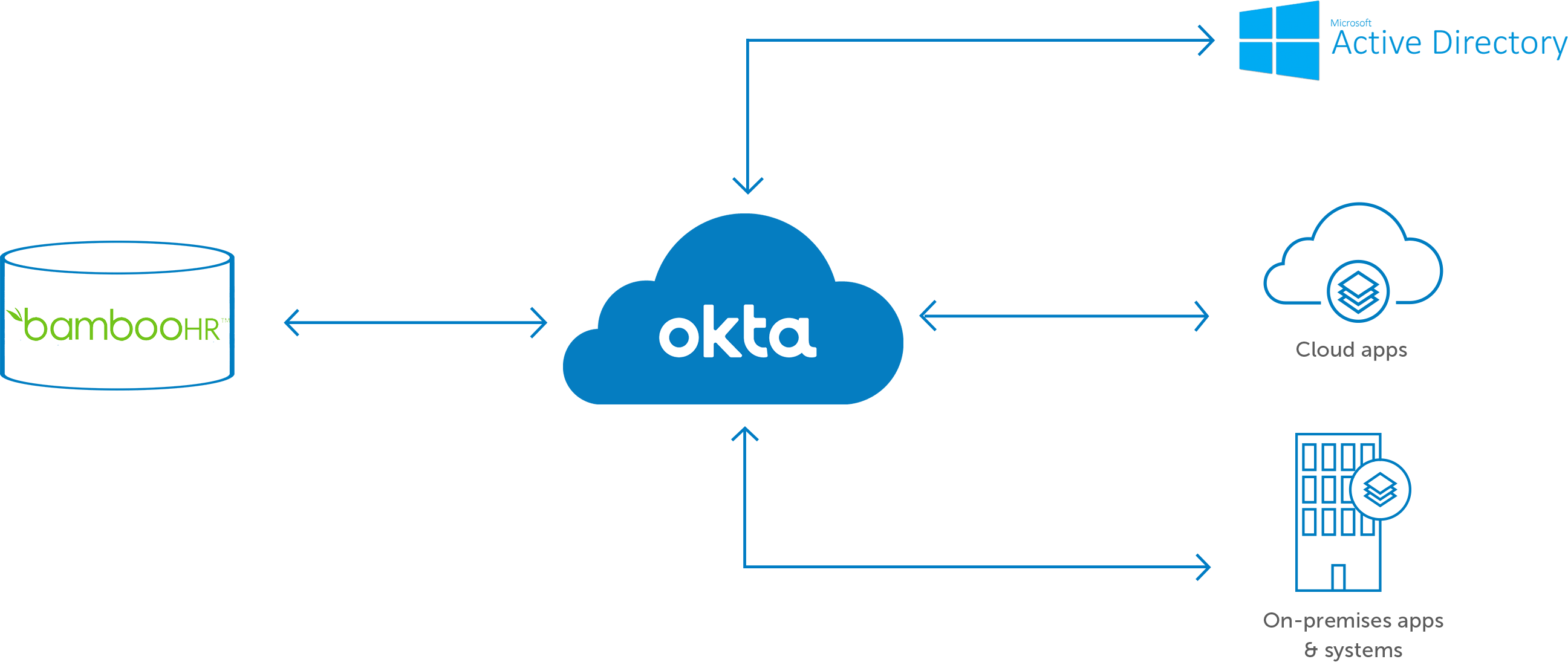 Lower security risk
when users leave
Close security loopholes upon employee departure with automated deprovisioning and access suspension based on HR triggers.

Improve employee
productivity
Provision new employees as soon as they start, let them update their own user profiles, and update their permissions when their roles change.

Automate employee provisioning
Assign IT-managed applications automatically, using HR triggers (e.g., New Hires) and user attributes (eg., Department).

Keep data updates fresh everywhere
Ensure the fidelity and freshness of employee attributes by propagating HRIS updates to downstream apps on a recurring basis.
Joint Customer Success
"Identity really just flows from our HR tools into Okta and then into everything else—our internal tools, our external tools...It works really well."
– Aaron Zander, Senior IT Administrator, Massdrop

$50K+
in IT savings