Identity on the Move
The rise of mobile has come hand in hand with the consumerization of enterprise IT. Companies are more efficient when employees can conduct business on both their personal and corporate mobile devices. And companies are more agile when employees can conduct their business using tools that are as simple and flexible as the consumer products they use in their everyday life.
Okta helps make this possible by providing unrestricted, easy access to authenticate mobile enterprise applications from any device while ensuring the same or higher security than they have in the managed desktop world. Whether personal or corporate, tablets or smartphones, mobile web or native apps, Okta will secure your employees' mobile identity.
Easy Identity Management & Application Access from Mobile Devices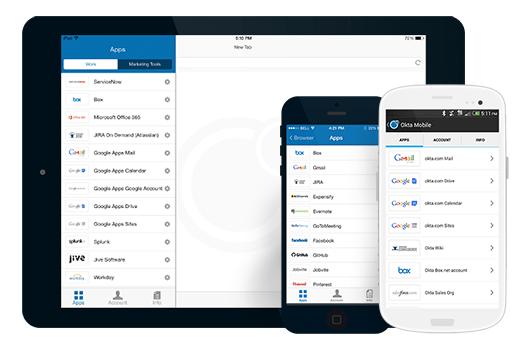 Mobile users expect simplicity. In the age of consumerized IT, mobile enterprise apps must be as easy and accessible as their consumer counterparts. Typing passwords into smartphones is hard; remembering lots of unrelated usernames and passwords is worse. Okta ensures that users can register their apps once and then gain secure access, whether the app is native or web based.
Secure and Controlled Mobile Authentication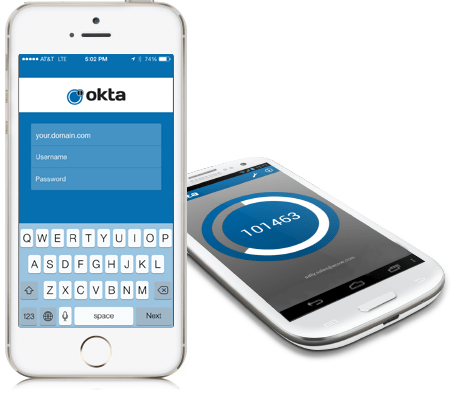 By consolidating authentication and account provisioning into a single centrally managed system, administrators can guarantee that the right people have access to the right applications. When an employee is hired, accounts can be created in all appropriate applications. Authorized employees can start accessing apps with their mobile devices, while unauthorized users will be blocked. A single enterprise credential controls everything. If the employee leaves the company, she is locked out automatically.
Works with Native and Web Based Mobile Apps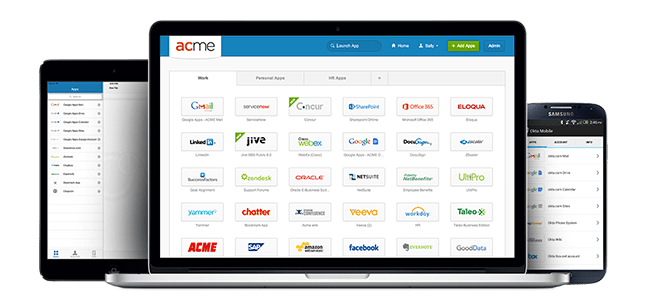 Whether your enterprise apps are HTML5 web apps optimized for mobile platforms or Native iOS or Android apps, Okta has the solution. Any web application in Okta's catalog of thousands of pre-integrated apps can be accessed with single sign on from any mobile device. Mobile web apps can use industry standard SAML, or they can use Okta's Secure Web Authentication SSO technology. Native applications like Box Mobile can be integrated using SAML authentication for registration and OAuth for ongoing use.
Integrated with Active Directory and HR Systems
Okta's mobile identity management solution can be fully integrated to your Active Directory / LDAP user stores and your HR management systems. When an employee leaves, her accounts are automatically disabled and associated OAuth tokens are revoked. When users register their devices for native or web application access, they can do so with their standard Active Directory / LDAP credentials, and their application access polices can be driven by Active Directory security groups.
Okta Mobile Connect for Native App SSO
Okta supports SSO to native mobile apps with Okta Mobile Connect, a mobile SDK. This SDK enables developers to bring SSO to native mobile apps while maintaining enterprise-grade security. Okta Mobile Connect supports multiple configurations and authentication protocols.