Today's Identity Challenges
Okta's Mission: Leverage the cloud to make IT more secure and people more productive
To be productive, people need access to applications to get their job done.
IT has to make that access seamless and secure. In the past IT has turned to on premises identity management software for this purpose.
Today the on premises identity management approach is facing multiple challenges:
The cloud has led to an explosive growth in the number of applications outside the firewall that are disconnected from on premises directories.
People need to access those applications from laptops, smartphones, and tablets that are not connected to a corporate network or controlled by IT.
The number of users that IT manages has exploded as businesses extend application access to customers and partners.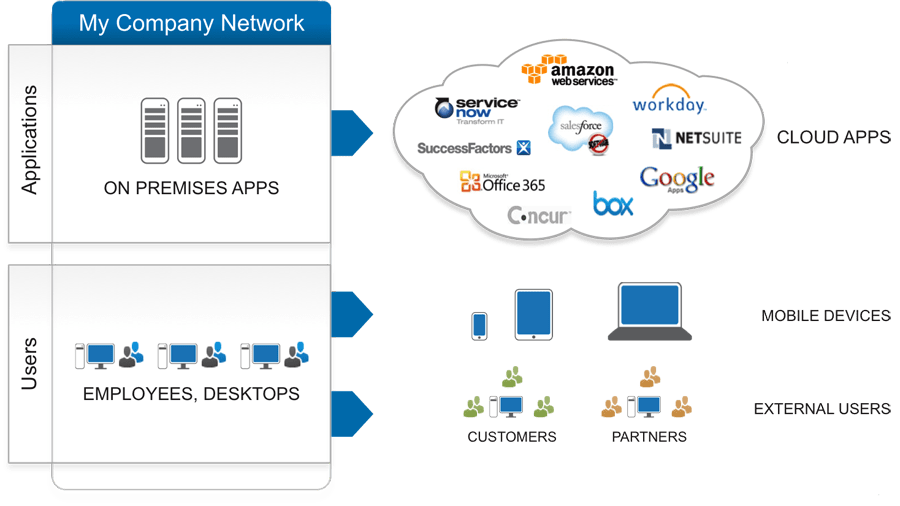 Yesterday's IT
Today's New Reality
In this new world, IT organizations are struggling to securely manage access across traditional network and company boundaries. More on premises identity management software is not going to help.
Legacy Solutions Fall Short
Traditionally large enterprises have spent years — and millions of dollars — deploying and maintaining isolated islands of on-premises identity management software to manage access to a small number of applications that were within their datacenters, from a company managed PC, for just their employees.
For IT, continuing down this path will only result in increased costs, decreased innovation and an inability to address these identity challenges which are centered outside the firewall.
Users also cannot be expected to keep track of username and password combinations that are as numerous as the applications, devices and locations to and from which they need access. The demand for single sign-on solutions will soon become deafening.
In this Hybrid IT world, the entire Enterprise IT ecosystem needs a better way to connect an order of magnitude more users, devices and applications that span traditional company and network boundaries.
Enterprises must harness the power of the cloud to address these identity management challenges and keep pace with what the cloud, mobile, and increasingly interconnected business world holds.
Okta is the identity management service that addresses these challenges.
Trust The Okta Identity Management Solution
Okta addresses identity challenges with a modern approach to enterprise identity management that harnesses the power of the cloud.
Okta overcomes the economic and technological limitations of legacy identity management software to the benefit of the entire Enterprise Identity ecosystem.
With Okta:
CIOs get a flexible solution that can securely and reliably connect any user to any app from any device or any location
Users get a seamless experience independent of application, their employer, location or device.
App Vendors get a robust, scalable way to integrate with all of their enterprise customers.
And with Okta everyone gets a future proof service that is run by identity experts with a focus on customer success.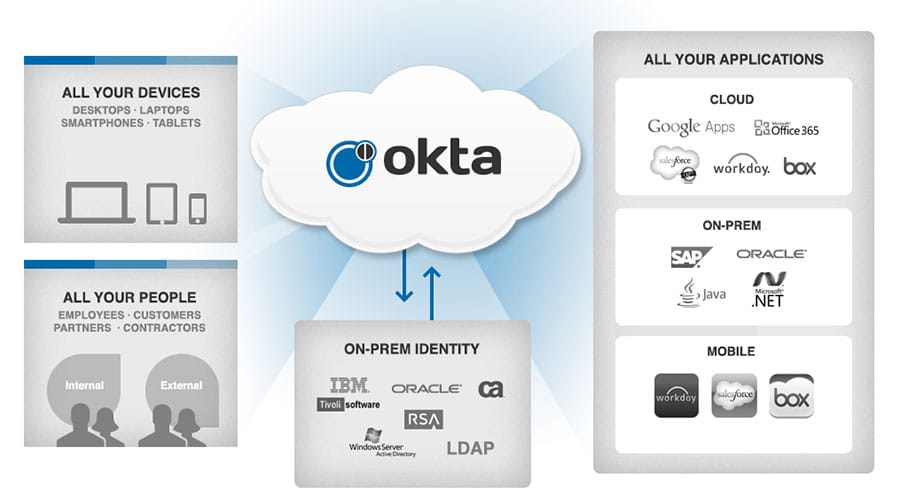 Okta is a secure, reliable identity management service that offers quick time to value, consumer like ease of use and offers a true alternative to legacy identity management software.
Okta connects to all of the applications, directories, identity systems, devices, organizations and people that you need to connect to –in the cloud or behind a firewall.
With Okta you also get a company that was built from the ground up to be the best at customer success. Working with Okta is different. We make your identity problems our problems, and solve them.
When you use Okta you also become part of the fastest growing Enterprise Identity Network
Okta's Enterprise Identity Network
Hundreds of enterprises, thousands of cloud application vendors and millions of users today are using Okta, making it the industry's fastest growing Enterprise Identity Network.
Okta's Enterprise Identity Network is the best way for companies to manage seamless, secure access across any user, organization or application, anywhere, anytime, from any device.
Okta's Enterprise Identity Network is a:
Network of Organizations: Each organization gets a secure directory within Okta's multitenant cloud and has instant access to thousands of pre-integrated applications in the Okta Application Network. Secure, federated access with any other organization (partner, customer, or vendor) is just a few mouse clicks away.
Network of People: Each person has an identity within the Okta network and relationships between that person and any organization can be securely established to provide seamless access to applications.
Network of Applications: Okta Application Network has thousands of web and cloud applications pre-integrated. For cloud application vendors Okta provides a seamless way to integrate once with Okta and meet the identity needs of any enterprise customer.
As the user, application and organization population on the Network grows, the value of Okta to IT organizations, users and application vendors is expanding exponentially.
Get Started with Okta and Join the Network Today!