Okta Highlights from 2013: A Year in Numbers
2013 included many milestones for Okta. We made the leap across the pond to open our first international office in London. Our co-founders were on mainstream TV for the first time – featured on CNBC's Squawk Box and on Bloomberg Taking Stock. We hosted our inaugural user conference Oktane13, released numerous product features and expanded the Okta Application Network to better serve our customers.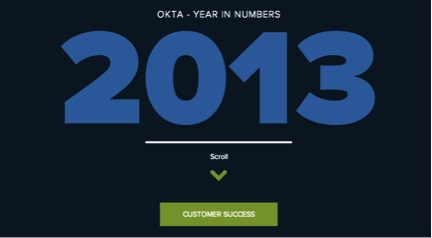 We have more stats from big things that happened at Okta this past year on our website, including a few fun facts about what we've been up to outside of the Okta offices. Here's a quick preview of what you'll find:
Our Customers: We celebrated major milestones with our customers this year, announcing new customers across the globe, including London Gatwick Airport, Rotary International and MGM Resorts International.
Our Enterprise-Grade Service: We had 45 feature releases over the past year, including announcing a major release at Oktane13 that opens and extends the Okta service even further. We're also proud to say that we have had zero minutes of global downtime in all of 2013.
Our Company: With our Series D funding this fall, we've continued to make strategic investments in North America and also overseas, adding additional office space and more than doubling our employee headcount. We're also growing socially – @Okta tripled in followers this past year and @Okta_EMEA (for our international followers) is growing rapidly.
Thanks for a great year!