16 Customers Who Struck Gold With Okta
We love St. Patrick's Day here at Okta. Parades, "Kiss Me, I'm Irish" pins, green beer… really, what's not to love? That's why this March 17 we're celebrating by highlighting some of our lucky customers – enterprises that chose the best for their identity and access management provider. Or really they just got lucky that we're putting them on the spot today…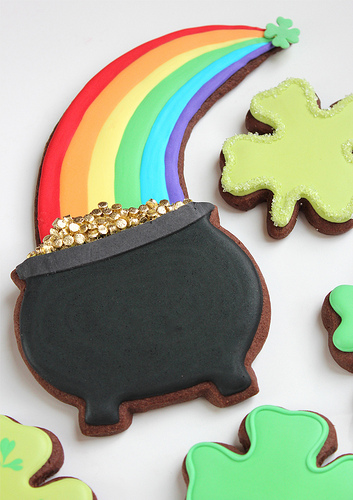 Check out 16 companies who are striking gold with Okta:
London Gatwick Airport: The UK's second largest airport depends on Okta to streamline its IT operations and to increase productivity by giving its people access to all of their applications, from anywhere, and via any device.
AMAG Pharmaceuticals: This bio-pharma company got rid of Active Directory entirely and is now going crazy in the cloud with Okta. The company's vision for IT is one of scalability and agility, and we're helping AMAG realize that vision.
Post Holdings, Inc.: Okta helped the parent company of Post Foods move away from "the bad place" of password insecurity and now secures all apps – even those brought on through acquisitions – in its platform.
ServiceSource: ServiceSource deploys Okta as the identity layer for its Renew OnDemand SaaS app to give its users a transparent, single point of entry to give them access to their work faster and more securely.
AMC Networks: Okta is helping AMC's employees focus less on IT and more on producing quality programming and movie content.
Rotary International: Okta manages authentications to Rotary's public-facing site, Rotary.org, giving users a secure, transparent, single point of entry and enabling its 1.2 million members to securely collaborate and better 'do good.'
Esri: Esri turned to Okta to help provide a truly global collaboration system with one federated source of identity.
Informatica: Okta serves as the identity layer for the external Informatica Marketplace, which brings together all different products from our entire Informatica platform.
National Geographic: Recently the 100-year-old company opened the floodgates with Okta's help to let employees use whatever apps they want, making their lives – and work – easier.
Jive: Jive embeds Okta into its SaaS offering to accelerate customer adoption, increase security, and reduce time to market.
Allergan: Okta helps the Fortune 500 company spend less time on IT and more time pursuing therapeutic advances to help patients live life to their fullest potential.
Shire: Okta helps Shire focus on making therapies for patients and get away from spending time and money on IT.
MGM Resorts International: MGM employs more than 62,000 employees and turned to Okta to manage user access to its internal on-premises and cloud apps.
Advent Software: Advent adopted Okta as the authentication layer for an Advent-branded portal to make it easier for its clients worldwide to use their applications and access their work.
Oakley: We all know that Oakley manufactures sports performance equipment and lifestyle pieces, but you might not know how Okta helps them manage its employees' identities securely.
Box: Box is more than just a customer – they're a partner, too. And with Okta, they can now roll out faster than ever before, enabling productivity for their employees and external end users.