Introducing the New Okta Trust Dashboard
Okta is committed to trust and transparency. As such, we continually solicit feedback on how to most effectively communicate with our customers, especially during trust incidents so you're up to date on the latest that's happening with the service. To that end, we've redesigned the Okta Trust Site from the ground up to give you more efficient and timely trust information and flexibility in receiving updates during an incident. We've redesigned status to a new dashboard-style design, consolidated incident categories for clarity, provided more detailed incident information as it happens and improved navigation to incident history. Read on to find out more about each part of the new trust site.
New Dashboard Design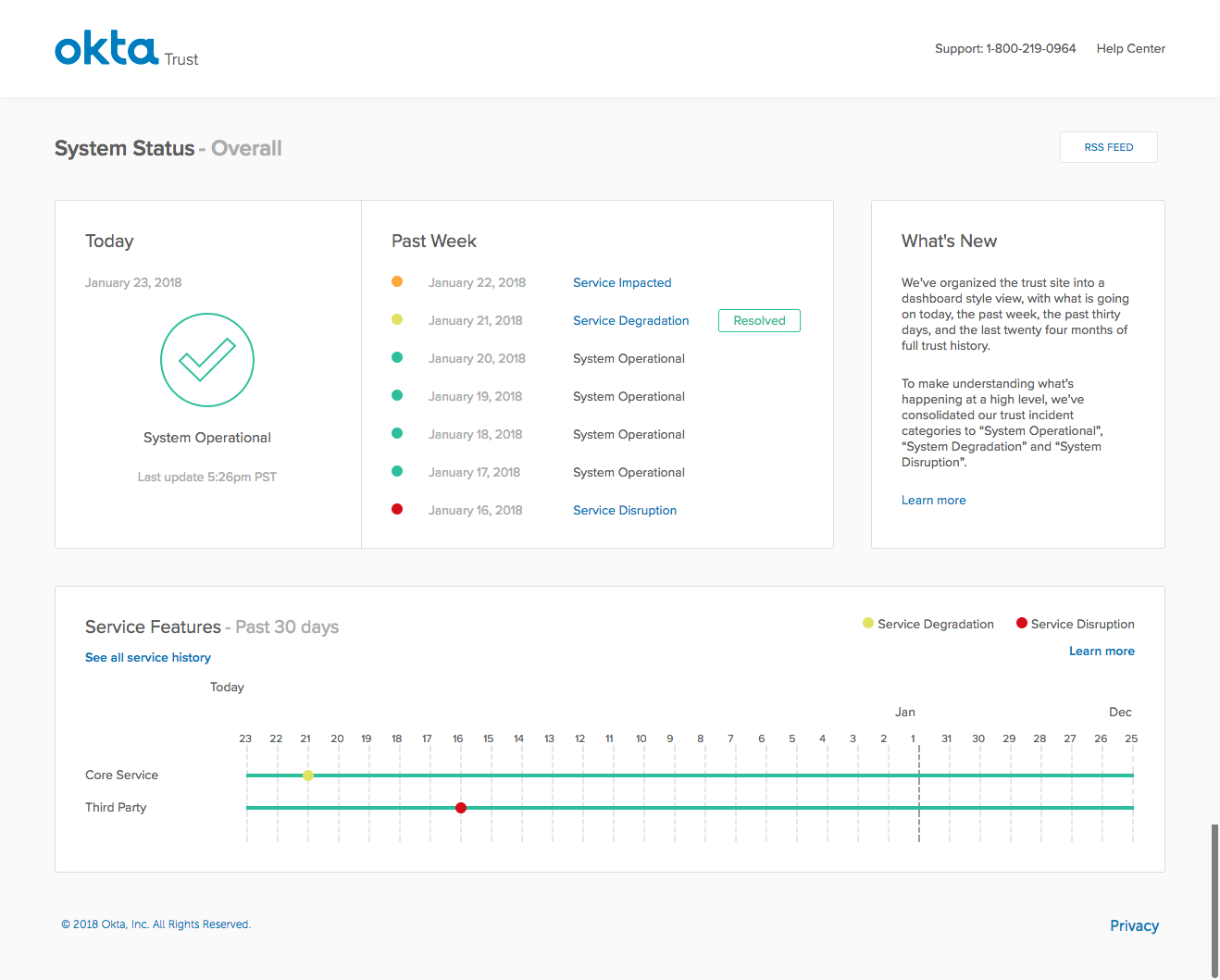 We've rethought the design to focus on simplicity and efficiency in communicating incident information, so that at a glance you know exactly what's going on and can go deeper to get more information.
We've organized the trust site into a dashboard style view, with what is going on today, the past week, the past thirty days and the last twenty four months of full trust history. Incident details are available with one click, including the full details of the incident.
Clearer Incident Categories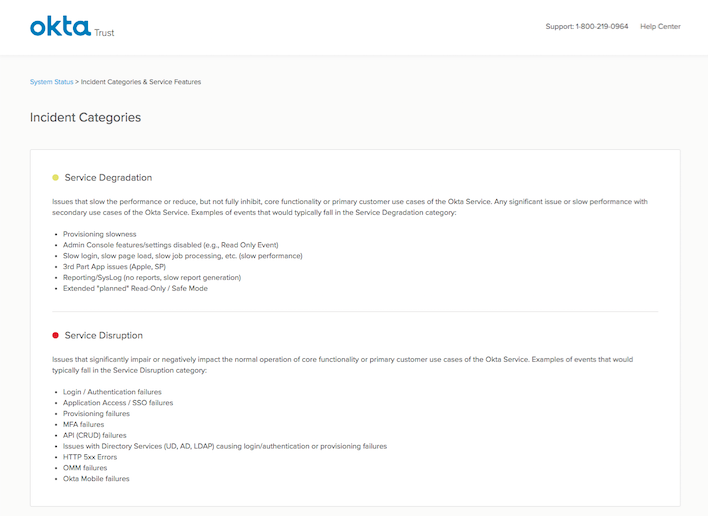 We've consolidated our trust incident categories from four to two: "System Degradation" and "System Disruption" to make understanding what's happening at a high level easier. See Incident Definitions for more info.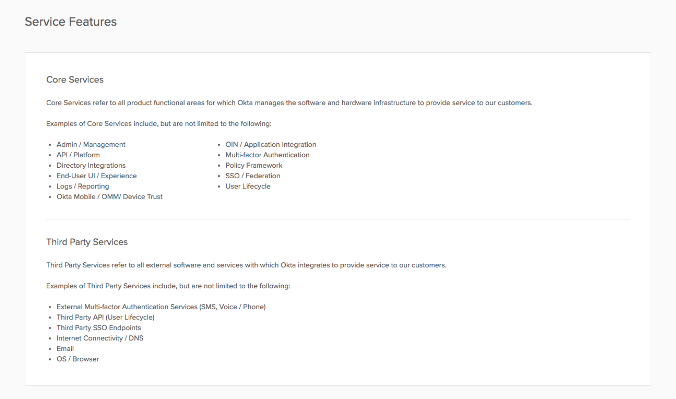 Service Features
We have now identified incidents that impact specific areas of the Okta service, including Core Service and Third Party Services so it's clear as to what is impacted. See Service Feature Definitions for more info.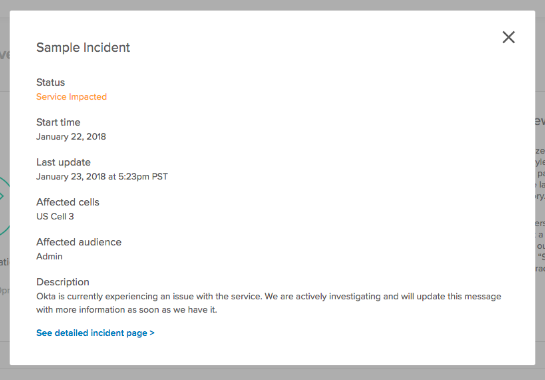 Detailed Incident Information To be more transparent, we're including more information in our trust incident details. This includes cell information, audiences impacted and description within the incident summary view.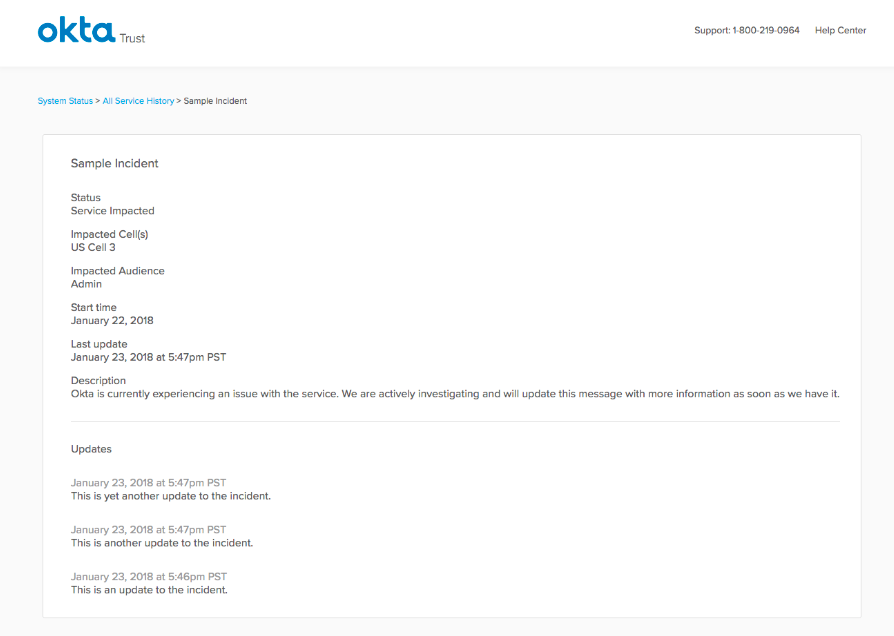 Each incident also has its own page detailing the each incremental update of the incident from investigation through RCA so you know exactly what's happening now and what happened across the incident's lifespan.
Easy to Navigate Service History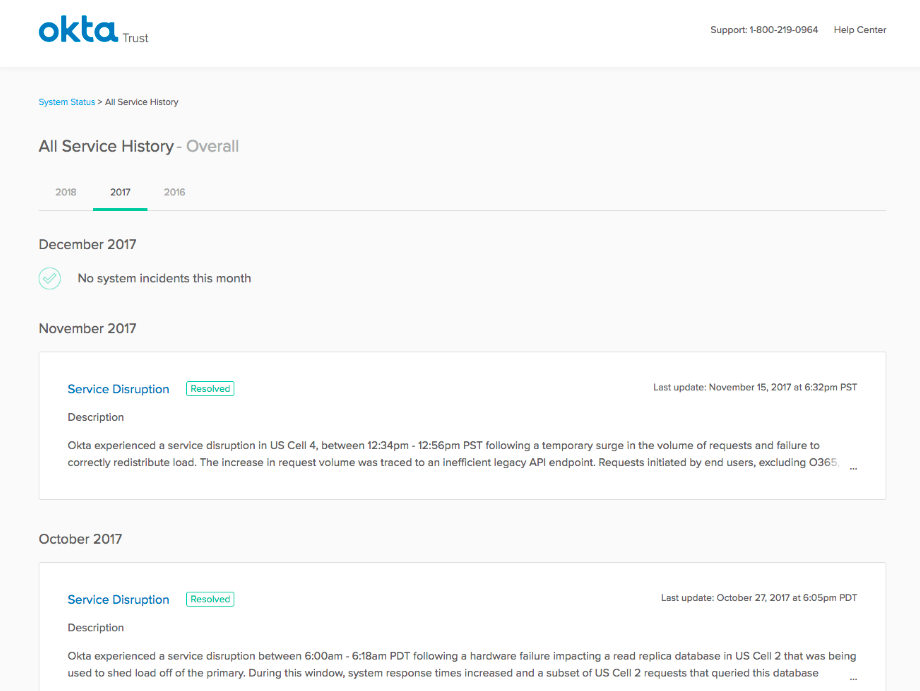 Looking into the past, we've improved how historical trust incidents are surfaced at a summary and detail level. You can now quickly scan incidents by year, event and day and drill into the full details of each incident. In months where there were no incidents, we'll tell you.
Coming Soon — Trust Incident Email Notifications To keep you up to date on in progress incidents, we're adding email notifications to our trust site. If you are subscribed, you will receive email updates in real time with the same information that is posted there. We will be reaching out to all Okta Admins regarding next steps in our rollout of trust email notifications.
What's Next? We're continually working on new features to make it easier to find trust information that's relevant to you. Over the next several quarters we'll be tailoring the trust site to you and making it easier to access from our website and Okta Admin.