Taking it to Heart: How Customer Feedback Helps Okta Listen and Lead
When I talk to customer success (CS) leads at other companies, there's one thing that's usually on their minds: how to get C-suite buy-in on making investments in customer success. As CS leaders, they know customer success should be a strategic asset in their organization, but securing buy in from their peers relative to other investments isn't always easy.
Outside of starting at the top and getting aligned with your CEO, it's not an easy question for me to answer. Customer success isn't an idea or a function, it's a core value that, to be effective, needs to be built into how a business operates. At Okta, the success of our customers has been our number one value since the day we launched. It's encoded in our culture and DNA. Everyone across the company—from HR to IT, from engineering to the C-suite—fully embraces the fact that our customers are our first priority.
This is what I tell my counterparts at other organizations: every executive team at every company should focus extensively on customer success, because the ROI is enormous. There are several reasons for this, but here are two I find especially powerful:
We work in a friction economy. If we're not providing our customers with the services they require, in the manner they expect, they'll close their accounts and take their business elsewhere.
The customer always comes first. By taking action whenever customers have a problem or feedback, we build a better product and experience. As a result, existing customers renew their contracts and new ones are excited to work with us.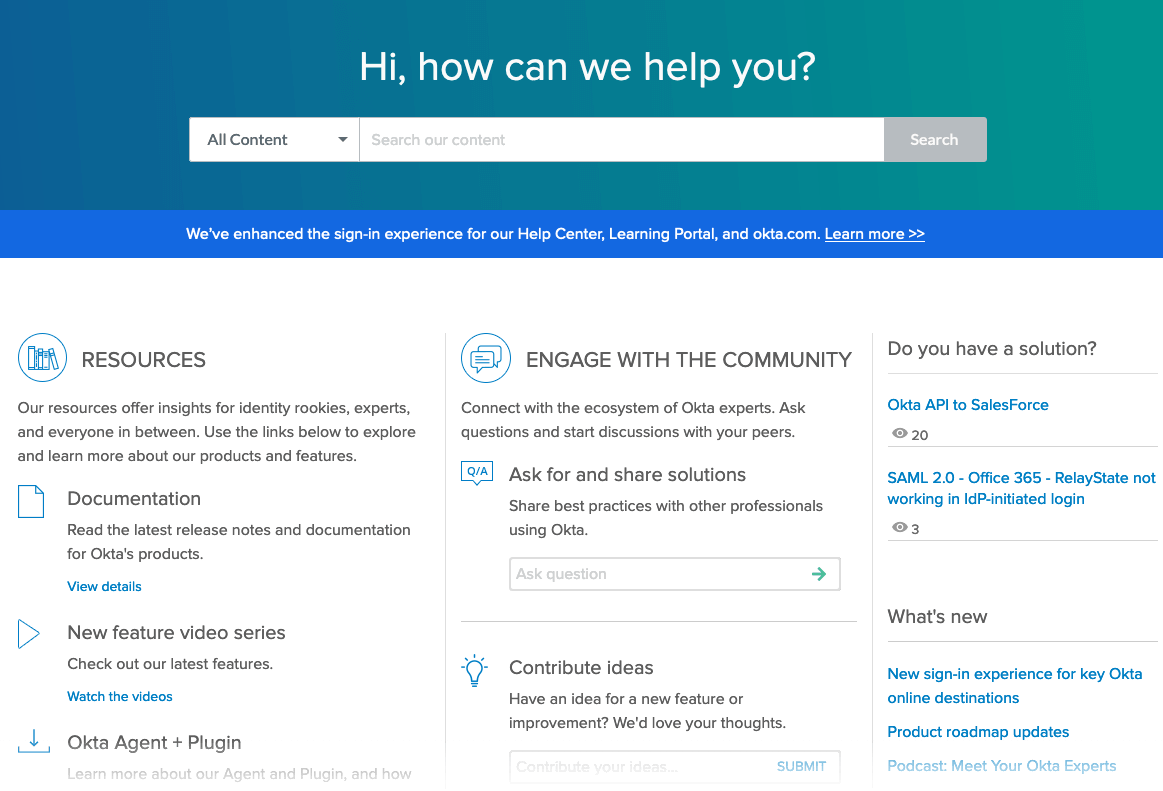 Customer success is a team effort
At Okta, our customers become our partners, and our success is based on their success. That's why our products and services are never static; the solutions we create are dynamic, designed and redesigned to respond to our customers' real needs.
Our responsive approach to meeting customer needs is made possible by deep collaboration amongst a coalition of teams that are specially equipped to support our customers at every stage of their journey. We unite to build a better company through customer feedback, and it's having measurable results. Year over year we've seen increasing customer satisfaction scores. In fact, this year's customer satisfaction score is the highest it's ever been. This accomplishment is due, in no small part, to our customers, thanks to their willingness to share their feedback and work with us to improve Okta and their experience. And for that, we are grateful.
How Okta listens
There are two ways in which we gather customer insights and feedback: through our people and through our technology.
Whether they're sales engineers, account executives, CSMs, or professional services reps, our people are on the frontlines every day, hearing sentiment from end users firsthand. That's hugely valuable, and provides us with actionable feedback straight from the source. But ultimately, that is only one piece of a larger puzzle.
That's where technology comes in. Through customer insights and surveys led by our programs team, as well as input derived from our customer community and analytics platforms, we make sure we're hearing all sides of the conversation. That means customers can come to us directly and tell us what they want, or we can look at user behavior in the product and pull that data to discern what we could be doing better.
Delivering real results
We have implemented a collection of improvements that came about as a result of specific customer requests, including our vast integration network. And this is something we will continue pursuing by drawing on insights from our customers. Here are a few recent improvements we've made, driven directly by feedback:
The Administrator Console
Our Administrator Console came to life two years ago as a result of our customers asking for better admin roles and a tool to manage them proactively. Our frontline teams heard the feedback and championed for the change within Okta. Now, admins can be granted with comprehensive insight into application usage and activity. This way, Okta can deliver insights to our customers in ways we couldn't before.
The Unified Search project
When I first joined Okta, a number of our customers were dissatisfied with our documentation. A series of surveys led us to the underlying problem: our documentation needed work in key areas but the core issue was our search platform. Customers couldn't find the documentation they needed and search results were inconsistent depending on the source. This led us to launch unified search across our customer-facing properties, enabling our end users to find the content they need, when they need it. Combining the new search platform with targeted improvements in documentation has yielded a much better result. By listening to our customers, we were able to solve an issue that, in retrospect, seems so simple.
Okta Ideas
While we thrive on feedback, up until now it hasn't always been easy for our customers to provide it. And when they did share their insights, there was no visibility into whether it had been reviewed or factored into our product roadmap. Even though we were listening, customers had no way of knowing it.
Our remedy is a new Okta Ideas experience on the Okta Help Center, shown above, which will now be our centralized place for customers to provide product ideas, feedback, and more. Customers will also be able to vote on each idea, helping Okta prioritize what we focus on next. And to top it off, we will inform users once their idea has been added to our roadmap, providing the transparency our customers have asked for.
As Okta continues to grow, our customers remain our "why" and I'm excited to keep working with you all to improve and evolve everything we do.
Do you have currently feedback you'd like to share with us? Share your idea with us today!