The Production Line: The Administrator Console

In this edition of The Production Line, we're switching gears, and taking a slight detour from citing a feature you may not know about, to one that all Okta admins call home—the Administrator Console.
Yes, Okta admins are intimately familiar with the Admin Console, but many may be unaware of how customer feedback, and the iterations based on it, have made it an increasingly powerful, yet simple tool. Are you sure you know all it can do? Today, we're going to share some resources, and spotlight two features any admin will benefit from knowing: the EA Feature Manager and Admin Roles.
What is the Administrator Console?
The Admin Console, which includes the Administrator Dashboard, is the central place where Okta admins go to manage and configure their Okta environment.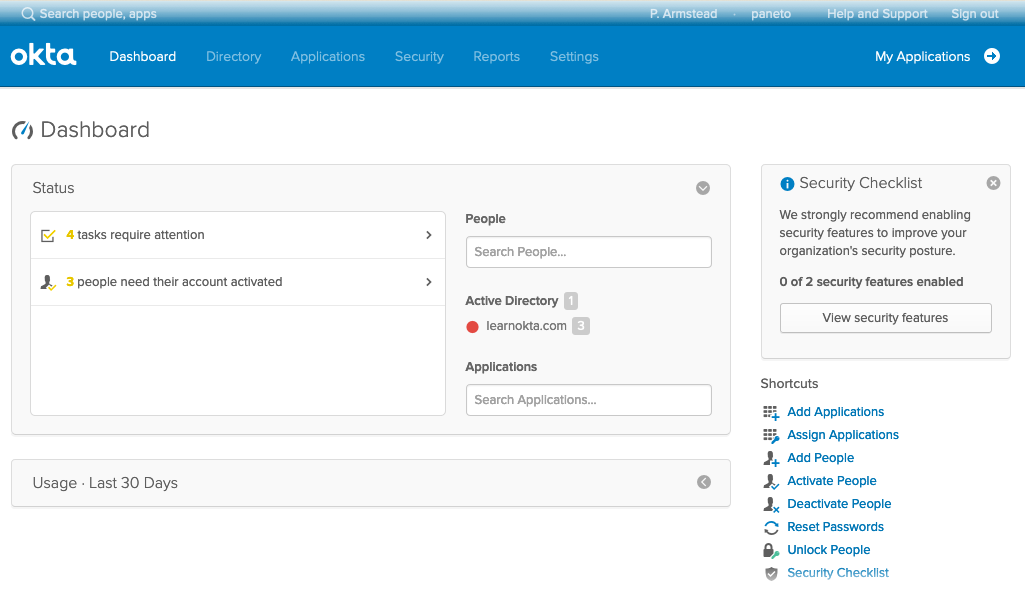 As the control center, the Admin Console consolidates all activities around managing users and applications. Admins can seamlessly navigate through a "single pane of glass" where they can apply policies, provision users, manage apps, view reports, and much more.
Highlights!
An effective tool displays exactly what you need to know, empowers you to go deeper, then gets out of your way. The following two features highlight our work to empower admins to take ownership of their Okta admin experience.
EA Feature Manager
As most admins are aware, many Okta features arrive in Early Access (EA), a state of release where organizations can opt in as early adopters of the feature. In the past, to enable one of these new EA features, an admin had to reach out to Okta Support, who would "turn on" the feature for use.
This manual process was not a great experience for admins and hindered adoption of the most exciting new features. Enter the Early Access Feature Manager, a self-service tool providing Super Admins with the ability to turn on (or off) the EA features they're excited about.
Do note that some larger features requiring additional configuration are not applicable for this self-service option. For those, you'll still need to contact Okta Support to enable them, but stay tuned because we're always improving!
Admin Roles
Another example of empowering admins is giving them control of who does and does not have access to resources. Admin Roles is one way an organization can get more granular with their privileges. Admin roles are predefined roles, created by Okta, based on the tasks organizations need most. A Help Desk Admin, for example, can reset end user passwords, but has no additional control over user access; Report Admins, on the other hand, only have access to view and run reports and to see system logs; and finally, App Admins can only manage the access and users of a single app, such as Salesforce, but no others. Review the details of all the roles on our Administrators page.
While creating these roles was a great leap forward, we're excited to be working on custom admin roles! This will allow Super Admins to create custom admin roles—without relying on the predefined ones created by Okta. Be on the lookout for this feature in the coming months!
Coming soon
Along with custom roles, in the coming weeks we'll be launching a resource we think admins should get excited about: a new and improved version of our End User Adoption toolkit. An asset of the Okta Help Center, the new toolkit will contain end user video content, end user-focused MFA setup instructions, end user training and getting started guides, in-depth FAQs, and more. For now, check out all things admin from our Getting Started as a new Okta Administrator page.
Last words
As always, we are focused on making our customers—especially our admins—happy and successful. When we asked Super Admins ranging from four months to two years of experience how they felt about the Admin Console, they gave us kudos, along with what they'd like to see more of:
– "I like [the] quick access to shortcuts and reports, quick 30-day overview of users and apps, and search features."
– "Give all the admins the possibility to edit the look of the Dashboard. This way every admin can have a different look."
– "I absolutely love the reports that I can share with the org."
– "[I'd like to be] able to ignore/dismiss tasks, and have version release schedule available from the Dashboard."
And, music to our ears: "I had a couple of ideas, but as I was looking over the dashboard to answer this very question, I realized that you've already implemented my 'suggestions'!"
Missed a previous post? For more behind-the-scenes looks at our products, read them all: