Financial Services: Upgrade Your UX with a One-Identity Strategy 
In today's digital world, customers and partners have no reason to tolerate poor user experiences, especially from legacy financial organizations. Millennials and Gen Z now form the largest adult cohort globally, and they expect streamlined, personalized, secure access to financial services. These technically literate consumers can and will switch providers if disappointed. In fact, according to Mobiquity, 77% of US banking customers under the age of 55 say they would switch banks for a better experience. 
Many financial services incumbents struggle to compete due to legacy, on-premises, and disparate systems. As a result, their customers may experience multiple logins and a fragmented view of their financial products with limited personalization. As those customers flee, nimble FinTechs, with their leaner practices and modern technology, provide them with a hyper-personalized experience. A study by PwC found that 88% of banks, insurers, and investment managers are concerned they'll lose revenue to FinTechs.
Retain customer loyalty by removing Identity silos and boosting UX
Delivering smooth digital experiences is no longer a perk — it's a priority. Financial services companies must feature personalized products and services that align with the needs of today's consumers. This is about more than customer retention. Research suggests that customer experience shares a strong relationship with business growth. According to a study from Temkin Group, banks that improve their customer experience scores by 10% could see a 27.5% bump in growth rate.
Given the increasing consumer propensity to switch, the customer experience gaps related to siloed identity are a huge competitive vulnerability. But a one-Identity strategy can help financial organizations retain customers and ensure business growth by removing Identity silos.

How a one-Identity strategy can help 
In a one-Identity strategy, a single Identity management system centralizes Identities across business lines, products and services, and brands. Disparate Identities are consolidated into a single, unified login, with frictionless, secure, and passwordless authentication options. Customers can also manage their accounts anytime, anywhere, from any device via self-service. 
Financial services organizations using Okta are deploying a one-Identity strategy to continue to win their markets. By enabling seamless, personalized, and trusted digital experiences, Okta can help improve customer experiences and boost customer engagement.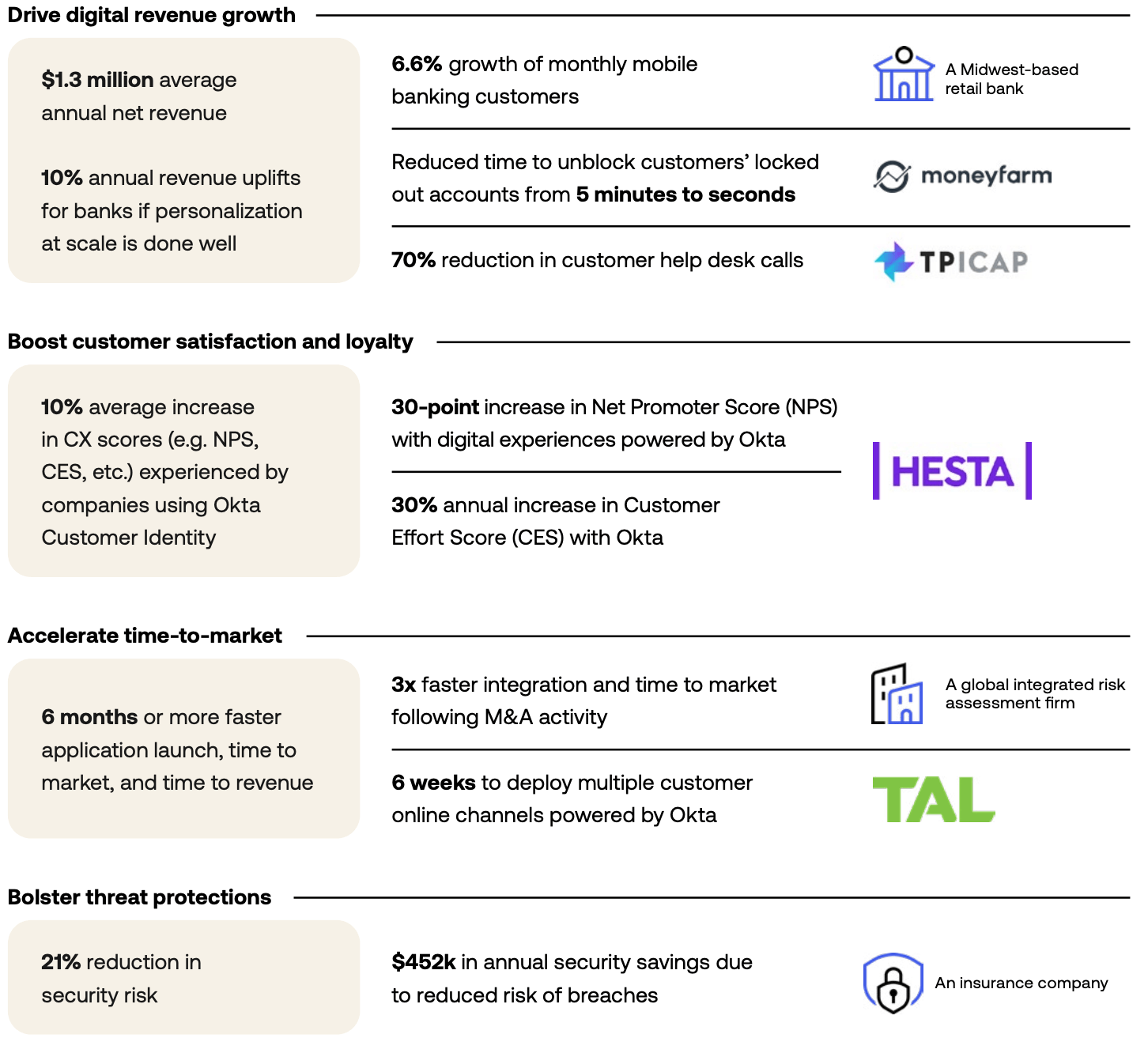 To learn more about how a one-Identity strategy from Okta can help you improve your customer experiences, please read our datasheet or visit Okta's financial services page.