Okta For Good Innovation Lab: See how technology is enabling social progress
Nonprofit organizations know what services and support their communities need. Given access to technological empowerment, this expertise enables them to envision and execute purpose-built innovations that solve specific problems.
But such technology isn't always within reach for budget-constrained nonprofits. They face ongoing challenges keeping up with the pace of digital modernization to adopt strong Identity practices and provide the secure data and positive user experiences that their communities depend on.
So in 2022, Okta for Good launched the Innovation Lab to give significant capital, product, and training to three nonprofits through comprehensive, multi-year grants designed to help them build or enhance their Identity infrastructure. As the Innovation Lab enters its second year, here's a look at what the three participants have accomplished so far, and what's next for them in 2023.
Mercy Corps
Mercy Corps is a global humanitarian NGO, and its AgriFin program develops and scales digital technology to assist the world's smallholder farmers.
This past year, the organization launched Sprout, a platform that's making high-quality content available to African farmers by working with local farmer-facing organizations (FFOs).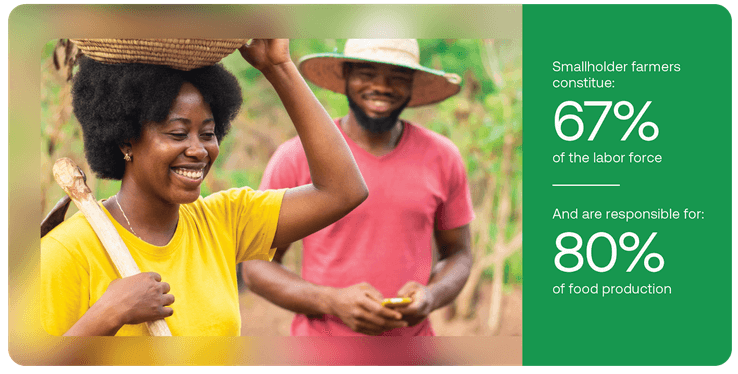 There are good reasons why African countries are a focal point for this project: 60% of the continent's citizens are below the age of 25. That means the population is set to grow significantly. So, reliable food security is a growing concern—and it depends on reliable information.
"Sprout has been a humbling experience for our team. We knew the problem and we were aware of the need to provide access to relevant information to farmers, but the scale and intensity of the issue is overwhelming." — Elias Nure, Digital Climate-Smart Agriculture and Sprout Platform Lead
And the platform provides a diverse repository of content, information, and insight: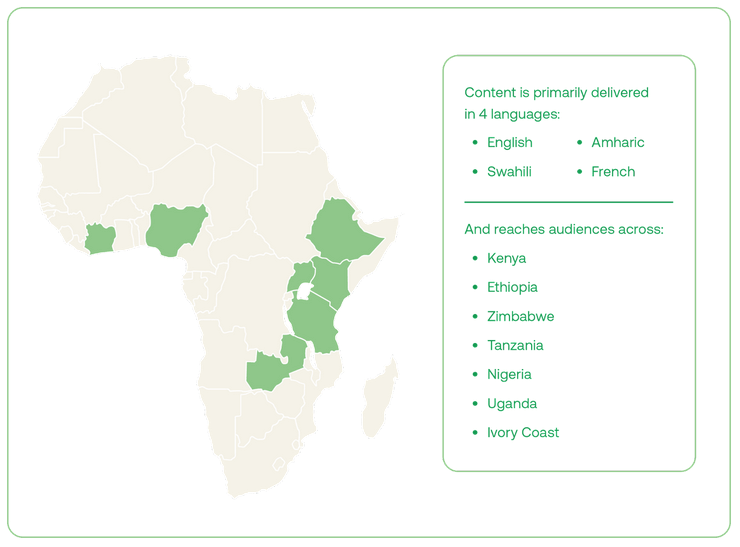 "This year, the team is celebrating acquiring 75 value chains of content and reaching 1.5 million smallholder farmers with content—including 370,000 women farmers." — Kristin Peterson, Senior Advisor and Sprout Platform Lead
Empowering female farmers is especially critical. They represent at least 50% of smallholder farmers, yet globally own less than 20% of the land used to grow food.
"We've also worked with weather information providers to build and package advisory services, to ensure farmers can make decisions in response to a changing climate." — Elias Nure

Climate resilience is imperative because shifting weather patterns are disrupting traditional ways of farming across low-income countries. In fact, 25% of smallholder farmers' crops are projected to fail as a result of climate change. Sprout is now providing Digital Weather Advisory Service in selected areas to support smallholder farmers' resilience.
In the year ahead, Sprout's goal is to connect with even more FFOs and farmers by delivering content and services in more languages, and across more media and channels. Identity will play an important role, lowering barriers to access while providing greater security on a platform with an international user base. 
Tech Matters
Tech Matters is first and foremost a technology company—but its purpose is to help nonprofits and social entrepreneurs affect positive change through software and data.
This is especially crucial for youth who need to access counseling or aid. When children are in crisis, technology is their main means of seeking help—which is why Tech Matters rolled out Aselo, a worldwide contact center platform for children's crisis response helplines.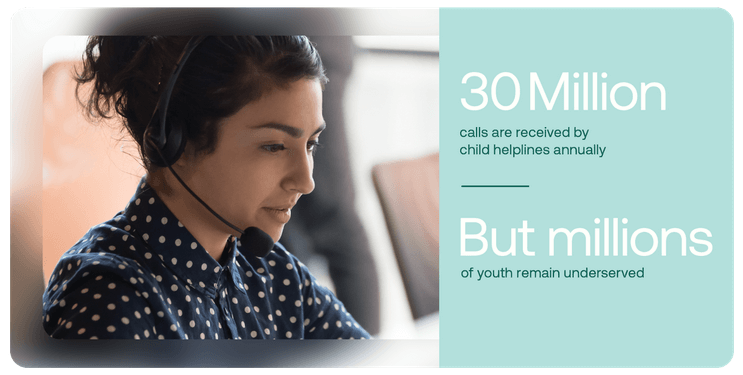 Developed in collaboration with Child Helpline International, Aselo is an open-source solution. That means it's more scalable, available, and affordable for the world's crisis response centers.
"Our same core program staff have been working to customize and implement Aselo for several helplines simultaneously, with increasing demand these last months—and they have all risen to the challenge." — Dee Luo, Senior Product Manager, Tech Matters

"Because our technology is cloud based and open source, every new system iteration built with custom-designed features at the request of one helpline is automatically made available to subsequent contracted helplines." — Dee Luo
Yet with worldwide accessibility and open-source infrastructure comes data storage on internet servers, so Identity-based security is integral to protecting sensitive information from hackers.

It's plain to see that Aselo is going global. "Our product and engineering teams are busy working on a suite of new features to add to the Aselo platform, as well as implementing Aselo with four new helplines in Thailand, Chile, Zimbabwe, and Malta," says Luo. "We're also working with Child Helpline International and several helplines in Eastern Europe that want to use Aselo to support their counseling needs in response to the Ukrainian refugee crisis." And Identity is supporting this global growth to bring features like stronger security, reporting capabilities, and user management to helplines everywhere.

TechnoServe
TechnoServe's purpose is to fight global poverty by taking the tools and best practices of the private sector and putting them to work in low-income countries. With support from the Innovation Lab, the team has continued its crucial work with micro-retailers—specifically, the "duka" owners of Kenya.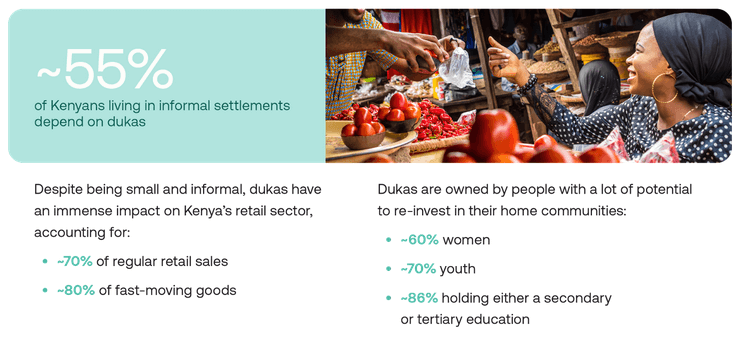 At present, TechnoServe is developing a unified, user-friendly portal where micro-retailers can have one-click access to a partner ecosystem enabled by Identity. That means that when they want to explore new ways to build their businesses, they have a whole host of apps and services at their fingertips.
"The project has made impressive progress in reaching out to and onboarding partners. To date, 39 partners have been mobilized." — Margaret Wanjiru Kang'ethe, Business Counselor, TechnoServe
The aptly named Duka One-Click is a single dashboard that leverages single sign-on and multi-factor authentication to bring secure digital access to shop owners.

"We have been both surprised and extremely impressed by the value and volume of business transactions our micro-retailers are moving on a daily basis. The positive traction and success seen during piloting with the various vendors shows that micro-retailers are well-positioned to connect to new market opportunities and transform their businesses." — Margaret Wanjiru Kang'ethe
TechnoServe's Smart Duka program first launched in 2015 to empower local vendors with business skills and best practices—but now technology is taking it even further. 
"This is proof that TechnoServe, and Okta, are headed in the right direction in developing a one-stop shop and universal directory to support duka owners," says Wanjiru Kang'ethe.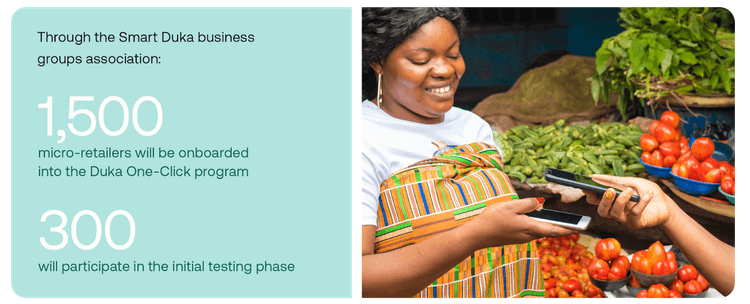 Explore in detail the good work accomplished in just one year by Sprout, Aselo, and TechnoServe. It's amazing to see—and the Okta for Good Innovation Lab participants are just getting started. By strengthening their Identity practices, they've already laid a more secure foundation to build on. 
That's why Okta for Good is so committed to the goal of supporting global nonprofits. Learn more about the team's programs, projects, and partnerships that connect the world's international global organizations with modern identity and security solutions their communities count on.