The future of farming hinges on digital access
Smallholder farmers are crucial to addressing global issues like climate change, food insecurity, and poverty. These farmers are responsible for feeding 80% of people living in lower-income countries but often live on a daily income of just $2. Their lack of access to relevant and timely information at scale makes it increasingly difficult for them to compete.We 
Mercy Corps, a global non-governmental organization, has been working to support and empower communities affected by climate change, disaster, poverty, and violent conflict for 40 years. This mission includes initiatives that increase user access to digital information, which is a central component of its work with Okta for Good's Innovation Lab.
Mercy Corps' AgriFin program aims to address the global farming crisis by helping smallholder farmers gain access to critical information through innovative digital products. Its intent is to support farmers' needs, and through that, the ultimate goal of achieving more sustainable food systems. 
Improving farmers' data access through Sprout 
One of these products is Sprout, an Open Content Agricultural Platform that empowers Farmer Facing Organizations (FFOs) with access to agricultural best practices and dynamic services that enable smallholder farmers. The centralized, open-access platform provides digital resources that help farmers develop their skills, resilience, and income-earning opportunities at a low cost. For example, farmers can receive customized 7-day weather forecasts via SMS, to better adapt and make decisions about planting, fertilizing and harvesting for their farms.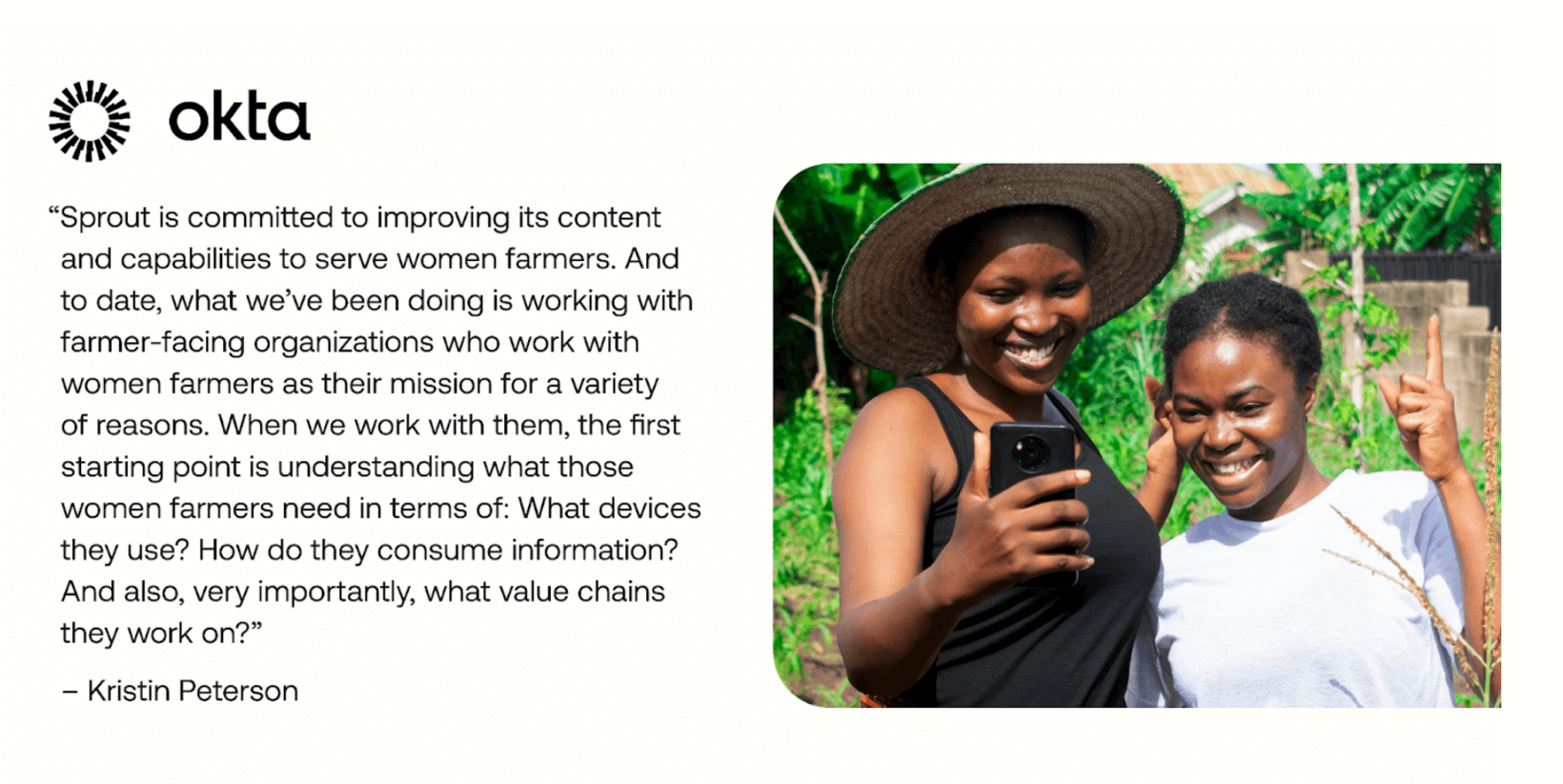 Mercy Corps works to aid communities worldwide affected by social or environmental hardships.
It all comes down to access to information. There is no shortage of agriculture experts in the world, but their valuable insights do not reach smallholder farmers that could benefit from current research to improve their productivity and resiliency. Farmer-facing organizations, the direct line of access to these farmers, have limited resources to adapt and deliver relevant information to smallholder farmers through digital channels. 
The Sprout platform brings together local, regional, and global organizations to curate and evolve expert and scientific content and local services that meet the needs of small-scale farmers. The user-friendly interface and localized language makes scientific knowledge accessible and applicable to farmers. Sprout is not just a digital platform; it's a catalyst for change, driving sustainable agriculture and improving the lives of small-scale farmers across Africa.
Sprout hosts raw datasets on the Comprehensive Knowledge Archive Network (CKAN), the world's most extensive open-source data management system. The content is adapted and translated into bite-sized digital formats like interactive voice response (IVR), SMS, and WhatsApp, which allows organizations to select and deliver relevant content to farmers.
Helping Sprout help partners
Mercy Corps has used Identity to hone Sprout's feature definition and design and passed an incredible milestone: launching the content platform. 
A critical element that came into place over the last few months was incorporating CKAN, which has made platform navigation seamless for partners.
Mercy Corps came to Okta with Sprout, an Open Content Agricultural Platform that addresses the global farming crisis by bringing expertise and education to smallholder farmers.
FFOs are already actively using the platform to educate farmers on crucial topics like relevant value chains, smart climate action, and regenerative agriculture. Access to this information can be life-transforming for smallholder farmers, helping them work smarter, deploy innovative new farming techniques, and become more resilient. Examples of the benefits Sprout offers partners include: 
Digital dairy content: Digicow uses Sprout's dairy content combined with its subject matter expertise to share knowledge with its wider network of farmers and FFOs. Digicow has sent around four million messages using social media and its own mobile app, which Mercy Corps and Sprout believe epitomizes the spirit of a public platform.


 

Financial literacy: The Ethiopian Agricultural Transformation Institute joined Sprout to educate farmers in Ethiopia about financial literacy. It translates information to users through its IVR platform and uses Sprout to deliver data at scale and in an inclusive manner.
Meanwhile, Mercy Corps continues to expand the network. The next effort is designing a Dynamic Digital Advisory Services offering that addresses farmers' need to access weather advisory information. This effort includes working with weather information providers to design a smart farming solution that Sprout can share with farmers, which can enable them to make decisions in line with expected forecasts. The team is facing the challenge of limited geographical data on farmers, but FFOs are helping fill in the gaps. The project is launching on the Sprout Platform in Q4 2022 with four partners in Kenya. 
Addressing Sprout's security needs with Identity
Sprout has a complex and extensive international user base, including partners that handle and store sensitive data. The platform also strives to reduce barriers to access in order to provide accessible, user-friendly, contextually relevant experiences. So its success relies on ensuring not only the quality and integrity of its content but security as well.
Any corruption of the network by bad actors would compromise Sprout's data and risk noncompliance with licensing regulations for international content distribution. Furthermore, Sprout has to safeguard the often vulnerable users that rely on its platform for timely insights. That makes Identity a critical part of the picture, and Okta is proud to support the team in navigating Identity requirements and capabilities. 
See Mercy Corps' progress with the Innovation Lab by the numbers.
Discover how Okta's Innovation Lab is helping companies like Mercy Corps fight the world's most critical social issues with digital and technology solutions.