Datadog
Overview
This app integration supports Single Sign-On. See Capabilities for more details.
The Challenge
As your internet facing identity platform, Okta is a source of valuable log data. Satisfying the Security, Operational and Regulatory requirements of your business requires powerful centralized logging and analytic capabilities.
Stolen credentials are behind most data breaches and Security analysts need visibility into the right data at the right time to be able to quickly identify and triage credential-based attacks
Authentication and provisioning issues can reduce end user productivity and administrators need proactively identify and quickly debug those issues
Achieving and maintaining regulatory compliance can be time consuming and tedious
With Datadog's Okta log integration and log analytics, you can derive valuable insights from your Okta events. Enable the integration today to start monitoring Okta logs alongside the rest of your infrastructure. If you don't already have a Datadog account, you can sign up for a free trial.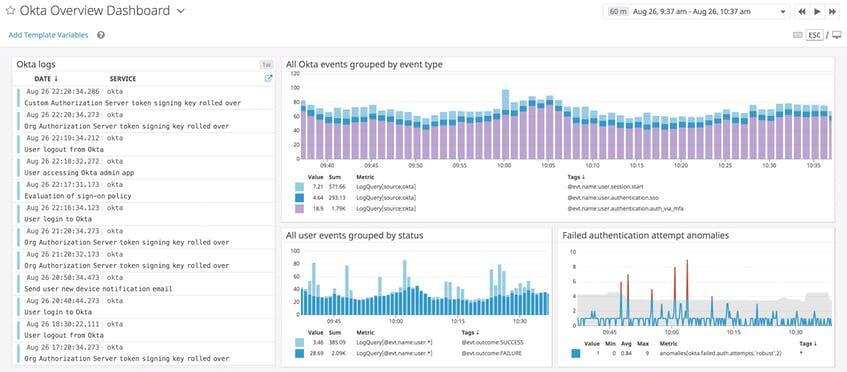 Once you've enabled the Okta integration in your Datadog account, you'll be able to easily search, filter, and alert on all Okta events in Datadog.