The Okta Admin Experience
So easy to use, you don't need to be a security expert to be an Okta IT Admin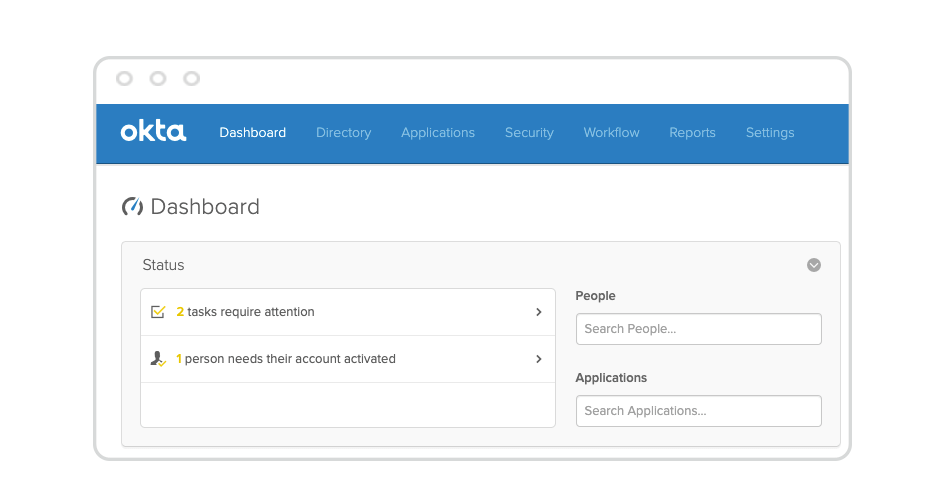 Okta's administrator console is simple and straightforward to use.
From pre-built app integrations to out of the box setup and configuration tools, Okta makes it simple and straightforward to secure and manage your users and their access. Free up your time to do more.
It's easy to be an (Okta) admin
Admin life is not always simple, but we believe executing on your Identity and Access Management strategy shouldn't be confusing or cumbersome. Okta has purpose built features to not just enhance admin workloads, but simplify them as well.
Simple Set Up
Being an Okta admin isn't about being an expert at scripting. Okta has out of the box configurations that make it painless for admins to do common jobs like set up new apps or create new policies.
Admin Self Service
Quickly get started with Okta's clear documentation and guided wizard. Okta makes it easy to continue to manage your users and applications by using tools like the self-service feature manager to turn on new features and the public roadmaps to guide your identity strategy.
Delegate IT
Okta helps you empower your stakeholders to do more. Free up your workload by delegating lower level admin tasks or app-specific management to others through a wide array of pre-defined admin roles that can be automatically assigned by group membership. Minimize IT help desk tickets by turning on self-service password reset and MFA enrollment for your end users.
Leverage Okta's Security Expertise
Sometimes you want extra help to make sure you are the most secure you can be. As part of the SecurityInsights feature family, Okta HealthInsight monitors the configurations of your Okta org and delivers tailored recommendations, based on Okta's best practices, to improve your security posture.
Use one central control hub for everything
Manage users, control apps, and set policies through a single pane of glass. No more jumping around between different tools and screens. A central hub to orchestrate everything means faster workflows and a more cohesive admin experience.
Visibility
Having a complete view of your users isn't always straight forward, especially in a world where they may live in multiple identity sources. Okta connects to all your user stores like Active Directory or an HR system so you have a consolidated view of all your user's info in a single location. This makes it simple to manage your user's attributes, app assignments, and group assignments.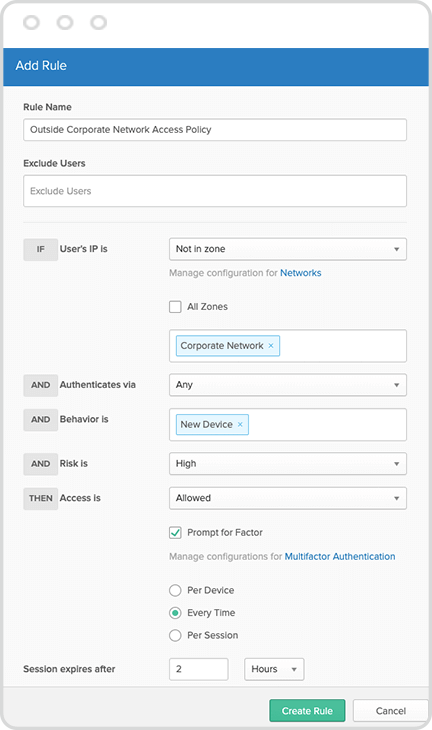 Compliance
With everything consolidated in one place, Okta makes it easy to verify and prove that the controls and policies you've set in place are properly followed. Our extensive reports, such as our Suspicious Activity Report, give you clear insights into what's going on in. And our system log captures all activity in real time so you can act quickly on the data.