An Extensible Identity Platform for IT
Datasheet
Customer Success
Out of the box, Okta provides a comprehensive set of UI for admins and end users. However, IT often requires a high level of customization to create separate applications or branded interfaces that interact with Okta programmatically. What IT needs is an extensible identity management platform that makes it easy to customize the look and feel of a login page, integrate with any existing portals, connect to legacy identity systems or leveraging as an identity backend for custom developed applications. Okta supports a variety of configuration options for customized end user interfaces and a full set of REST APIs for easy integration with your custom development.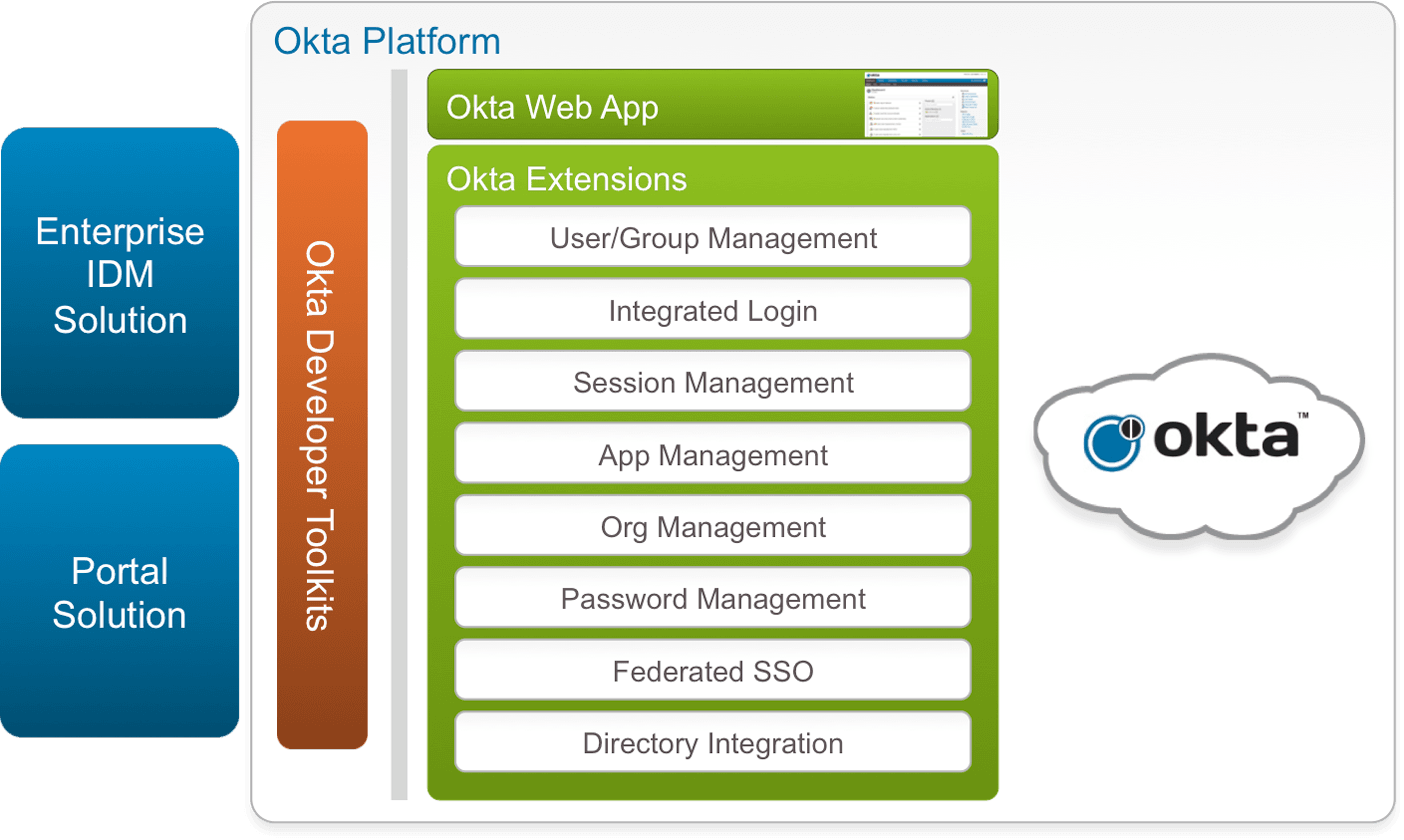 The Extensible Okta Platform
Application Identity Store
Managing users in a new application can be a challenging task. Even more challenging is to adequately support the full identity lifecycle such as user registration, password management, and profile updates. Okta can function as a standalone cloud directory if you need a separate directory without the hassle of deploying your own LDAP solution. With Okta, you can also easily integrate with any on​ premise Active Directory or LDAP user store for delegated authentication, and user and group management. Okta can even be used in a hybrid mode to include users from Okta itself and your existing directories – creating a centralized identity repository for your applications. Through Okta's REST APIs, your application can easily integrate with Okta for delegated authentication, session management, password management, and user management.
Partner Federation
Your organization increasingly needs to collaborate and share access to data and applications with your customers and partners. Okta's identity federation services enable your business or SaaS application to seamlessly connect to your customers' or partners' users ​providing SSO and centralized access management. Your customers can manage their identities locally in their directory or identity store. Okta's federation service can easily consume your customers' identity store data to drive provisioning, deprovisioning, and access control into your applications providing you with a scalable and comprehensive identity layer.­
Flexible Application Access
Depending on your IT needs, applications may be accessed in many different ways. With Okta, end users can access applications from the Okta User Homepage. Application access can also be embedded within a custom portal or a custom landing page, bypassing the Okta UI for a more branded experience while still leveraging the underlying integration between Okta and the applications for single sign­-on and provisioning. For any custom applications, Okta offers a wide variety of toolkits to help you enable single sign​­-on for your applications using standards such as SAML. Okta's REST APIs also allow your application to directly integrate with Okta for delegated authentication, user management, and session management.
Customizable Interfaces
Okta provides the tools to support a wide variety of identity management related features in your application ​from self​­-service user registration to customizable login interface. Whether you are dealing with an internal deployment or a customer­-facing portal, you can easily control the level of customization. For a lightweight approach, you can customize the Okta UI to control the look​ and ​feel of many end user interfaces, from email notifications to Okta login pages with desired labels and links to other systems. If you are building a fully​­-branded user experience, you can integrate with Okta's REST API for delegated authentication, password management, and application access. You can also customize your user registration flow by integrating with Okta's REST API to create new users and provision access to applications through group​­-based provisioning whether you are managing your internal deployment or external identities.
Extensibility for all Your Needs
Whether you are IT, a developer, or an ISV, Okta understands the different requirements for providing a customizable identity management solution. Whether you are rolling out an internal solution for your employees or building an external portal for customers and partners. Okta's extensible platform can be extended and customized to suit your identity management needs. The identity layer for any solution must be scalable, robust, easy to manage, and future​­-proof. With Okta as your identity layer, you can focus on the real business needs of your application.