From Chicago and New York to London: Hops and Highlights from Okta's Identity & Mobility Forum
Over the past few months we've been traveling the US to share our vision for the cloud and mobile enterprise with the attendees of our Identity & Mobility Forums. We hit up Chicago's City Winery in May, welcoming IT leaders to discuss their various cloud and mobile strategies over some wine (or, in my case, the healthy selection of Illinois craft beer). Then it was off to The Standard High Line in New York City to hear from CIOs about how they're securely connecting their employees, customers and partners and freeing up IT to be more creative while networking in the Standard Biergarten.
Now we're gearing up to head across the pond for our third Identity & Mobility Forum (and some warm beer) at the Oxo Tower Wharf in London on Tuesday, July 14. For those of you considering attending, we've included a short recap video from NYC below, and thought we'd share some highlights from our first two events to convince you:
Plenty to Learn from Customers: Our Chicago and NYC attendees got to hear directly from various customers – companies of all shapes and sizes with different IT needs. We had leaders from Del Monte Foods, Rotary International, Pivotal, School of Rock, Amway International, Forest City Enterprises, Planned Parenthood, PBS and Teknion on stage to discuss how they're thinking about cloud and mobile, as well as the role Okta plays in their strategies. And the audience consisted of a healthy mix of enterprises who have fully embraced cloud and mobile technology and others who are only starting to consider it, which of course made for intriguing lunchtime conversation.
A Consistent Theme: We Need Both Security and Usability: A theme that emerged at both Forums was the balance between security and usability. IT professionals know they need to secure their people, but they also don't want to present roadblocks when it comes to getting work done. The key is to bring on security solutions that are usable, and this is something we heard from countless attendees. It's something we're constantly thinking about – our CEO Todd McKinnon has been talking about "people-first technology" and "IT 3.0" for some time now – and we know bringing security and usability together will be key to our customer's success.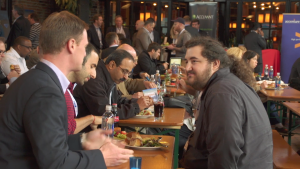 We Balanced the Tech with Business: Much of the agenda for our Forums focused on how our customers use technology to move their businesses forward. In both Chicago and NYC, we hosted interactive panels with our customers where we dug into the business case of buying new technology, discussing IT savings, end-user productivity and security benefits. Our customers shared tips on how to provide financial justification for cloud investments and explained the many ways investing in an identity and mobility management solution like ours can have a profoundly positive impact on business.
Not Your Average Hotel Meeting Room: We like to think we have pretty good taste and a few people on my team even joked that the modern, chic venues were a nice complement to our modern approach to IT. The truth is we really wanted to get our attendees out of the office – and out of the normal hotel conference room. We chose venues (and beer selections) that would encourage open interactions and good, old fashioned networking.
I should stop now because I know I had you at "cloud and mobile" (or maybe I just got you at "free food"). To make sure you don't miss out on our final forum in London, RSVP here.