1045 Attendees, 478 Event App Posts, 38 Customer Speakers: Oktane15 by the Numbers
335 Expert Bar questions answered. 116 pairs of "sOktas" sold. And according to FitBit data from our CTO and SVP of Engineering, Hector Aguilar, a record setting 147 minutes of breaking it down on the dance floor during our customer party at the Marquee Night Club. Exactly one month ago today, we welcomed our largest audience yet to our third annual user conference, Oktane15. This year we shook things up and traveled to The Aria in Las Vegas for three days packed with company announcements, networking and best practice sharing with customers and industry experts.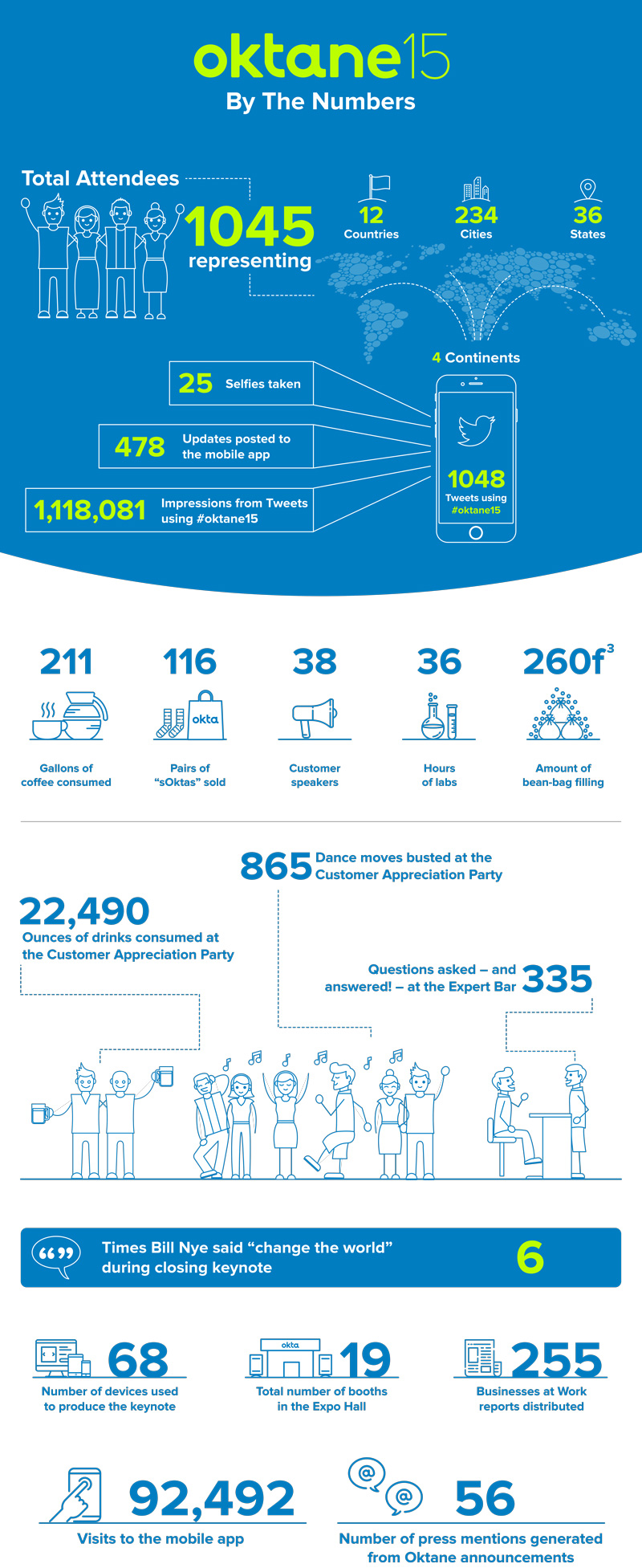 Our most successful event to date, attendees traveled across not only the country, but around the world to discuss the latest in identity, security and mobility. Attendees heard from our leadership team about significant updates to our mobility, provisioning and platform offerings, got an inside look at the new Okta brand, listened to captivating keynotes from Walter Isaacson and Bill Nye the Science Guy, learned tips and tricks from fellow customers and had fun along the way.
If you were unable to make the trip (or just want to experience #Oktane15 again), you can relive all the action in tweets and our highlight video below.
We decided once wasn't enough, so next year we'll be heading back to The Aria in Las Vegas for #Oktane16 on August 22-24. Register now to take advantage of our super early bird price of $495. Bonus: If you register before the end of the year, you'll be entered to win a $200 gift card to The Aria. Looking forward to seeing everyone in 2016! #Onward!