Connecting People and Technology — Onward
When Frederic and I founded Okta in 2009, we did so with a vision to securely connect any combination of apps, devices and people. Today, while the company is much larger and our offering more robust, that original aim remains unchanged.
Thousands of organizations — like Western Union, 20th Century Fox, Etihad Airways and Rotary International — rely on Okta to connect people and technology. Okta is how people access applications, collaborate on projects, check their flight status and communicate with others online. It's the secure foundation upon which all those interactions take place, but also one that's attuned to each person's identity and needs.
That's why we unveiled a series of new advancements today onstage at Oktane15 to further that work and extend the breadth and depth of our service. As software continues to eat the world (and mobile follows suit), it's become more important than ever for companies to provide people — employees, as well as partners, customers and users worldwide — with an easy, secure way to connect with technology no matter what.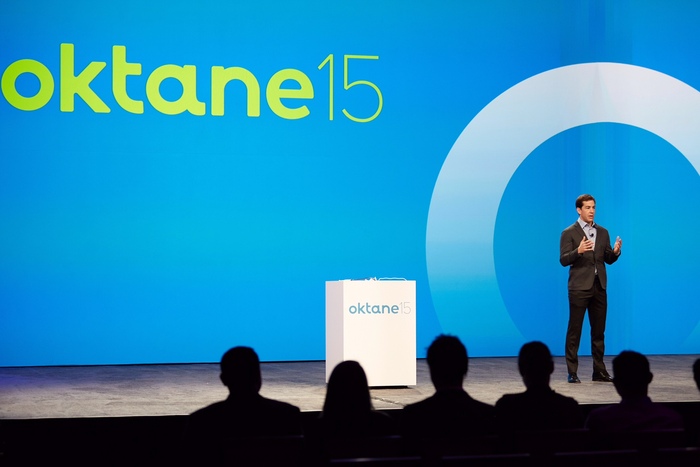 Here are the highlights from today's announcements:
Okta Mobility Management: More Apps, More Devices, Better User Experience When we launched Okta Mobility Management at Oktane14, we flipped the enterprise mobility market on its head, focusing on "people not devices." Since then, we have been regularly releasing new enhancements and today, unveiled a set of updates that make it ready for any enterprise and valuable beyond traditional mobile devices. They include:
Support for Android for Work, PCs and OS X enables companies to confidently deploy and manage all Android device models, as well as create a uniform UX on all devices; and now Okta secures not just mobile devices but laptops and desktops;
Private app store deployment to help IT automatically install required applications and easily allow users to select additional apps from a private, custom catalog;
New managed app configurations to simplify workflows and create a consistent experience across devices; and
An iOS Safari extension that enables users to log in to accounts on mobile Safari browsers with a single tap.
Okta Provisioning: Deeper Integrations, Flexible Rules Engine, Collaborative Workflow We also introduced new intelligence and workflow capabilities to automate the user lifecycle. These enhancements simplify provisioning and deprovisioning mechanisms, as well as improve compliance postures and ensure there aren't any missed connections. They include:
Okta Cloud Provisioning Connector SDK enables custom provisioning integrations built by ISVs themselves. So customers like Twitter, LinkedIn and Informatica can use provisioning integrations built by ISVs like PathGather, EventBoard, SmartRecruiters, ClearSlide and more;
Compliance reporting enables IT to view configurations within apps, compare them to their IT systems of record and adjust access levels accordingly;
A flexible rules engine makes it easy for IT to assign users to groups based on existing group membership or attributes; and
Collaborative workflow capabilities allow end users to request access to applications directly from managers or applications owners within Okta, and allows those managers to approve them, all without needing to go through IT.
Okta Platform: The Foundation for Digital Initiatives Companies across industries are reinventing themselves and engaging customers and partners with technology, to stay competitive, grow revenue and increase organizational efficiency. In doing so, companies like Etihad Airways and Rotary International are choosing the Okta Platform as the foundational infrastructure for those digital initiatives — whether they're websites, partner portals or entirely new applications — to boost security, create a seamless user experiences and accelerate time to market. That's why, today, we also announced new enhancements to the Okta Platform, which include:
The addition of integrated social authentication makes it simple and secure for developers to register, authenticate and manage users from social identity providers like Facebook, Google and LinkedIn, lowering barriers to adoption and increasing user engagement
Support for OAuth and OpenID Connect enables developers, ISVs and product teams to layer authentication into their applications faster
For more information, read the press release here.