Behind the Scenes of Our Brand Evolution
This week at Oktane22, our annual conference, we announced Okta's brand purpose: to build a world where Identity belongs to you. It's a bold ambition, the product of months of thoughtful work by countless contributors across our company. (Read more about why we're evolving the Okta brand.)
With this new purpose in mind, we set out to elevate how Okta shows up in the world—the look and feel, the words we use, the symbols and imagery. All of these expressions of our brand need to be just as thoughtful and inspiring as our brand purpose.
Defining a new brand personality
To help guide all the creative decisions our brand expression would require, we first needed to define some key character traits. If the Okta brand was essentially becoming a new person, what was its new personality?
We ultimately settled on four traits:
Visionary

. We lead with clarity and foresight, inspiring our people and partners to join us.

Vibrant

. We exude energy and brightness that's relatable and inviting.

Clever

. We have a sharp wit and a clear command of complex ideas.

Candid

. We're authentic, straightforward, and deeply human.
These personality attributes informed the many choices that followed, and will continue to guide our brand decisions.
Evolving our brand expression
Okta's brand expression consists of many elements—all the words, colors, symbols, and sounds that collectively embody Okta. Equipped with our newly defined brand purpose and personality, we've updated and elevated nearly all of them. 
A refined wordmark
Our most important brand asset, the Okta logo, consists of two elements: our wordmark (the word "Okta") and a circular symbol we call the "aura."
To update our wordmark, we made some subtle but significant tweaks. The letters in "Okta" now have lighter weight and sharper edges. We refined the "k," updated the tail on the "a," and gave the "t" a more stable base:

The new wordmark has more clarity and focus, reflecting our more vibrant, visionary brand personality. It also has a stronger relationship with our other logo equity, the aura.
A reimagined aura
The Okta aura—derived from the "o" in our logo—was originally unveiled seven years ago, at Oktane 2015. With no beginning or end, this circular icon represents Okta's commitment to being always on. It's an expression of unity, connection, and completeness.
To evolve our aura, we took this established commitment and applied our new purpose to it. We added facets, representing layers of Identity that are simplified, secure, and in your control. These facets draw the eye to the center—to you, our customer—where the focus belongs. 

Our new aura is incredibly versatile. By applying different graphic systems to it—photography, gradients, or motion—we'll push the boundaries of our storytelling and extend our brand in new ways.
An inventive voice and tone
At Okta, we communicate through countless channels and formats—our website, our social media accounts, our press releases, our research, and of course our products, to name a few. With so many outlets for the Okta voice, and with our new brand personality in mind, we wanted to ensure consistency and clarity by personifying our brand even further. If Okta were a human, what would its persona be?
We decided on The Inventor, a persona that's simultaneously visionary, vibrant, clever, and candid. Just as Okta's founders looked at the world and saw a future others didn't, so too should the Okta brand channel a spirit of innovation, optimism, and pragmatism.
Our new voice and tone will reflect this inventive spirit. We'll paint a picture of the future, pushing boundaries and building toward solutions. We'll exude energy and brightness in our language. We'll communicate with a sharp wit and clear command of complex ideas. And we'll inspire trust by remaining authentic, straightforward, and deeply human along the way.
A new color palette
Since the earliest days of the Okta brand, our color palette has featured a bold blue. It's a color known to convey trust. In evolving our palette, we sought to elevate this signature blue, while expanding into new areas of the color spectrum. And we wanted our palette to reflect both the neutrality of our platform and the vibrancy of the world we support. 
So we developed a two-palette system. Our primary palette now consists of four colors—two neutral and two bold—each with three shades:
Black

, with shades of warm grays

Beige

, a more human tone than you typically find in our space

Our signature

blue

, but infused with more vibrancy

A unique

teal

that complements our palette and stands out in the market
And with our secondary palette, we built on the primary palette with additional colors and shades that are vibrant and diverse.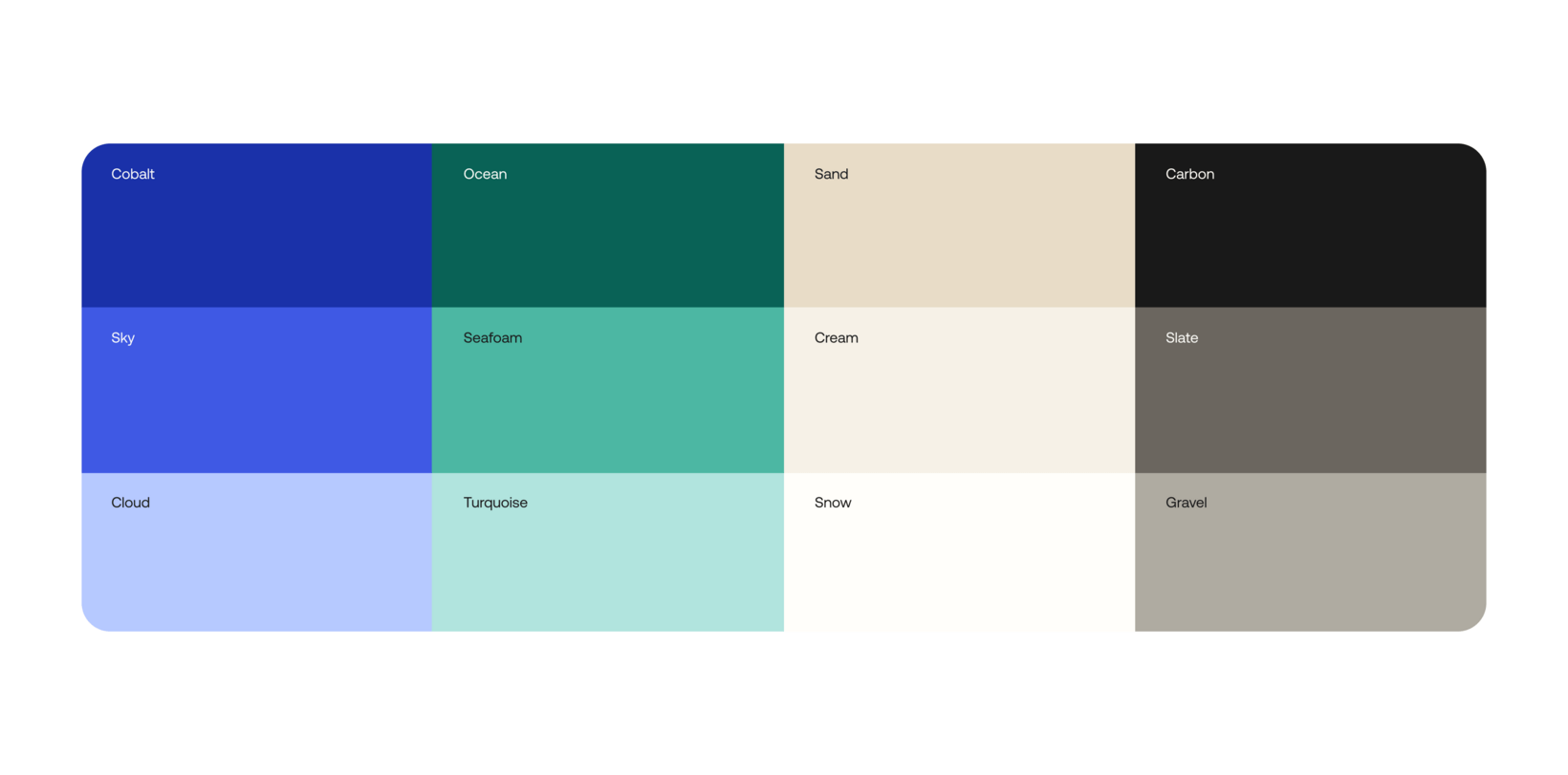 Updated typography
To evoke a warmer, more human tone, we've chosen Aeonik Pro as our new primary font. Aeonik's rounded proportions and details convey a candid personality that perfectly aligns with our evolved brand. 
We've also established rules around using our new font and colors, as we seek to prioritize accessibility and inclusivity in all of our digital communications.
More human photography
Photography has long been an important element of Okta's brand expression. As part of our evolution, we'll be infusing our photography with more humanity, focusing on three distinct categories:
Our people

, the individuals we support on a daily basis who may vary in role, scope, and industry, but are always our No. 1 priority

Our world

, a zoomed-out look at the communities our people build and the worlds they live in, from big to small and internal to external

Our product

, with direct representations of Okta's solutions and the opportunities they unlock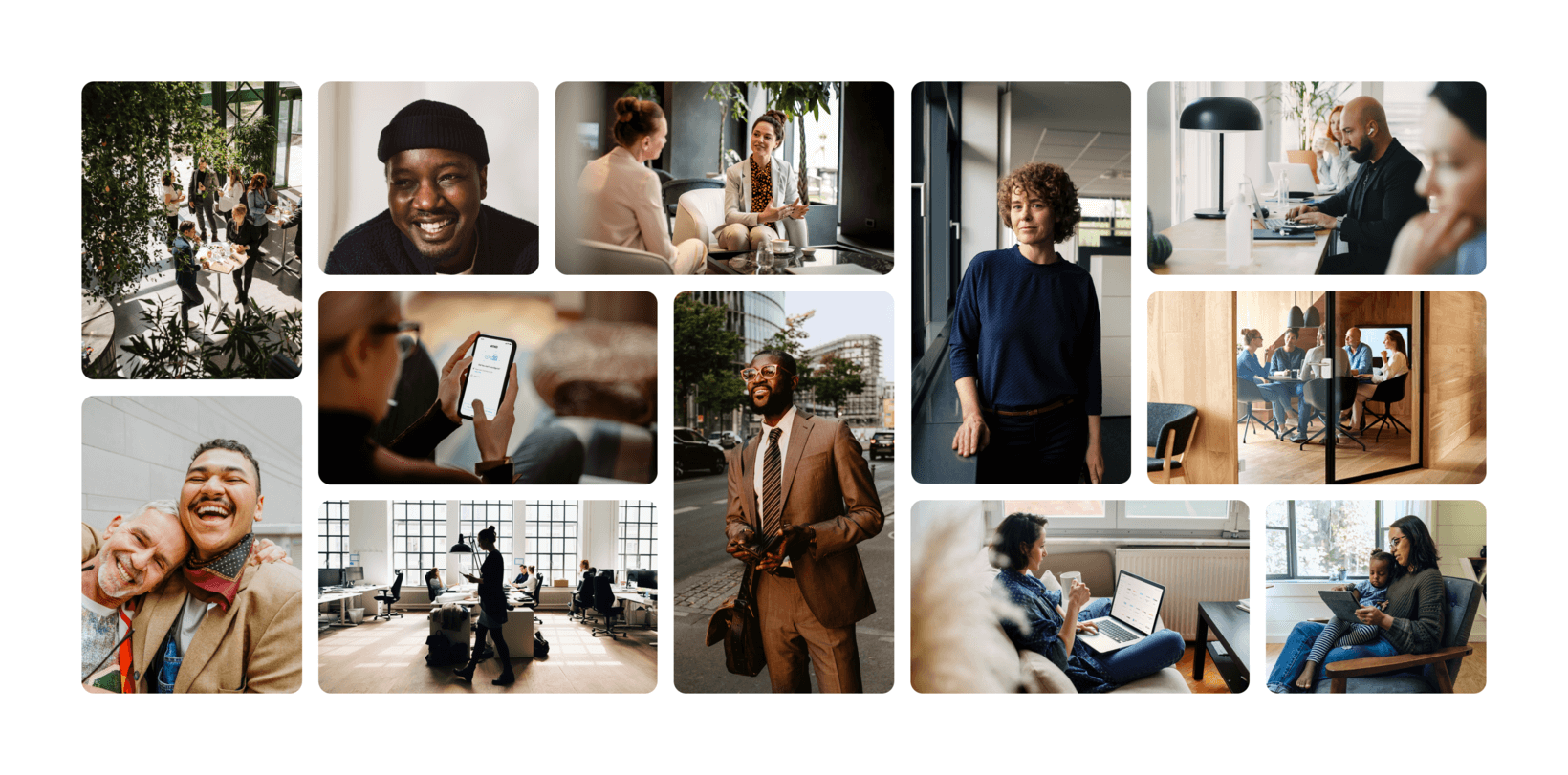 Regardless of category, our photography will consistently reflect the principles of our evolved brand personality: visionary, clever, vibrant, and candid.
An ongoing evolution
These are just some of the brand updates we're bringing to life. We're also exploring new motion treatments and applying new graphic systems to the Okta aura. Look for the evolved Okta brand to start rolling out on our website, across our social channels, throughout our content, and within our product in the weeks ahead. 
What we launched at Oktane22 marks a pivotal moment in a long journey. But we know that the best brands grow alongside their businesses and customers, and Okta is no exception. So stay tuned as the Okta brand continues to evolve. We're just getting started.